The whole world seems to be going crazy about bass fishing. ​And why not? The excitement it packs cannot be compared to any other form of fishing. And to have the best experience what would you need first of all?
Undoubtedly, a good rod and reel combo for bass fishing. ​While catching those big fishes, mediocre performances, breaking rods, backlashing reels are some of the last things you would want to face.​​
If you are in a hurry and just want to find out which is the best rod and reel combo for bass fishing, then we'd recommend the Lew's Mach Crush Speed Spool Combo as the best one.
​Best Bass Fishing Rod and Reel Combos
​Compare Top Bass Fishing Combos
| PRODUCT | OVERALL SCORE | BOTTOM LINE | PRICE |
| --- | --- | --- | --- |
| Lew's Mach Crush | 89 | Save some money, get your hands on this and thank us later. | Check On Amazon |
| Cadence CC5 | 87 | ​Your go-to spinning combo for bass fishing trips. | Check On Amazon |
| KastKing Sharky III | 85 | KastKing has done a remarkable job with their first ever combo. | Check On Amazon |
| ​Ugly Stik Elite | 85 | Plenty to offer at an unbelievable price. | Check On Amazon |
| Pflueger President | 81 | A popular choice of both beginners for casual fishing and pro anglers for tournaments. | Check On Amazon |
​Before We Begin
Whether it is a baitcaster combo or a spinning one, it needs to be perfect for you. Not only in its rod action, line retrieval rate and endurance but also it should be able to adapt to bass fishing conditions quickly.
​Thus after sifting through hoards of combos claiming to be the best for bass fishing, we were able to boil down to these, all of which will leave you highly impressed. ​The suggested combos have a high-quality rod with remarkable reels to go along with them and exponentially increase their performance.​
With the bass fishing market being so saturated, it was always a tough call for us to leave the rest. ​There were loads of good combos which were genuinely good but unfortunately couldn't make it to the final list due to our stringent testing parameters.
So in case, we missed your favorite combo, please don't hate us, lol. We just want to give you the best of the best!
​Detailed Analysis of the Best Bass Fishing Combos
​And all the limelight has been hogged by the Lew's Mach Crush Speed Spool Combo for being the best bass fishing combo as per our ratings. But wouldn't you want to know how and why we arrived at those numbers which make this combo stand out and win the 'Top Pick' award?
Also dive in to know why the closest competitor, the Cadence CC5 Spinning Combo, is your best bet in case you do not want to own a baitcasting combo for bass fishing. Time for the showdown!
​1. UGLY STIK Elite Baitcast Combo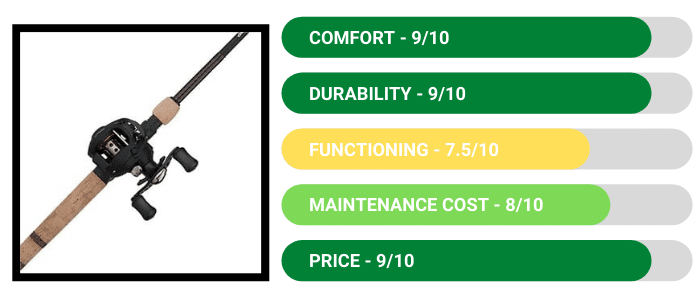 Overall Score: 85
+ Extremely well-balanced
+ Unmatched durability
+ More value than asked price
– Backlashes are a possibility
– Mediocre reel performance
Comfort
​The Ugly Stik Elite Baitcast Combo is an extremely well-balanced setup that feels light.​ Even after being one of the lightest combos for bass fishing, there are no questions to be raised about its strength and toughness.​
Featuring a premium cork handle, the rod is quite comfortable to hold, a quality which can also be accredited to its light graphite build.​ ​The reel, on the other hand, has a lightweight graphite composite frame with double paddle aluminum handle.
We were able to travel around without any troubles whatsoever and this combo indeed gave a stress-free experience as it promised.​
Durability
This combo carries the name Ugly Stike which is more than enough to tell anglers what to expect from it in terms of durability. Experienced anglers know very well what does it mean.​ For those of you who are new, Ugly Stik rods have a heritage of being extremely strong and durable.​
Made out of a graphite-fiberglass composite, the rods offers 35% extra graphite in its build when compared to the previous generation of the Ugly Stik rods.​ Moreover, the stainless steel guides marketed as 'Ugly Tuff' are something you can depend on any given day.​
This combo aims to be your long term companion rather than a seasonal use and throw product.
Functioning
​The combo is surely much more aesthetically pleasing when compared to the previous fishing tackle from Ugly Stik. Does it help you catch more fishes? Short answer, no. But at least you won't be distracted with over the top colors and some weird color combination. So in a way, it does help.​
What would actually help you catch fishes is the intelligent UglyTech™ build, Ugly Tuff™ guides, and the Ugly Stik Clear Tip® design. The Ugly Tech™ construction with a combination of graphite and fiberglass gives us a strong, yet sensitive rod. The Ugly Tuff™ one-piece stainless steel guides provide excellent durability and eliminate insert pop-outs.
And lastly, the Ugly Stik® Clear Tip® design is for strength and sensitivity.​ ​There is remarkable sensitivity even if the fish is small.​ ​This baitcast combo comes with a reel that has a 2+1 ball bearing system and adjustable magnetic cast control. With 12lbs of power through its star drag system, we also get an anti-reverse level wind!
Best suited for freshwater applications, the Elite rod reel combo is your best bet if you are looking for a balance between sensitivity and strength.​ One thing you would definitely need to get the best out of this combo is the knowledge of how to use a baitcasting rod and reel.​
Our experiences with the whole setup pointed out the fact that the rod is the better half of the combo as compared to the reel. This might not be true for you but we strongly feel so. Also, we have a machined aluminum ported spool and the reel is, in fact, one of the smoothest reels we get in combos these days.​​
Maintenance & Repair Cost
​Due to its high-quality construction, the Ugly Stik Elite Baitcasting combo will serve you for a long time. The rod even has a 7-year warranty attached to it.
Even though it is best suited for freshwater fishing applications but the one-piece stainless steel guides on the rod and the corrosion resistant rod body does allow us to flirt with salt water up to some extent. However, the same cannot be said about the reel.
Price
​All in all, we are getting one of the most exceptional bass fishing combos available in the market today and that too at an unbelievable price.​ This next generation combo from Ugly Stik is here to stay and is certainly meant for you if you are looking to up your bass fishing game.
​2. LEW'S Mach Crush Speed Spool Combo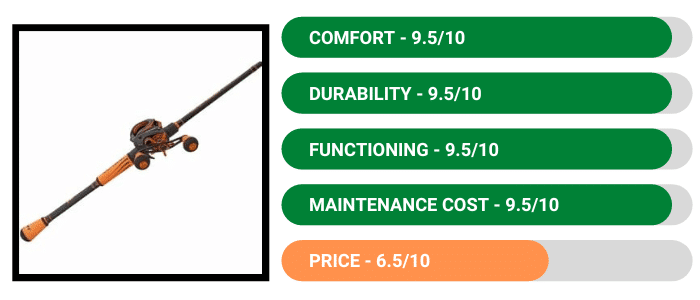 Overall Score: 89
+ Advanced features
+ Long casting distances
+ Exceptionally smooth reel
+ A very professional and appeasing look
Comfort
The rod in Lew's Mach Crush Speed Spool baitcast combo features a Winn® Advanced Polymer Dri-Tac split grip and the reel has an anodized bowed aluminum 95mm handle with an oversized Winn® Dri-Tac knob. The whole setup is quite lightweight and still remains really strong.​
Durability
​Built with the sole intention of being the most durable rod reel combo in mind, we have a machined and double anodized aluminum U-shape 32mm spool along with Super Low Profile (SLP) graphite frame and side plates in the reel. And it doesn't stop here. The reel also features a high-strength solid brass main gear and crankshaft.
The rod too has one of the most durable blanks that we have seen, being made out of IM8 graphite using Lew's proprietary Nanotechnology which was invented with the sole purpose of maintaining a balance between strength and sensitivity.​
Functioning
​This combo is perhaps the most reliable one you can get your hands on.​ Providing you a super smooth experience with this one, Lews has actually given us features that more than just satisfies every angler.​ No wonder it was chosen as the best rod reel combo at ICAST 2017 in Orlando, Florida!
​The reel impressed us the most with its heavy-duty carbon-fiber drag system and an externally adjustable multi-setting brake (MSB) dual cast control system utilizing both an external click-dial for setting the magnetic brake, plus 4 individually disengage-able disc-mounted internal brake shoes that operate on centrifugal force.​
Also, it has a gear ratio of 7.5:1 and a max drag of 20lbs due to its rugged carbon fiber drag system. ​With its 9 double-shielded stainless steel ball bearings, the reel has a silky smooth retrieve. Further, it also consists of a zero-reverse®, one-way clutch bearing.​​
And lastly some other reel specialties include a double-anodized aluminum spool tension adjustment with an audible click, an anodized aluminum bowed drag star with audible click adjustment, a quick release side plate lock lever, a ​zirconia line guide, and an ​external lube port.
Of course, the rod was remarkable too especially because of the ​American Tackle Airwave™ guides and Lew's exclusive Soft Touch graphite skeletal reel seat.​ Further, it is a one-piece rod at 7-ft rated as medium-heavy power.​
Maintenance & Repair Cost
​The Lew's combos have lasted people so many years that some of our readers said that they haven't bought any other combo since. Imagine the amount of durability this superb combo packs in that it not only became the primary go-to setup of these anglers but also did not let these bass fishing enthusiasts feel the need to buy some other combo.
Even during our testing period, we put it to the worst form of abuse possible, both in freshwater and saltwater and yet this rod reel setup not only survived but continued to perform magnificently. Thus we are pretty sure that it is going to incur a minimal cost of maintenance and repair.
Price
​​The high price point is the main point of concern but again this is a combo for those anglers who are really serious about their bass fishing game. It taps out maximum potential from your skills using its advanced state of the art features, all of which come at a price.
Thus if you are a beginner to bass fishing, choose other options but in case you have your fair share of bass fishing experience and are looking for something extraordinary, well, this is the best bass fishing rod and reel combo that your money can buy.
​3. CADENCE CC5 Spinning Combo
Overall Score: 87
+ Multiple options to choose from
+ High-quality graphite construction
+ Low price and high-value
– Just a ​one-year warranty on the whole setup
– Rod guides may become loose eventually
Comfort
​For all those who were feeling sad about we listing some baitcasting combos above, here is a respite for you. A spinning combo at last!​ The combo has a very comfortable rod with an EVA padded grip that doesn't slip.​
Similarly, the reel is also lightweight along with a comfortable oversized ergonomic EVA handle knob.​
Durability
​The rod blank is made from 24-ton carbon, which is a high-density graphite construction, thus making the rod strong, sturdy and yet lightweight.​ Similarly, the reel consists of frame and side plates made out of carbon composite, a reliable stainless steel main shaft, and an aluminum pinion gear.​
It makes the whole combo last for a long time. In fact, the CC5 combo series from Cadence​ through its high-quality materials and components is a tough competition for other manufacturers.
Functioning
​The CC5 combo has a variety of rod sizes and action to meet diverse fishing applications.​ With its 8 ball bearings and 1 instant anti-reverse bearing, the CC5 combo reel delivers a really smooth performance. Further, we are given four power options in the form of varying reel sizes.​
And the best part we liked about the combo is the fact that not only for bass fishing, but it is also a really good choice for many other types of gamefish, namely ​walleyes, trouts, and ​popular inshore species like redfish, speckled trout, and flounders. ​Coming on to the rod, we have choices in lengths from 5'6" to 7' in varying power ratings.​
Some of the rod highlights are its power and action.​ However, the specialty of the CC5 is catching bass and panfish.​​ You should see it perform at its best!
Maintenance & Repair Cost
​The carbon composite frame and side plates in the reel that we talked about earlier make the CC5 reel not only strong but also extremely resistant to corrosion. Further, we found out that with its corrosion-resistant stainless steel guides & inserts, this combo is a warrior against saltwater.
Price
​If you want to own a spinning combo for your bass fishing endeavors, then this one should be it! ​Not only it is beginner friendly but also it comes at a pocket-friendly price.​ One of the best bass fishing rod and reel combos available out there, this one is literally a steal because of its price tag.
​4. KASTKING Sharky III Spinning Combo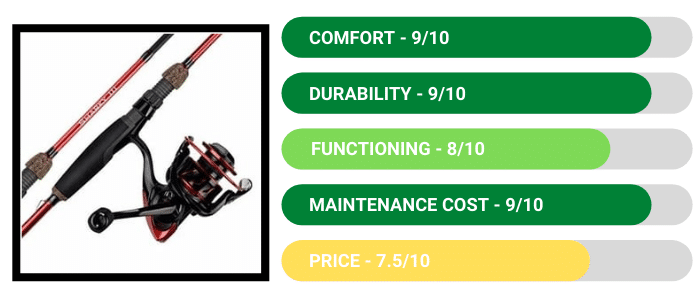 Overall Score: 85
+ Super smooth reel
+ ​Advanced Toray IM7 blank
+ Ergonomic design
– Casting distance fell a bit short of expectations
– Once again, just a 1-year warranty
Comfort
​And we have yet another bass fishing spinning combo for you in the form of KastKing Sharky III. ​One of the first things that will catch your eye in this combo is its remarkable design. The next thing is certainly the lightweight split EVA handles and fighting butt which feel great in your hand and provide all-day comfort and a sure grip.
The reels carry a lightweight graphite frame. Since all the poles are in the form of a 2-piece design, these combos are very easy to carry around. An intelligent and advanced design which not only provides comfort but gives an upper hand to your bass fishing game.​
Durability
​Ever since its inception, KastKing has been known for its build quality. A powerful Toray IM7 graphite blank on the rod makes it a powerful, sensitive and lightweight tackle for bass fishing lovers.​ ​These rods and reels are very durable not just because they have a brand name behind them, but also because they actually have the material construction to back it up.
Functioning
​With so many options to choose from, this combo is applicable for a variety of fishing needs. ​We get six different setup options where the rod size varies from 6'6" to 9'. Of course, you can choose any length out of the available ones but we highly recommend going with the 6'6″ option for bass fishing.
Further, a medium power fast-action rod would be your best friend here.​ ​The rest of the rods are for various other species and situations like inshore-fishing, salmon, steelheads, and catfish.​ ​We get the all-time best premium Fuji guides from KastKing with o-ring inserts. It makes them perfect for both mono and braided lines.​
And to top it, we have the ever tough Fuji reel seats. One thing that did bother us though was the fact that the rods weren't able to cast as far as we would've wanted them to! ​KastKing reels are highly reliable and well-performing. Just like the rod, we get a lot of options in the reel size too from 2000-5000.
All the reels come with an impressive gear ratio of 5.2:1 which is perfect for bass fishing​. The reel itself is velvety smooth with a whopping 10+1 stainless steel shielded ball bearings. While retrieving the line, we literally had to put in zero effort.​
One of the most talked about feature of this combo is the presence of a triple disc carbon drag with a capacity of 39.5lbs which is extremely high as per industry standards.​ The combo as a whole is very beginner friendly in terms of usage.
Maintenance & Repair Cost
The reel has a tough aluminum spool with high tolerance to water. In fact, the spool, reel body, and the rotor are all corrosion and saltwater resistant. It wouldn't be wrong to say that this reel has one of the highest build quality that we have ever seen.
Again, we have something that might feel a little less and that is the 1-year warranty applicable on this combo from the date of purchase.
Price
​KastKing has been a part of the industry for almost a decade now and has been producing advanced fishing tackle. ​But for the first time, they have ventured into the territory of making a rod and reel combo. ​And they have not only done a remarkable job but managed to keep the price very reasonable too.
With its premium features and high-grade impressive build and performance, this rod and reel combo is a good value for your money!​
​5. PFLUEGER PRESSP President Spinning Combo
Overall Score: 81
+ Portable, ergonomic design
+ ​Distant and smooth casting
+ Smooth reel
– Guides may fall off eventually
– ​Just a one-year warranty from the date of purchase
Comfort
​Before we begin about the Pflueger Pressp President Spinning Combo, it is important to mention that this is one of those few combos out there which both experienced anglers and newbies can use with ease. Apart from that, being the portable kind, it gives you a kind of freedom to travel around with it.​
The rod blank itself is a 1-piece and a 2-piece ergonomic design, tuned-up for balance and control. Both the rod and the reel are lightweight in nature due to their graphite construction. Their handles offer some terrific comfort and balance. The spool, however, is made up of aluminum.
Due to being lightweight, this setup allows us to fish for a long duration. ​And then we have a sensitive handle with a comfortable cork grip that helps the rod be more alert to vibrations and trigger our reflex.​
Durability
​The rod is constructed from IM-8 graphite. So anglers have a light, sensitive and strong rod for reliable fishing. Further, the parts of both the rod and the reel are manufactured out of reliable materials providing a good amount of longevity and stability.
Functioning
​The rod and reel in this combo work in a way that you may feel that there is a kind of synchronization between them. As if one has been made to complement the other. This can be a boon in certain situations but can also quickly end up becoming a bane if one component doesn't allow the other to perform at maximum potential.
What's it in this case? Well, we better leave that for you to decide. ​​This combo can certainly cast far, quite easily and more importantly accurately. ​Moreover, retrieving is another task achieved quite effortlessly here. We get a good gear ratio and an impressive spool in the reel which makes catching fishes a somewhat smooth experience.​
Presence of 4+1 stainless steel ball bearings allows this combo to work even in adverse fishing conditions and still show tremendous durability. ​An anti-reverse gear helps you prevent any kind of backlash and doesn't allow the fish to escape.​ Thus, you are not going empty handed!
The Pflueger President Spinning Combo has all the important elements of strength, power, and smoothness which give you a classic fishing experience.​ Since the rod blank is constructed from light graphite, there is high-sensitivity which allows us to detect even the slightest nibbles.​
We have an ultralight-medium action range in our rods with the right amount of flex and sensitivity which gives us the ability to go for a wide variety of fish species. ​The rod flex is gradual but steady. ​​Finally, a smooth drag eliminates any collateral damage and the rod minimizes the fight we have to put up with the fish.​
Maintenance & Repair Cost
​The reel has a machined aluminum spool which is non-corrosive in nature. With its stainless steel ball bearings, it provides us with good saltwater experiences too without having to worry about the longevity of the reel. Further, the graphite blank has a tough sturdy construction and the rod as a whole is a durable tackle.​
This combo is our all-weather friend which allows us to explore both the saltwater and freshwater realms. ​Also, the combo has a one-year warranty on it from the date of purchase.
Price
All in all, this is a nice combo considering its price. It is available at a relatively low price when compared to some other combos here. Pflueger has repeatedly been filling the market with good products and this President Spinning Combo is no exception.​ With the ease in maneuverability and handling, we are looking at a great product in our hands.
Whether you are a beginner looking for some casual fishing time or a pro wanting to try out your hand at some tournament, this bass fishing combo will not disappoint you.
​Buying Guide For Bass Fishing Combos
​If you've still not been able to make a choice as to what bass fishing combo to choose, don't worry. We know it is not an easy choice especially for those anglers who have had bad experiences with some sub-par bass fishing tackles in the past. So, why not study as to what exactly should you be looking for in a bass fishing combo?
This will help eliminate any guesswork while making a choice and rather help you make a more informed decision. Therefore, before buying your favorite bass fishing combo, you should look for the following properties:
​Strength of the rod and reel
​Rod ​sensitivity
​Drag
Bearings
​Line retrieve rate
​Type of the reel
1. ​Bass ​Fishing Rod Features Explained
​​Strength of the Rod and Reel
​Many species of bass fishes are quite heavy and their weight can deliver quite a hammering to your fishing setup. Thus you would want to invest in a rod and a reel with a tough, sturdy construction which will not relent under heavy pressure while fighting the fish.
​​Rod Sensitivity
​​We cannot even recall the number of times frustrated anglers have told us that half their bait was eaten when they pulled in the line and they yet they never felt a nibble. Yeah, basses are sneaky! And all we ended finding out when exploring the root cause was problems with rod sensitivity.
You need a rod with a sensitive tip that can detect even the smallest bite at your bait.
2. ​Bass ​Fishing Reel Features Explained
​​Drag
​​You really need a reel with optimal drag else you would either end up with too much line or in the worst case, a snapped one.
​​Bearings
​​​You want the reel to be smooth and efficient when pulling in those large, heavy basses. There is no defined number of bearings to look for. Rather your focus should be on the bearing quality over quantity.
​​Line Retrieve Rate
​Basses put up a good fight and have a tendency to run away quickly. In such a scenario your aim is to reel them in as quickly as possible. If bearings help the process to be smooth, then on the other hand, a good line retrieve rate would help you pull in your catch quickly with minimal effort.
​3. Type Of The Reel – ​Spinning Or Baitcasting
​​There is no absolute choice here as it all depends upon your skills, comfort, and experience. It would be better to know the pros and cons of each type and then decide which one to go for.
​Baitcasting Reels
​​The baitcasters, as the name suggests are excellent for casting your baits accurately. They cast far away and easily with just a flick of a wrist, not to mention their ability to penetrate cramped spaces like rock crevices, weed beds and holes. One of the other advantages is their fast line retrieve rate.
​An area where the baitcasters lack is their inability to cast light lures. You can cat most of the soft plastic lures but the light topwater lures and the small finesse baits are always a challenge.​​ These often result in a backlash.
​Spinning Reels
​​Spinning reels rescue you from the problems posed by baitcasters. You don't have to worry as much about backlash and can finesse fish with them. They have a slower retrieve but that is to allow you to get maximum bait action.​​​​​ Again, they are wonderful for beginners and are fairly easy to use.
​The major problem area for spinning reels in their inaccurate casting. You can land your bait in a wider general area but it requires some insane amount of patience and effort to cast exactly where you want to.
​Conclusion
We hope you now have a clear idea about why we chose the Lew's Mach Crush Speed Spool Combo​ as the best bass fishing rod and reel combo.
​See, apart from quality and reliability, it all depends upon what setup you are comfortable with as a bass angler. We have suggested you a fair share of options to choose from which can be used by any type of angler and covers a wide variety of applications. Hope, we were able to help you find what you were looking for.
Feel free to drop in any suggestions or talk to us. We thrive on your feedback and appreciate the same. If you liked what this article had to offer then kindly do share the article with your friends. Till then, byvaj!