Catfish fight hard because of their strength and power. And by hard, we mean really hard. They are tough to catch, make a tasty meal on the dinner table and thus, are often sought after by many anglers. And having a good catfish reel by your side can make the job a lot easier.
You can find more than 3,000 species of catfish all around the world, and they come in all shapes and sizes. The bigger a catfish, more heavy-duty gear will be required to catch it. But one thing is certain. Whether you choose a spinning reel or a baitcaster, it should be reliable and durable.
Thus, if you are ready to not only hook but also land some big catfish, that will fill up your social media with likes and comments, then read along! This article will not only tell you about the best fishing reels for catfish but also guide you on what to look for in a catfish reel.
If you are in a hurry and just want to find out which is the best catfish reel, then we'd recommend the Abu Garcia Ambassadeur Catfish Baitcast Reel as the best one.
Best Catfish Reels
Compare Top Products
| Product | Overall Score | Bottom Line | Latest Price |
| --- | --- | --- | --- |
| Abu Garcia Ambassadeur | 90 | High-quality, smooth, gorgeous and the AR-15 of fishing reels | Check Out On Amazon |
| KastKing Sharky III | 87 | One of the smoothest reels you'll ever own with great value | Check Out On Amazon |
| Okuma Avenger ABF | 86 | A fantastic catfish reel for the money | Check Out On Amazon |
| Shimano Tekota | 85 | Looks great, feels great, works great! | Check Out On Amazon |
| Penn Spinfisher V | 82 | Another rock solid product from Penn | Check Out On Amazon |
Detailed Analysis
While looking at different catfish reels, we had so many things to compare. Right from the traditional handles and power handles, level wind system, and drag systems, to braking mechanism, bait clicker, overall construction quality and whatnot!
Thus we focused only on the essential features and chose only those reels that not just cleared the standards set by us, but outperformed in every aspect while catching catfish. And needless to say, these 5 catfish reels deservingly made it to the list.
But why did we choose Abu Garcia Ambassadeur as our top choice for the best catfish reel?
Read on to find out!
1. PENN Spinfisher V Spinning Reel
Overall Score: 82
Advantages
Smooth as silk
High corrosion resistance
Sealed & waterproof design
High durability
Disadvantages
Heavy on the wrists
Available on the pricier side
Clicking noise
Comfort
There are not many companies making spinning reels, particularly for catfish. Mostly, they are saltwater versions adapted for large catfish or bass fishes. And it is just what the PENN Spinfisher V does best. This Penn reel is really a pure saltwater catfish reel to put all those very small species in your basket.
The majority of other reels will merely concentrate on large catfish species. However, this model is truly a fantastic choice for those fishermen who wish to test little sizes too. But it has a shady side. It is pretty heavy and thus not an ideal tool for anglers who cast the entire day.
It may handle a couple of extra hours, but for the entire day of fishing, you ought to be taking a look at something different. The primary criticism among users is that the physical weight of the reel can be felt on the wrists.
But most professional anglers are prepared for this, and it will not make any difference because the quality is actually outstanding. Since the reel is made using a complete metal body, it's quite heavy. This is sometimes a problem for those seeking comfort, particularly if the angler is on a full-day fishing excursion.
If lighter materials had been utilized while making this reel, this catfish reel has the potential to be a perfect 10.
Durability
The Penn Spinfisher V is perfect for saltwater and saltwater environments. With this reel, we get a long-lasting build structure and dependable functionality. For combating damage from corrosion, this spinning reel includes a complete metal frame, side plate, and rotor.
The watertight and durable structure also utilizes a heavy-duty aluminum bail wire for line safety and security. The general design is quite durable. The big all-metal body, side plates and framework offer an excellent base for its robust metallic gears and bail wire which is quite oversized.
To top it off, we have a machined anodized aluminum spool which gives us a genuine monster in our palms.
Functioning
Though designed for harsh saltwater, this reel works like a charm when it comes to catfish too. A sealed HT-100 slammer drag mechanism is robust and contains a silky-smooth and friction-free texture, making it perfect for long castings.
The reel also includes five shielded stainless steel ball bearings useful for fluid cranking and is a tell-tale sign of top-notch catfish reel. The presence of anti-reverse bearing guarantees that you never lose your prized catch because of confusion and fumbling around.
A powerful stopping strength means that you can target more substantial fishes. Furthermore, a CNC gear system is well aligned to handle heavy weights better. For convenience, this reel needs no backing and can be braid-ready, so you are able to get out into the water quickly.
As stated previously, this reel was created for saltwater conflicts; as well as the drag and stainless-steel bearings have an excellent catfish line capacity (braided & mono filament). The oscillation process is a good plus point too. You have a smooth acting gear so that you can acquire the catfishes quickly and in a single drop.
The lining is simple and the majority of the time you'd be getting used to getting easy catches. The spool functions smoothly, which is vital to get the right fishing experience. A lot of people remark on the reel's capacity to create extremely long casts effortlessly, using phrases such as "slick".
We love the super smooth casting and recovery, which is accomplished through a 5:1 gear ratio. Additionally, it comprises of a high-quality carbon fiber drag system that's strong enough to pull in large, resistant catfish.
Maintenance & Repair Cost
The entire layout is sealed. This means that the watertight design will not let dampness destroy your reels. That is' what usually happens when a typical angler needs to choose their reel for everyday fishing use. Now even in the event that you get just one of these reels, it would be sufficient to go well for a long time.
Price
The Penn Spinfisher reels have always received extremely favorable reviews from buyers even when it comes to catfishing. Given its price point and the features that it packs, often buying it seems like a no-brainer. This is an excellent, versatile choice at a great price for those anglers who love to fish around the sea and the lake.
It is a fairly heavy-duty reel. Therefore there is no need to be concerned about its potency when it is up against giant catfish. If you are not prepared to change to some baitcaster just yet, this is a fantastic choice.
Though we're typically lovers of baitcasters for catfishing, we've got no issue advocating the Penn Spinfisher reel for your next fishing trip. This is a solid, effective reel that is quite simple to use and delivers stunning performance even against big catfish.
2. KASTKING Sharky III Spinning Reel
Overall Score: 87
Advantages
Remarkable power
Highly versatile reel
Extra-wide bail
Features a braid ready design
Disadvantages
Possible handle unscrewing
Might make some grinding noise initially
Comfort
Even though the KastKing Sharky III is really a spinning reel, it still has plenty of attributes resembling baitcasting reels. This makes these reels the preferred choice for catching catfish. Designed for both saltwater and freshwater alike, we have a highly versatile catfish reel which we can use in a majority of situations.
Further, the reel has a reinforced graphite body which is lightweight. However, when we compare it to baitcasters for catching catfish, the reel body is somewhat bulky in comparison. But, since it is fairly common for the spinning reels to be somewhat heftier than the baitcasting reels, this isn't a massive concern.
An area of a real problem is the handle as it may come loose. It might have been better had the handle ran through the rotating shaft and came attached to another side.
Durability
The Kastking Sharky III is a lightweight catfish reel which includes a fiber-reinforced graphite body. It also consists of a rotor to derive pure power. Additionally, it consists of a stainless steel main shaft and other durable components. The Sharky III is a well-constructed catfish reel for landing your next prized catch since it is quite durable and robust.
Functioning
The KastKing Sharky III Catfish Reel is a tackle that has been specifically designed to catch those trophy fishes, and thus this makes it an obvious choice for big game anglers. It's the best catfish reel for the money since it's safe to use in both freshwater and saltwater locations.
It also features the highly coveted triple disc carbon and fiber drag system. It is something which makes this reel quite dependable for reeling in those tough fighting catfish. Having an oversized stainless steel main shaft for your help will give you better accuracy over those long casts.
Every angler would love the silent and silky smooth retrieve. This makes the whole process of reeling in quite effortless. The most noteworthy feature of this reel is the braid ready aluminum spool (set up for monofilament or braided line) that requires no backing line while spooling.
This greatly helps in reducing the tangles. Some other features of the reel include 10 +1 stainless steel ball bearings, and a quick anti-reverse lock, along with an aluminum handle. This gives you all of the best characteristics of premium reels in one design.
It comprises of around 40 lbs of drag and a watertight system to keep all of the gears along with the reel's inner workings sealed up and clean. The reel can hold up to 218 yards of 12 lbs monoline or up to 200 yards of 50 lbs braided line. And it does so without any fear of slipping on a fish that you would love to catch.
The Sharky III boasts of a 5.2:1 gear ratio and can pull in 33.8 inches of line per single turn. It is ideal for changing between baits of different types—for example, slower baits like those crankbaits and the quicker ones like inline spinners.
And lastly, the oversized manganese brass alloy gears give you immense power to reel in even the biggest fishes. You can expect to easily catch anything from a small to large catfish using the Sharky III.
Maintenance & Repair Cost
The Sharky III has been sealed using the K.I.S.S. technology. It is a distinctive water-resistant design that safeguards the spool, body, and rotor. Since it doesn't let dirt or water inside, you will get better overall operation and a more lasting, solid catfish reel.
The Sharky III literally seals the gearbox and protects the spool rotor from external factors that induce moisture. This results in a reel that doesn't require frequent repairs.
Price
The Sharky III is a monster of a spinning reel when we look at its price along with the features and performance. Being created for both fresh and saltwater water, it's become the flag bearer of a brand that is a universally recognized name now. KastKing's Sharky III comes in at a very low price point and boasts of incredible reviews.
For the price it is available at, this reel will be among the finest spinning reel options, not just for catfish, but in general, for years to come.
3. OKUMA Avenger ABF Bait Feeder Reel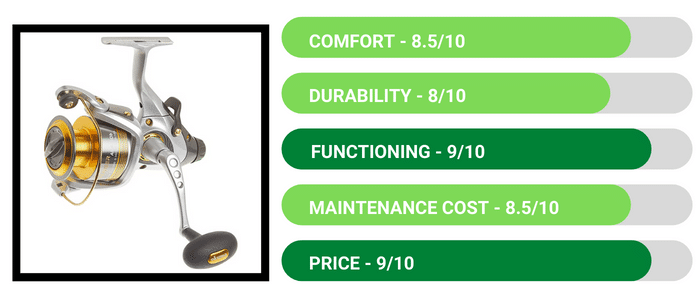 Overall Score: 86
Advantages
You will love its casts
Great line capacity
Durable construction
Disadvantages
Not for rod holders
Plastic parts like drag lever may pose breakage threat
Comfort
The spinning reel layout is really attractive to anglers, beginners, and seasoned alike. The frame of the reel consists of composite graphite, which has a fantastic combination of lightness and strength. One thing we especially like about the Okuma Avenger reel is its reversible retrieval system.
You're able to change the mode orientation between right and left-handed mode by merely unscrewing the handle and changing sides. The ABF has a distinctive on/off switch, which allows you to switch to bait feeding style on the fly. One thing we would like to point out is that we did discover it to be a little bulky even for a spinning reel.
Durability
The graphite body of this reel is lightweight and durable, thus making it well suited for any transportation. The reel also consists of high-quality bearings and other quality material in construction. The Okuma Avenger is meant for heavyweight catfishing.
The overall structure of the Avenger ABF is made of durable elements, but still, this catfish reel has garnered a few negative testimonials about construction quality.
Functioning
All the Okuma reels meant for use in tournaments, just like this catfish reel, consists of a live line bait feeding system. Also, this system has been patented by Okuma and is known for its ultra-smooth functioning. It helps the catfish anglers to disengage their spool and also allows the bait to run freely.
This micro-adjustment provides the fishermen with an ideal bait management system. The catfish will not feel the drag of the reel. This, in turn, tricks them and sets the hook as they swim away with the bait in their mouth.
To give you more sensitivity and a better control over your fishing line, 6 ball bearings along with an anti-reverse bearing have been provided. Technically, it wouldn't be wrong to say that there are 7 ball bearings, and having multiple bearings allows smooth operation for a long time.
The presence of oil-soaked washers in the drag system makes the Okuma Avenger ABF catfish reel exceptionally smooth and efficient. Also, the handle is quite rigid as it has been manufactured using die-cast aluminum, thus providing you with the requisite power to pull in even the toughest of catfish.
A multi-disc drag system also amounts to ease and comfort for the typical angler. Also, the line capacity is quite impressive, and the reel packs in some exceptional casting power for even the heavy catfish lines due to its well-thought-of design.
Even during the extended line retrieval, the drag system maintains its setting and is remarkably precise. Okuma's bait feeder has a dual drag system that has been known to function quite well for several catfishing methods. Due to this, you can almost always be certain that before the hook sets in, the fish takes the bait.
The 4.5:1 gear ratio available to us in the Okuma reel makes it suitable for deep water fishing and those big catfish, which tend to take up a lot of line. Even extended fights with the biggest catfish is no more a problem due to its 17lbs of drag and the robust drag system.
All in all, the combination of all these features like a durable drag system, coupled with smooth bearings and reversible retrieve, make it one of the best catfish reels in the market.
Maintenance & Repair Cost
The Okuma Avenger ABF is a catfish reel that is resistant to corrosion and is built from robust and high-quality material so that you, as an angler, get the best performance out of it. Further, the gearbox is completely sealed, which ensures that any water or debris doesn't enter the reel and ruin our prized possession.
The reel apart from Okuma's quality assurance has a 1-year warranty backing it up, which is a massive step in leaving you worry-free.
Price
Okuma's ABF Catfish Reel comes at an unbelievably low price in the catfish reel options segment. A low price doesn't mean low quality in any way, and thousands of positive reviews from users can verify this.
Quality build, stellar performance, and being 'in the budget' make it an irresistible choice for any angler apart from being the best performance reel for catfish. It is undoubtedly a worthy spinning reel for catfish that deserves all the attention given to it.
Given the number of features offered by the Okuma Avenger and the price point it is available at, this is a reliable bait feeder and much more than just a good catfish spinning reel.
4. ABU GARCIA Ambassadeur Catfish Baitcast Reel

Overall Score: 90
Advantages
Quality components in build
Super impressive drag system
Can even cast heavy catfish lines really smoothly
Disadvantages
Comfort
If you need a specialized catfish reel, then the Abu Garcia Ambassadeur C3 series is your go-to option. It's a special catfish reel designed to meet all sorts of catfishing needs of a serious angler and carries a simple and appealing design.
Since it is built on the thoroughly tested C3 round reel platform, there is no doubt this reel is the preferred choice for many professional anglers. You might find the reel to be a bit heavy since it weighs around 21.5 oz, but it is still better off than many other catfish reels.
Durability
The sturdy build allows the reel to take any beating while fishing for even the hardest fighting catfish. The reel can be seen as rock-solid and has been known to serve its owners for several years without trouble. It wouldn't be an exaggeration to say that this reel can serve you for life.
Further, the high quality components used to build the reel adds several years to the reel's life. And if, by any chance catching Blue catfish and Flathead catfish is your favorite hobby, there is no reason why you shouldn't have this reel.
Functioning
In the 6500 model, you would get 3 stainless ball bearings and 1 roller bearing whereas, in model 7000, there are 2 main bearings and 1 roller bearing. This setup makes the reel really smooth and renders the Carbon Matrix drag system, super-efficient.
A system like this is supremely effective in keeping any problems like frequent knots, tangles, snags, and loops at bay. Further, the reel also contains a 6 pin centrifugal brake, which is its backbone to controlled casting and still allows you to make impressive casts while covering a lot of area at the same time.
The reel features an extended bent handle, unlike other reels that contain a small dual paddle handle. The handle contains a power knob, and these two are a source of additional torque & power to reel in those hard to catch catfish. Also, you get a smooth retrieve and even lay line due to the synchronized level wind system.
Moreover, the line will be automatically spooled and thus proves to be a massive burden off the head, especially when you use braided line.
The C3 reel is mainly available in 2 models:
The C3-6500 has a gear ratio of 5.3:1 and has a line retrieval rate of 26 inches per turn. Whereas the C3-7000 has a powerful gear ratio of 4.1:1 and is capable of 22 inches of line retrieval per single turn of the handle. You might lose some speed on the retrieve, but the gain you have due to torque more than makes up for it.
If you are like most anglers who go for normal-sized catfish, then the C3-6500 model can serve all your needs. Whereas if you are one of those who look for trophy catfish of huge sizes, then the C3-7000 would be more suitable for you.
The C3-6500 model can easily hold around 320 yards of 12 lbs mono, 225 yards of 17 lbs mono, or 600 yards of 30-pound braided line. Similarly, the C3-7000 model has been known to hold 325 yards of 17 lbs mono and 230 yards of 25 lbs mono.
Another important observation we made while fishing with the Abu Garcia Ambassadeur reels was that they significantly maintained their drag settings. And in case you are someone who loves fishing at night or with gloves on, the operating controls make it possible to do so. The bait clicker on the reel is quite loud and audible.
Thus, you cannot miss the sound. Another thing we like about the Ambassadeur reels is the knurled take-down screws, due to which we were able to fish with this reel even after bad tangles and the reel getting immersed in mud and water.
The C3 reels are some of the easiest round style baitcasters on which you can get the knack of using casting reels. Thus, if you are someone who is looking to transition to baitcasting reels from spinning reels, then using the C3 reels will benefit you.
Further, you will find the star-shaped drag handle to be quite useful as it is well-placed, especially for situations where you want the catfish to tire itself, come out of its cover, set itself on your circle hook, all without having any line tension.
Maintenance & Repair Cost
Not only do the C3 catfish reels catch you your biggest catfish, but they also display remarkable longevity. Apart from the usual maintenance practices, there is nothing else that you need to do. This, in turn, results in lesser maintenance costs. Further, Abu Garcia has excellent customer service.
Price
Given that the C3 Ambassadeur is such a high-quality catfish reel, it is normal to assume that the price would be exorbitant. However, nothing can be farther away from the truth, and it is very much reasonably priced.
It is loaded with features that any serious catfish enthusiast would seek and, at the same time, is high on performance and durability. Don't look for cheap bargains when you think of buying this catfish reel as anglers who do so end up spending a lot more on maintenance after buying sub-standard reels.
5. SHIMANO Tekota Level Wind Reel

Overall Score: 85
Advantages
Incredibly fast retrieve
Surprisingly versatile
Highly resistant to corrosion
Disadvantages
You might find it a bit heavy
Could have been a bit more smooth
Comfort
If you want a versatile reel that also performs in areas other than that of catfish activity, then the Shimano Tekota can prove to be a great choice. No wonder that this reel is a popular choice among many seasoned anglers and is a big name in the top catfish reels.
The moment you hold the reel, in your hand, you would understand what quality means. It is a solid piece that is also quite refined at the same time. Also, the features present in the reel are known to give an angler a comfortable experience.
However, as expected from a reel like this, you might find it to be a bit heavy with the weight of the TEK800LC model being 31 oz.
Durability
High-quality die-cast aluminum has been used in the construction of this reel, and this makes the Shimano Tekota catfish reel an extremely durable reel. Apart from a machined aluminum one-piece frame, the reel also has full metal, metal-backed graphite side covers.
You'd immediately get to know how reliable the material is the moment you touch the reel and of course, also over time as you use the reel more and more. While using the reel, we found the bearings to be literally rust proof.
Shimano openly claims that their Tekota reels are ten times more resistant to rust in comparison to a regular stainless steel reel.
Functioning
Featuring a super powerful drag system and an equally impressive line capacity, the Shimano Tekota is undoubtedly one of our first choices for catfish reels. If you go out and buy a few other catfish reels then sooner or later you would realize that they are only good at catching catfish and falter in other areas.
Whereas, while using the Shimano Tekota, whether you are fishing out in the ocean or the freshwater lake near your home, be ready to be amazed by its performance. It does well in a variety of settings. However, one area where we felt that the Tekota could improve was by having a more smooth retrieve and a higher gear ratio.
Even though we found the retrieval system to be quite fast, there is no denying that there were a few jerks too. You can see the Tekota as a level wind counter reel and it can easily withstand fishes in the range of 50lbs and more quite easily.
The TEK800LC variant of the reel can spool 640 yards of 80 lbs Powerpro braid or 370 yards of 40 lbs mono.
Also, the max drag capacity is 24 lbs. The reel gives you a lot of controls, and all of them work like a charm. The clicker on this reel too is quite loud, and our tests showed that the clutch lever worked without any hindrance in a variety of situations.
Diving more into the TEK800 model showed us that even though it is a compact reel in build, it was quickly pulling in Blue catfish of 100 lbs without even testing the limits of the reel. Further, the handle allows the reel to have a line retrieve rate of 33 inches per single turn and has a great pull.
The position of the spool makes it quite convenient to use the reel. The unique crossbar-forward design makes it easy to access the spool. Further, a non-disengaging level-wind system provides better line management.
Maintenance & Repair Cost
We are quite impressed by the saltwater resistance capabilities of this reel and the surf performance in general. Further, the durability of this reel makes it possible for you to fish with it season after season without an issue.
Though you will not notice any oxidation as such, still, we recommend you to maintain a disciplined maintenance schedule. However, there is no denying that there have been minor quality control issues.
Price
If your budget allows you to foray into some high-end reels, then the Tekota reels can prove to be a significant buy. Even if you are not mad about catfishing, we can certainly recommend you to try this reel out. It is not only super-smooth but can be termed as bomb-proof saltwater trolling reel.
These features make it the ultimate big river catfish reel. Given the fact that it works like a charm in so many settings is reason enough to own this reel. Its versatility is its highlight and will serve you well irrespective of the fact whether it is being used on a lake or a jetty in the ocean.
Buying Guide For Catfish Reels – Features Explained
Catfish gear is quite different when you compare it to the equipment used for other forms of fishing.
Whenever an angler looks for a catfish reel, the primary features they should focus on are how durable a particular model is, the endurance or strength rating to fight big catfish, how long will the reel serve them, and how smoothly it does what it is supposed to do.
Since catfish are known to fight really hard, hence it is always in our interest to choose heavy-duty gear. This is the long and short of selecting a good catfish reel. However, it wouldn't hurt if you knew a bit in-depth about these features so that you knew exactly what you would be getting from a catfish reel.
Line Capacity
Spool Tension
Gear Ratio
Quantity & Quality Of Bearings
Power Handle
Braking System
Drag System
Line Alarms
Level Wind System
Overall Construction
1. Line Capacity
If you are the type of angler who goes gaga over drift fishing, trophy-size catfish, and deep water catfish, you might find a good line capacity to be one of your best friends. Also, there are high chances that you will be using much heavier fishing lines than you are accustomed to in freshwater fishing.
The larger a line is, the more space it will take up on a reel and fill the reel pretty fast. And as expected, as the test strength of the fishing line increases, so does its diameter. So, heavier fishing lines don't allow us to fit a lot of it in our spool.
Thus, if you make the mistake of choosing a low profile reel where the spool is small and end up using a 20-30 lbs test line, then be prepared to spend more time on changing the line throughout the day rather than fishing itself. Longer lines also allow you to make longer casts and reach wherever you want to.
Thus always opt for a large catfish reel that gives you a lot of extra fishing lines even if the line has a large diameter. This leaves you with enough line even if the line breaks off a couple of times. Hence, our suggestion for the best catfish reel is a round baitcasting reel.
2. Spool Tension
Counterbalance is another name for spool tension, and you can easily find it in several modern, high-quality reels. Through this, you can easily adjust spool rotation to compensate for weight according to your requirements.
Heavier lines, along with heavy baits and other weights, make the spool turn fast, thus significantly increasing the chances of any backlashes. On the other hand, reducing the weight a lot results in total inability to cast well. Here is where adjustment of the spool tension comes into play to get the best of both the worlds.
If you have a lot of weight on the line, then simply increase the spool tension. Similarly, less weight would require you to decrease the spool tension accordingly.
3. Gear Ratio
The gear ratio is a direct indicator of the speed and quantity of the line that can be retrieved every time the handle is turned. Higher gear ratios give us faster retrievals with more line per single turn of the handle. Assuming that the quality of the material is equal, a 5:1 gear ratio would perform better than a 4:1 gear ratio.
Thus, it is quite easy to understand that we would require faster retrieval for catfish fishing due to their size and required amount of line. Further, a good gear ratio would generate enough power to pull in even the heaviest of catfish.
There have been innumerable instances where we've seen an angler struggle with a reel of low gear ratio while fishing for cats, which resulted in tangled lines. Again, large round baitcasters have the requisite gear ratio to pull in any kind of catfish comfortably.
4. Quantity & Quality Of Bearings
What is the first thing the happens when you cast? The reel bearings come into play. The ease of operation of any reel and how far will you be able to cast are directly dependent on the quantity and quality of the bearings involved. People often assume that more number of bearings means a smoother reel and long casts.
What they tend to forget is that the quality and material of the bearings are equally important. If you have a reel with 4 bearings of exceptional quality, then rest assured that it will outperform a reel with 6 bearings where the quality is not up to the mark. Another noticeable fact is that you will find bushings in some reels in place of bearings.
These reels have been known not to cast as well as the reels with bearings. Hence, try and look for a reel that has bearings instead of bushings.
5. Standard vs Power Handle
Especially among catfish enthusiasts, there are 2 main popular handles.1. A traditional or standard handle which consists of 2 knobs.2. A power handle which is large and consists of a single large knob with counterbalance.
Large and heavy reels which are typically used to catch trophy catfish usually come with the larger power handle. Whereas traditional handles can be found in medium-sized reels. What type of handle you should go for at the end of the day totally depends on you.
Many anglers vouch for the larger power handle as they feel that they get a lot of cranking power. Also, they find it more comfortable to grip and operate due to its size. However, we also know about several anglers who have used the traditional handle reels throughout their life for catching catfish and have done equally well.
So, our suggestion is to go for what you feel comfortable with. And if for some reason you don't feel comfortable with one type of handle, then there is always the option to switch to the other type.
6. Braking System
Usually, magnets are used within a braking system for stopping or slowing down a fast turning spool. Backlashes, which are a common phenomenon, are known to occur if for some reason your spool speed is too fast for your line when you cast.
This releases a lot of line than actually required and results in a bird's nest. A good reel would always prevent backlashes.
7. Drag System
Whenever you start reeling in a fish, especially those big catfish that you are looking for, drag significantly affects your line. A good drag system will allow any fish to pull the line freely but won't let it get away. Further, a good drag system will allow you to land more than 100 lbs of fishes with a much lower-rated test line.
Also, it can play an important role in tiring a fish. An incorrectly set or inferior quality drag system can result in frequent line snapping. Drag washers are another important part of a drag system, with the carbon fiber drag washers being the most popular ones. Today, almost all sensible reel construction includes a star drag system to allow adjustments.
Thus, if you are looking to go in for catching catfish, especially those of trophy size, then make sure that you invest in a reel with a superior quality drag system.
8. Line Alarms Or Bait Clickers
The function of a bait clicker or a line alarm is to let the spool operate freely and make a clicking noise when the catfish tries to swim away with the bait. Traditionally, you perform the following steps.
Cast your bait in the desired direction and location
Reel in any slack
Turn on the bait clicker
Spool release using the button
Now a catfish, or any fish in general, doesn't feel any resistance on the line when it tries to swim away with the bait. But the line clicker informs us about such activity taking place.
9. Level Wind System
Round baitcasting reels give you options, i.e., a reel with level wind and a reel without level wind. In a level wind reel, there exists a mechanism moving to and fro whenever the spool turns. Whenever you retrieve a line, the level wind system distributes the line evenly on the spool per turn of the handle.
In case, you use a reel without a level wind system, you are responsible for guiding the line back correctly onto your spool using your thumb. For catching catfish, always go for a level wind reel. Non-level wind reels are more suitable for surf fishing or saltwater fishing for heavier fishes.
10. Overall Construction
Not just catfish reels, but any fishing reel is supposed to have a durable construction. And given the size in which certain trophy catfish come, it becomes even more imperative to have an excellent catfish reel. Catfish are strong, fight hard and can wreak havoc on your reel. A good catfish reel would be able to bear this strain easily.
Also, look for features like a watertight system, stainless steel or carbon fiber body and corrosion resistance. Irrespective of the fact that you are catching catfish in freshwater or saltwater, there is a high possibility of your reel getting damaged due to consistent water exposure in case it doesn't have quality construction.
You cannot avoid water splashes on the reel because fishing is all about being around water. Thus we find it extremely illogical when certain reel brands suggest us to be careful around water. Well, that was your job! I want a reel where I wouldn't be scared around water.
Conclusion
We hope that now you have a clear idea as to why we chose the Abu Garcia Ambassadeur Catfish Baitcast Reel as the best catfish reel.
Catfish are always a challenging catch, but the reels suggested above will make your job a hell lot easier. Also, knowing what exactly do you want from your catfish reel will make it easy for you to choose from our top catfish reel choices above.
Even if you are a complete beginner, having a good catfish reel by your side gives you a significant advantage.
Further, the essential point is that you would enjoy catching catfish if you have a good reel whereas you'll hate it if all you end up doing is waste the day while dealing with problems instead of grabbing those trophy catfish. Thus, never compromise with the power an excellent catfish reel can give to you.
In case you have any suggestions, queries or feedback, then please do write to us. We love to hear from you. See you in another fantastic article.