Fishing has never been limited to only a hobby or interest but is a passion for some. And even if it is not, it is by no means an excuse to not find the must have fishing gadgets and accessories that can significantly improve your fishing game.
So if you are one of those who could do with some extra catches or want to make your fishing trips more pleasurable, then please read along. Here we present to you some of the best fishing accessories to make you a star among your friends!
​Best Fishing Accessories
Detailed Analysis Of Cool Fishing Accessories
​1. DEEPER Pro+ Smart Sonar
---
Deeper's Smart Sonar is your number one way to explore the water. Just open the app to transform your phone into a fully functional sonar system. In the standard mode, you can monitor underwater structure, vegetation, temperature, depth and best of all where the fish are hiding.
It also has a dual-beam for wide and narrow range scanning (90kHz-290kHz), fully adjustable sensitivity, a wide range of fishing modes. With a variety of color modes, you'll never miss your target, whatever the conditions. So, where is that perfect spot?
Now even shore fishers can use their Smart Sonar and the Deeper app to create symmetric maps, pinpoint the spots that will offer optimum bite, and analyze the underwater conditions of the entire site. Further, with this gadget, the time is always right for kayak fishing, as it is one of the best fishing kayak accessories.
Transform your smartphone into an onboard sonar system. Enable boat mode and then map out your favorite locations, reveal the structure and bottom contour, draw a bathymetric map right from your boat, see the bathymetric data on one side of your screen, and sonar data on the other.
​Get the complete picture of the waters you fish. Just grab a paddle or start your motor and explore the waters below. Want to look back at the data you've collected? All your scans are stored in history. Scroll through your fishing day when the mercury is falling, hard water season is on. Deeper is a high-grade ice flasher that fits in the palm of your hand.
The split-screen function shows the regular display and the ice fishing flasher all on one screen. Zoom in to enlarge the area and see the movement of your lure in detail. You can also use the GPS ice hole marking feature to mark and save each hole you fish.
​Try running a free simulation on the Deeper app to discover how the deeper smart sonar works.
​2. GARMIN Panoptix
---
The Garmin Panoptix is an all-seeing sonar and one of the best fishing boat accessories. Seeing is believing. It's not just sonar; it's a unique way to see underwater. You can see the entire water column in 3D, see under your boat in 3D, see in front of your boat in 3d, and see real-time moving sonar images.
There are two different Panoptix transducers available, namely, Panoptix forward and Panoptix down. First, we'll look at Panoptix forward. The Panoptix forward transducer comes with transom and trolling motor mounts. Panoptix forward offers two views of what is ahead of your boat, namely, the LiveVü and RealVü 3D.
The live view shows live-action movement in 2D as it happens ahead of your stationary or moving boat. ​You can see your lure as you reel it back towards the boat and you can see fish come up to chase it. RealVü captures three-dimensional views ahead of your stationary or moving boat as it is.
The screen refreshes every second, and you can also manipulate the 3D image. Now we'll look at Panoptix down. The Panoptix down transducer comes with a transom mount. It offers three views of what is below your boat i.e., the LiveVü, the RealVü 3D, and RealVü 3D historical.
LiveVü shows live action views of movement below your boat as it happens. ​RealVü 3D captures three-dimensional views below your boat as it is.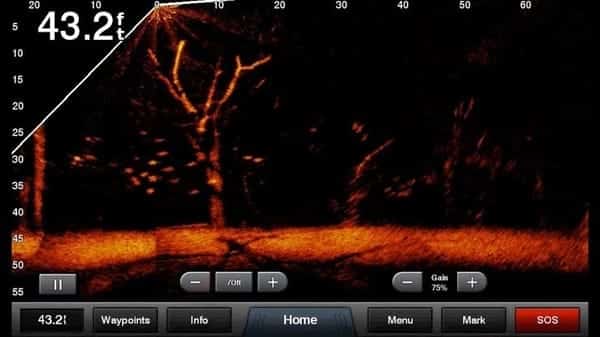 ​The screen refreshes every second. You can manipulate the image to see schools of fish, their movement, and depths with the in both boat stationary or moving condition. Panoptix down also gives you RealVü 3D historical that provides three-dimensional views of the water column your boat has just passed over.
It's an excellent tool for quickly scouting and finding fish from your moving boat. You can manipulate the 3D image to scalp the bottom structure, fish locations, and depths.
3. ​TACKOBOX LLC Smart Rod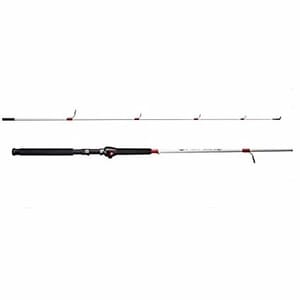 ---
The SmartRod has a digital readout for high, medium, and low sensitivity settings. The HML display will flash every 12 seconds to let you know what setting you're in as well as allowing you to see the rod is on and scanning for fish activity. It uses the high output piezo to be sure of a low-quality alarm.
The multiple visual alerts are high output LEDs. These high-tech rods have been designed to be easy to use with only one button. Once you turn it on, it does all the thinking for you so you can concentrate on catching fish. This patented technology is unlike any fishing product ever made.
As an example, in a high sensitivity setting, you can walk around while holding your rod, and it will not go off, but even with the slightest fish nibble, it will ring the alarm every time.
The rod is so smart that it will automatically shut itself down when you are reeling in your fish, so it will never interfere with your fishing experience and reset itself after recasting. ​If you're fishing in the wind, rain, or trolling, just set it to medium or low. There's also a light only alert setting so as not to disturb others while fishing.
You just hold the button until it goes silent and then release the button. Now you can choose your sensitivity setting. The tackle box smart rod is the world's first and only programmable fishing rod using computer-controlled accelerometer technology.
This technology is protected by a full utility value design patent, trademarks, and software copyrights. ​Timothy who is an avid angler said that this is perhaps one of the best fishing gadgets available on Amazon.
You can use any reel with these rods in your fishing trips as you always have with no need to string through any switch, clip-on contraption, or attach the bail to make it work. ​It runs on two cr2032 lithium batteries included and will operate from one to two fishing seasons depending on use.
These rods are two-piece medium action spinning or casting style, designed and built by the leading manufacturer of fishing poles in the world. ​You can feel confident that you will receive quality products from Tackobox.
​4. HODGMAN Aesis Jacket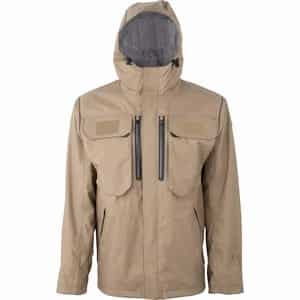 ---
This is a new waiting style jacket that has time and again proved to be one of the best fly fishing accessories. It's a little bit longer than traditional waiting jackets to give you a little bit more versatility. The material in the Aesis jacket is VTech hydrophilic laminate and what that does is it pulls moisture away from your body.
So if you work up a sweat, the water vapor is going to pull away from your body and adds a little bit more comfort. On the chest are two large-capacity storage pockets that hold a standard size fly box or three low-profile boxes as well. On the chest also are two vertical zip storage pockets.
They're recessed, so if you fill them up, they're not going to stick very far out away from your chest and get in your way when you're fishing. ​The lower hand pockets are designed uniquely, so if you're using a drift boat, they're not going to catch on your oars and rip out the lower part of your jacket or if you're waiting deep.
They do have a mesh drainage panel, so you're not going to carry around a whole lot of excess water weight. This jacket is also designed with a free range of motion, so if you're casting or you're using a drift boat and rowing, it's not going to bind upon you, and it gives you a lot of freedom to move around.
On the chest, you'll see a removable magnetic fly patch that you can pull off and move it to the standard packing that does have a hook and loop attachment. The cuffs on this jacket are a storm style cuff so you can cinch them tight.
They have an elastic band, so it does feel very constrictive around your hand, so if you're releasing a fish, water isn't going to flow up inside of your jacket, and you're not going to be walking around with a wet sleeve all day long.
On the back of these jackets is also a D-ring for accessory attachment so you can pull off a net and use that there as well or any other accessories that you prefer to put on the D-ring. The hood on this jacket is designed with a wire brim hood to keep the rain out of your face.
It also has a three-way adjustment so you can cinch it up around the back to maintain your peripheral vision, or you can scale it around the side to keep rain from going in your eyes.
​Conclusion
​This is the end of our list of the best fishing gadgets and accessories. Do remember that it is not compulsory to have these gadgets and accessories by your side. You can certainly fish without them. However, if you do have them, a few things do become easier in comparison.
We hope you liked our list of must have fishing accessories. If you know about some more awesome gadgets, then please tell us about the same, and we would be happy to include them on our list. Write to us and we will try and get back to you as soon as possible.