Irrespective of whether you are a beginner or a seasoned angler, good saltwater fishing rod and reel combos can be a test to find. With so many options available at your disposal, no wonder that you are at your wit's end over what to choose and what is best for you.
To make your purchase simple, you need to have an objective outlook at things which we are here to help you with. Saltwater fishing can wreak havoc on your gear if it has not been specifically designed for the same.
If you are in a hurry and just want to find out which is the best saltwater fishing rod and reel combo, then we'd recommend the Penn Squall Level Wind Combo as the best one.
Best Saltwater Fishing Rod And Reel Combos
Compare Top Saltwater Fishing Combos
| PRODUCT | OVERALL SCORE | BOTTOM LINE | PRICE |
| --- | --- | --- | --- |
| Penn Squall Level Wind Combo | 88 | Our trusted combo for your saltwater fishing adventure. | Check On Amazon |
| Penn Battle II Combo | 86 | Terrific rod paired with an outstanding reel. | Check On Amazon |
| Plussino Telescopic Combo | 80 | Best known customer service. | Check On Amazon |
| Penn Fierce II Combo | 80 | Best saltwater rod and reel combo for the money. | Check On Amazon |
| Penn Pursuit II & III Combo | 78 | Full of features at a giveaway price. | Check On Amazon |
| Sougayilang Kit | 78 | Complete kit at this price makes it an irresistible buy. | Check On Amazon |
| Okuma Tundra Surf Combo | 73 | Very easy to use and very durable too. | Check On Amazon |
Before We Begin
Do a small experiment if you can afford it. Take your favorite freshwater fishing gear out for saltwater fishing and contact us back with the results. We are not implying that you cannot use your freshwater fishing rod and reel in saltwater but actually doing so would be a horrible idea.
No matter how well you clean it afterward, chances are it would be gone for good. The internal parts of freshwater gear aren't designed to handle the corrosive strength of saltwater. Thus it's a good practice to have a high-quality saltwater rod and reel combo by your side at all times.
So here we present to you our top saltwater fishing rod and reel combos, all the while helping you choose the best.
Detailed Analysis Of Different Saltwater Fishing Combos
Looking at the table above we are able to deduce that the best saltwater fishing rod and reel combo is the Penn Squall Level Wind. Not only does it score high across various parameters but also rightly deserves the 'Top Pick' award for getting the maximum star ratings.
A deeper analysis would help us understand how the other combos have fared in the same set of parameters where our winner stood out.
1. PENN Squall Level Wind Reel & Rod Combo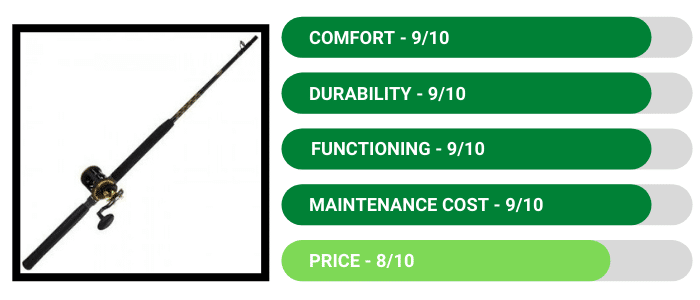 Overall Score: 88
+ High on power
+ Full metal body
+ Extremely smooth
Comfort
With a level wind reel that has been specially designed for trolling big game fish, the Squall combo is a beast in a variety of saltwater conditions. For anglers that enjoy the thrill of jigging big game fish, the PENN Squall Level fishing combo is a perfect choice. The reel that accompanies this saltwater fishing combo is a lightweight level wind reel.
It also carries with it a graphite frame and side plates. With a lightweight blank and a comfortable grip, this is sure to give you a happy experience.
Durability
The whole setup is both lightweight and ergonomic. Also, it is strong enough to handle those massive fishes that you dream to catch. The extra money you spend on this will provide you a great deal of relief when you will realize that the rod and reel have lasted a very long time.
The fishing rod that has been included in the PENN Squall Lever Drag combo is not only durable but also ultrasensitive. It is a 6 ft, one-piece tubular fiberglass rod which has a pretty solid tip.
Functioning
This Squall combo is different from other saltwater rod and reel combos in the sense that it does not feature a spinning reel. Moreover, the stainless steel gears come with a high-speed gear ratio when we compare it to reels of the other brands.
The Dura-Drag washers eliminate all tension, even under extremely heavy and extreme drag settings. It works perfectly for both inshore trolling, as well as bottom fishing and jigging. One point to be mentioned here is the rod is not exactly world-class but the reel makes up for it. This does not mean that the rod is bad in any way.
It is still one of the bests out there.
Maintenance & Repair Cost
Like we mentioned earlier, the whole PENN Squall Level Wind Reel and Rod Combo has been designed to last you a long time. Both the main and pinion gear have a stainless steel body, which directly translates to less corrosion and ultimately a longer life.
If you have been looking for a strong multi-purpose saltwater rod and reel combo, then your search ends here.
Price
Out of all the option listed here, this one seems to be the costliest. "Seems", you ask? Yes because we truly feel that its price is totally justified. Just have a look at the features this combo has to offer us. Performing so elegantly in all our parameters (except the price of course) it has managed to take home the 'Top Pick' award.
It is no coincidence that some of the most skilled anglers out there have labeled it as the best saltwater fishing rod and reel combo ever made.
2. PENN Battle II Spinning Fishing Rod and Reel Combo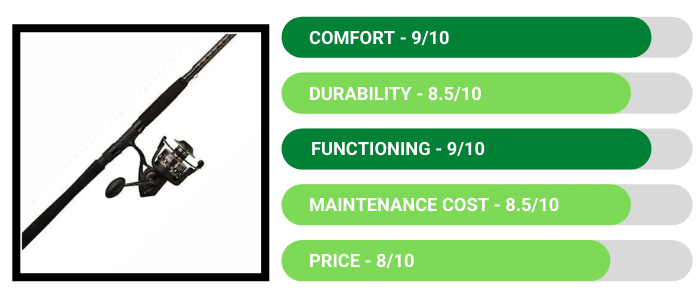 Overall Score: 86
+ Trusted by many others
+ Outstanding rod
+ Terrific reel
– A couple of broken tip complaints
Comfort
When you try to fish in the saltwater, great design and a good fishing tackle help you to be dead accurate with your casting line. Optimal weight with a nice grip is the strength of this beast. While saltwater fishing, you would find it to be very comfortable. Ergonomic design allows our blank to be perfectly balanced.
In case you are looking for a reliable saltwater fishing rod and reel combo, then this should definitely be given a chance.
Durability
With a graphite composite construction, the rod of this combo offers great sensitivity and optimal durability. The reel is has a full metal body and also carries a side plate along with a rotor. Designed to be durable and long-lasting, the Penn Battle II fishing reel has been known to make even those tough fishes as easy catches.
A machine-anodized aluminum superline spool allows us to tie super-lines directly with no need for backing.
Functioning
With the Penn Battle II, you would be pretty confident when you go fishing in the saltwater. With five stainless steel bearings, your line cast and retrieve are going to be very smooth. An awesome drag system gives you big leverage. And the HT-100 Versa-Drag carbon fiber drag system also has a built-in drag washer.
This helps in increasing the drag efficiency exponentially. We also get an anti-reverse bearing with a rubber gasket mounted on the superline spool. Relax, as your line won't be slipping off. Further, there is no need for monofilament backing. You would also have an eye on how much line is remaining through line capacity rings.
With the help of a heavy-duty aluminum bail wire, rest assured that the line will return to the spool evenly. Rod power is model dependent. Medium-light, medium, medium-heavy ,etc. variants are available and 10" heavy is the biggest one. Bagging some striped bass is no longer difficult with this combo.
Most of these rods are extra fast, fast and medium-fast action. The stainless steel guides on the blank give us really smooth line slides. Are you someone who likes to jig? These rods can help you. And to top it all, feel free to use it in both, saltwater and freshwater. There is also an option to buy a two-piece blank in case you travel a lot.
Maintenance & Repair Cost
Most customers are positive and upbeat about this rod and reel combo with a few mixed reactions here and there. Apart from some complaints regarding broken tips most reviews are success stories. Ever heard an old saying "Do not judge a book by its cover"? Well, it perfectly applies to this one here.
Don't form an opinion on what others are saying or what the ratings look like from the outside. So many readers whom we talked to, have been jigging and cranking away merrily using this combo without any issues at all. Since Penn puts a lot of effort and quality in their products, this doesn't require much maintenance.
Agreed, a few scattered incidents have occurred but all in all this combo will save you a lot of time and money in the long run.
Price
At such a competitive price tag, you couldn't have asked for more. A terrific rod paired with an outstanding reel is our bottom line for this combo
3. PLUSINNO Telescopic Fishing Rod and Reel Combo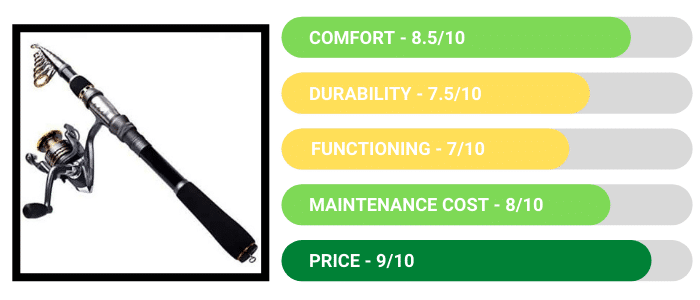 Overall Score: 80
+ Great value for the price
+ Great customer service
– Rod sensitivity issues
– Reel seat and surrounding parts loosen often
Comfort
We usually don't list telescopic rods or combos but this puts its foot in the door by being the best combo for the money. With an EVA fore-grip for comfort, fishing with it is going to be a comfortable experience for you. The telescopic fishing rod is portable, and closed length design is convenient for carrying around.
The biggest plus point of this combo is that the handle is interchangeable for both left-handed and right-handed anglers.
Durability
The spinning reel features a durable plastic body casing and has a short body. Perfect elasticity, high-density carbon-fiber which is mixed with fiberglass makes this fishing pole hard & durable.
With an incredibly strong and durable telescoping rod, available in lengths of 5.9 to 10.8 ft, this combo has been easily known to last people for almost two years in most cases before beginning to show signs of wear and tear.
Though it would be good to mention that there have been a few cases of the rod snapping into two, eyelets falling off after a couple of uses (worked fine when glued back) and our users expressing doubt over it being able to take much load.
Functioning
The Plusinno Telescopic Rod and Reel Combo has a very large and deep aluminum spool that consists of high line capacity. Every time you turn the handle, it results in an S-curve oscillating motion, which ultimately results in excellent spooling of our fishing line.
It features an instant anti-reverse mechanism and power drive gears equipped for high strength. The gear ratio of the reel is 5.2.1. Guides have been constructed out of aluminum oxide and are resistant to corrosion. These guides also allow all types of fishing line to easily glide through.
The rod is constructed out of sensitive graphite that allows you to feel even the smallest of strikes but still, some users experience sensitivity issues. There have been a few instances of the snapping of rods and the reel seat and surrounding parts becoming loose thus interfering with the overall functioning of this gear.
But you should know that the locking mechanism and screw threads for attaching the reel are VERY SHARP.
Maintenance & Repair Cost
Since the rod and the real seat are made out of stainless steel, they are completely resistant to saltwater corrosion. But this combo does require some time-to-time maintenance of the rod and the reel, especially the eyelets tend to detach.
But to save you from any hassle, the Plusinno customer care service is fantastic and extremely particular about taking care of its customers and goes great lengths to make sure that people are satisfied with their purchase.
Price
Extremely friendly price point which makes it really popular among anglers, both seasoned and new, alike. Perfect choice for those looking to fish off the jetty, piers or off the rocks.
4. PENN Fierce II Spinning Fishing Rod and Reel Combo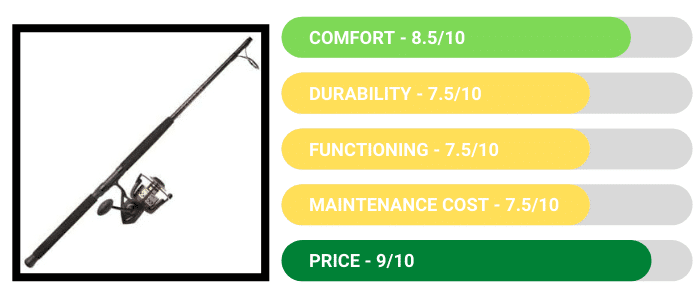 Overall Score: 80
+ Reel is the star-attraction
+ Well-balanced
– Don't have a guide on the back piece
– A bit heavy for some
Comfort
Introduced in the fall of 2015, the Penn Fierce II Spinning Fishing Rod and Reel Combo is still finding its place among the hearts of anglers. And needless to say, it is living up to the name behind it and has not been a disappointment, unlike some predictions.
Coming from an exceptional manufacturer, i.e. Penn, it features a pretty sturdy but lightweight graphite-composite blank. Slipping somewhere in-between the Penn Pursuit II and the Penn Battle II, it tries to offer us the best of both the worlds. Whether it has been able to do so, still remains a question of a heated debate, at least among our friends.
The graphite-composite blank has been paired with an EVA-grip and provides a comfortable fishing experience even if you are bound to have a long day at fishing. Apart from this, some users have found the Fierce II to be marginally heavy for their taste.
Durability
The graphite composite blank which hs been paired with stainless steel guides and aluminum oxide inserts makes the design pretty sturdy and durable. The line has a perfect room for movement and it feels extremely smooth while pulling in.
We can expect a slightly better performance in the durability section than the Pursuit II in at least in some areas if not all.
Functioning
As we had hinted earlier, Fierce II offers a few re-designs and upgrades compared to the Pursuit II series. To start with, it includes an all-metal body, a techno-balanced rotor, an additional bearing, a superline spool, and a heavy-duty aluminum bail wire. Some praiseworthy progress, ain't it?
The 5 (4+1) ball bearings ensure quick spins. The superline spool ensures that there are no knots formed in our cord. This ultimately gives the cord a perfect room for movement and makes the reeling in an ultra-smooth experience.
Maintenance & Repair Cost
This is a high-quality combo for a reasonable price from a trusted name that will last you a long time if not overly abused.
Yes, we agree that there are not a ton of highlights, or something remarkably unique, but heck it still does the job pretty well.
Price
For someone looking to have a trusted and a decent buy, anything from Penn in the list above would make you happy. In the end, it all depends on how much does your pocket allow you to spend.
This combo will not disappoint you in any way and is one of the best saltwater fishing rod and reel combo for the money.
5. PENN Pursuit II & III Spinning Fishing Reel & Rod Combo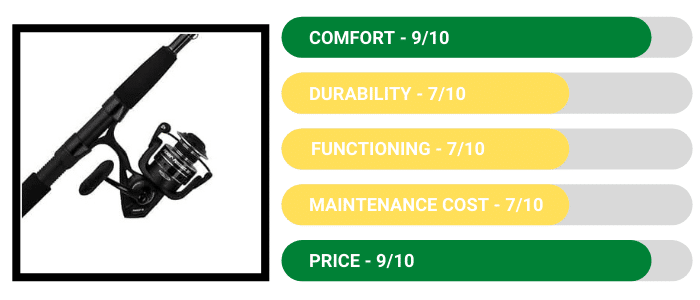 Overall Score: 78
+ Good price range
+ Light weight
– Doesn't let saltwater enter the reel
– There is no fish eye at the tip
Comfort
Now here is one more tested and ever prepared Penn saltwater rod and reel combination. Being an exceptional option for saltwater jigging, this combo doesn't disappoint at all. Remember that our intent is to catch deep sea fishes.
Penn has actually provided to us almost all possible lengths of rods with different power scores in the Pursuit II & III combination. Any type of rod being used should have some kind of padding that is not only comfortable but has a good grip too.
The Penn Pursuit II & III rod-reel combo comes with EVA grips and soft cork handle according to the model in consideration.
Durability
Created from graphite, these poles are delicate and also light-weight. The graphite reel seat makes your reel remain safe and in its proper place. Because the body is non-corrosive, there should not be much problem if by any chance you get a bit clumsy with the setup.
Functioning
Specifically designed for saltwater gamefish, it has a smooth retrieve due to its techno-balanced rotor. Since all the rod options are either extra fast, fast or medium-fast action, you are surely getting a good performance out of these. An aluminum spool helps prevent slide-off thereby holding the line really tight.
Tough fights from big fishes take a toll on our reel's longevity. Also, they have an adverse effect on their durability. But the HT-100 carbon fiber gear washers along with an oil-filled drag system significantly reduces the problem and gives a smooth performance at the same time. Without quality bearings your reel would be anything but smooth.
With 4+1 stainless steel ball bearings and instant anti-reverse you are in for some unbelievable smoothness. They also facilitate smooth transitioning of the line along your spool. Moreover, the presence of aluminum oxide inserts provides completely stable guides.
And that is not all, there are line capacity rings which allow us to keep an eye on how much line remains on the spool.
Maintenance & Repair Cost
Though it has a 70% positive customer feedback, we had to deal with some snapped tips. Once the rod even snapped in two. Furthermore, we have cases where the saltwater and fine sand grains entered the reel. Now when we opened, washed and dried the reel, it did work, but not as it did before. It was never the same.
Even after such cases we confidently claim that this beauty will outlive similar saltwater fishing rod-reel combos due to their designing and the materials used.
Price
Being available for less than $100 bucks this combo is a favorite among new and skilled anglers alike. Worth the price tag and definitely should be tried.
6. SOUGAYILANG Saltwater Rod and Reel Combo Kit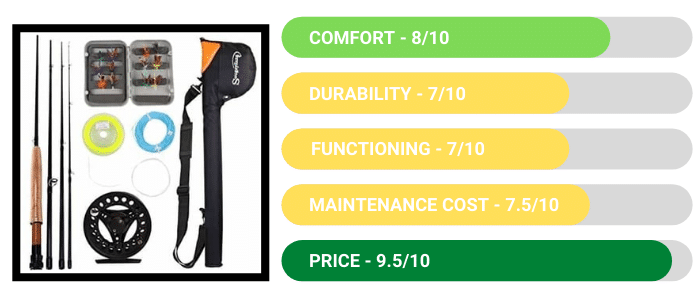 Overall Score: 78
+ For saltwater, freshwater and fly fishing
+ Great for complete beginners
– Few users unsatisfied with the reel and the line
Comfort
The Sougayilang brand is an experienced and a known name in the world of anglers. Striving to give top-notch products to fishing lovers around the world, it is gradually making up a name for itself among its competitors in the contemporary price range.
The attractive suitcase with a zipper that this combo brings with itself makes sure that we remain organized and sorted while fishing.
The Sougayilang Saltwater Rod and Reel Combo Kit includes a 2.5ft fishing rod, a fishing rod bag, 5/6WT aluminum alloy fishing reel, a fishing line, backing line, tapered leader, braided loop connectors, 12pcs fly fishing flies, fly fishing box, phew…….all of these in a fishing case.
Apart from being convenient to carry around, it is also interchangeable between the left and the right hand.
Durability
The fishing rod is made of carbon-fiber and thus as you would expect is super lightweight and durable. It also uses a high-grade chromed stainless steel guide ring which ensures their longevity, which can often end up being a problem area in even the most famous names.
The fishing reel has a die-cast aluminum body, which is pretty decent for both its weight and making it survive a long time. Regardless, there have been a few instances of the rod snapping either from the tip or straight from the middle.
Functioning
A high-quality, chromed, treated steel control ring ensures that the fishing line is subjected to minimum friction. A sensitive blank and machined-anodized aluminum reel seat make it a friendly gear due to the ease of operation.
A-grade grip working with an oiled-machined aluminum reel seat make it a pleasurable experience for that also does the job. It also has the functionality of a one-way clutch bearing for an immediate and smooth drag, with a silent retrieve and remarkable accuracy.
Moving ahead, there have been a few cases of users being unsatisfied with the line and the reel.
Maintenance & Repair Cost
Apart from the one-year warranty as quoted by the manufacturers on the Amazon website, they also allow you to change the reel from left-hand to a right-hand retrieve. To convert your reel to right-hand retrieve, you can contact them for guidance.
With a strong carbon-fiber build and strong metal body, the combo is impressively long lasting and can easily take a place in your hall of fame along with your other favorite gears. After a few casts when it does develop technical snags, that is where it would require maintenance.
Price
The price is what makes it an extremely irresistible buy. We mean, where else have you heard so much being given to you? The price it demands is the price in which many big names would only be able to provide you with a rod or a reel and here you have a complete kit at your disposal.
With so much to offer, they score extremely well in this section of the review.
7. OKUMA Tundra Surf Spinning Combo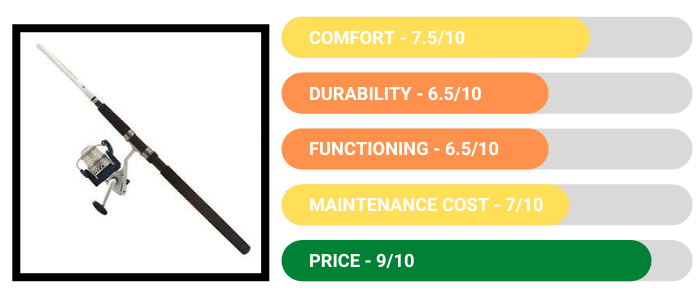 Overall Score: 73
+ Memorable casts achieved
+ Suitable for big fishes
– You might find it a bit too stiff
– It does have weight issues
Comfort
With an ergonomic rod design and a reel with lots of features, the Okuma Tundra Surf Spinning Combo caught our attention. Long rods are usually difficult to handle. Okuma tries to make it less uncomfortable by giving us a comfortable EVA padding. The grip did not slip out of our hands even when we fished for really long durations. Did we tell you that you also get a really nice fore-grip just above the reel seat?
Durability
We see a fiberglass rod body which is both lightweight and flexible. The flexibility is of immense use when we are fighting big game fishes in saltwater. The graphite body is quite resistant to corrosion. No need to be extra careful with the setup. To err is human and manufacturers understand this too.
Six aluminum oxide guides with ceramic inserts allow smooth line transition. Reinforced and double-footed guides provide stability when we are in a tug of war situation with the fish and the whole setup is under some heavy load.
Functioning
For anglers who believe more equals better, this combo can serve as a case study for them. It has just one bearing but that is of supreme quality. The multi-disc oil-filled drag system helps the reel perform smoothly. Also, a good quality lubricant makes the bearings operate without considerable friction.
With a gear ratio of 4.9:1 it does a pretty decent job with small sharks, stingrays and other saltwater species that love to swim close to the water surface.
Maintenance & Repair Cost
A 72% satisfied customer rate speaks volumes about the performance of this setup. But it can and will cost you a significant amount in repair and maintenance.
Premium models of other brands might be costly but they tend to pose a significant advantage over the low-priced combos and prove to be better in the long run.
Price
Available at an affordable price point, anglers rightly describe it as the best Okuma spinning reel and rod for the money. Do you want something that is easy to work with, uncomplicated and durable? This your best bet.
It will be an asset to your tackle box.
Buying Guide For Saltwater Fishing Rod And Reel Combo
Any saltwater fishing rod and reel combo can be tested on the following parameters:
Rod Features
Size of the rod
Material used
Rod weight
Rod handle
Reel seat
Reel Features
Reel type
Drag system
Bearings
Reel weight
Other Features
Corrosion resistance
Resistance to water
Applicable warranty
1. Fishing Rod Characteristics
Size
Anglers usually like to fish with a surf pole that's at least 9 or 10 feet in length. Longer rods keep fishing lines out of the surf. They also let us cast further. Rods containing a short "butt" end also aid us in casting farther than usual. This is to be done along with keeping the reel closer to rod end. This, consequently, helps longer cast distances with the surf fishing rod.
Material
You would want your rod to be made of graphite composite or fiberglass body. As they can be very sturdy, efficient, and extremely flexible or non-flexible (rod action) depending on the fish we are trying to reel in. They are extremely durable too.
Rod Weight
A good rod strikes the perfect balance between weight and strength. Try to go for a lightweight rod. A surf fishing rod that is light in weight detects strikes earlier than the heavier blanks. Also, it doesn't wear you out when you have been fishing the surf for quite some hours.
Rod Handle
We don't want any discomfort while fishing in the saltwater and this is where a good grip comes in. Fishing should be fun and not a tedious chore. Handles with poor design and cheap material can even cause blisters in your hand.
Reel Seat
Cheap quality reel seats will loosen up with time. In such events, our reel becomes loose. What we need is a secure reel seat that would be able to tightly lock in our reel.
2. Fishing Reel Characteristics
Reel Type
A spinning reel can prove to be a good choice for surf fishing. Extremely unfriendly surf fishing conditions can cause quick wear 'n' tear of your reel. Thus we need reels that have been designed keeping the same in mind. Attributes like corrosion resistance, durability, and a strong drag are a must for any reel these days.
Drag System
Drag is much more important than achieving those extra yards during casting. Modern reels cast around 300 ft if you have the correct technique. So rather than going gaga over a long spool reel, choose reels that offer a great drag.
Bearings
Choose a reel with at least 4-5 bearings. They allow you to have good control along with a smooth performance. But the quality of the bearings is more important than the quantity. Poor quality bearings are just a piece of extra baggage. They can even cause the reel to jam.
Weight Of The Reel
Reel weight is also a metric hinting at the comfort level while we work with the reel. At the end of the day, we don't want strained hands. A lightweight reel is a pleasure to work with. Though as mentioned earlier, we don't want any interference with the reel strength due to extremely lightweight materials being used.
3. Other Variables
Resistance To Corrosion
We don't want corrosion to destroy our favorite set that we had so enthusiastically bought. We feel it is much wiser to put in some extra money in a good quality beach fishing rod and reel combo. This would save us extra time and money spent in the long run due to frequent repairs.
Water Resistance
Try to go for a waterproof design. Something like sealed bearings rather than just shielded bearings. Does cost you a few dollars extra but really helps in the long run. Save some money, do whatever you need to but stay away from the cheap stuff.
Warranty
Wear and tear of your fishing gear is an inevitable phenomenon. You just want it to happen as late as possible. If you have a good warranty backing up your purchase, then you wouldn't have to worry about anything even if things go completely downhill after some time.
Conclusion
And, at last, we have reached the end of this really comprehensive article where we tell you about our top rod and reel combos when it comes to saltwater fishing and why we chose the Penn Squall Level Wind Rod and Reel Combo as our ultimate pick. We deliberately left out a few popular names because we felt that we had better options to compare.
This was purely a team choice. If you feel that we have left a deserving candidate out, feel free to reach us. That's all anglers and anglerettes, if that is an acceptable word, lol. Hope this article has given you enough details on the best saltwater fishing combo as well as extra information which would surely help you increase your knowledge.
Till then, auf wiedersehen!