Ice fishing can be a great way to spend time with your buddies and catch some fish, but most ice fishing shelters are only designed for two or three people. What if you want to fish in a group of 8 or more?
Large ice fishing shelters can comfortably seat 6 to 12 adults and come in easily portable tent options and more sturdy ice shanties. Ice tents can fit up to 9 or 10 people, and larger ice shanties can fit a group of up to 14 in a single building, with other large group options available.
For more information on choosing the suitable ice fishing shelter for your group's needs, keep reading for all your options.
Pros And Cons Of Large Ice Shelters
Before covering some of the options for large ice shelters, it's essential to cover some of the pros and cons of using one.
Knowing what you need will help you find the right size for your needs without paying for unnecessary features.
1. Pro: Large Ice Shelters Can Fit More People
The first pro to using a big ice shelter, and probably the reason you are looking at getting one, is the additional capacity for people.
Most ice-fishing shelters are designed for somewhere between 1-4 occupants.
These small shelters work well for the individual angler or a small group, but for large groups who want to fish together, these shelters won't do the job.
Ice fishing tents can come in sizes large enough for nine or more people and are more appropriate for group events.
You might want to use a large fishing shelter for family trips, bachelor parties, workplace events, or any other events.
In all of these cases, socializing with the whole group is an essential aspect of the event, and having people separated in small shelters can ruin this goal.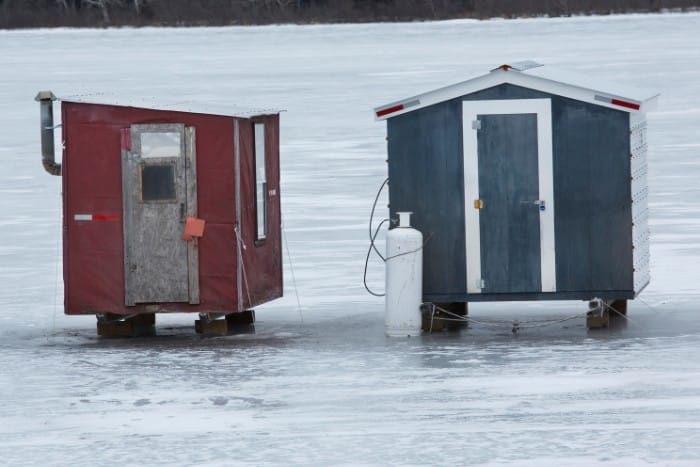 2. Con: Large Shelters Are Heavy And Cumbersome
With all of the extra space and material that large ice shelters provide, you're looking at a lot more weight and reduced portability as a result.
For tents, this can mean dragging around a 65-pound tent at a minimum, more than twice the weight of a smaller option.
Setting up a large shelter is also much more complex, often requiring a minimum of two or three extra people.
A complicated setup means you're out of luck if you want to take the shelter out by yourself, and it necessitates purchasing an additional shelter for smaller groups.
While not necessarily a dealbreaker, this is something to consider.
For hard-shell options such as a traditional shanty or a modified trailer, you're looking at a heavy structure requiring special equipment to move from location to location.
Storage of these shelters in the off-season is also a consideration if you plan to own one.
Depending on how often you use your large ice shelters, you can go down either the rental or purchasing route.
Renting makes sense for once-a-year usage at most, while two or three weekends a year might warrant a purchase.
3. Pro: Extra Room For Gear And Extra Headspace
Not only is extra room suitable for extra people, but it also means that all you gearheads can bring fishing poles, bait, and tackle to your heart's content.
This space is especially helpful for overnight and weekend trips. Most of the ice shelters on this list offer over 100 square feet of space, which is enough for several cots, food, and plenty of gear for your crew.
Some of these shelters also offer space for storage and built-in beds, helping to extend your trip further.
Big shelters usually have extra headroom, between 6.5 and 7 feet, enough for most people to stand comfortably.
When the weather is terrible outside, getting up and stretching can be a huge mental boost while fishing.
4. Con: The Larger The Shelter, The Larger The Price Tag
With all the additional material needed to build a large ice shelter, you're looking at a hefty price tag compared to other shelters.
Large-capacity ice fishing tents will cost two or three times as much as standard tents, depending on the material and build quality.
For ice shanties, you can look at spending anywhere from a few thousand dollars upwards to the price of a new car, depending on the size and different add-ons you choose.
Due to the labor involved in building and maintaining a shanty of this size, costs can add up quickly for a quality unit.
Additional costs, including fuel, storage, and repairs, can add up over time, making these large units much more expensive over the lifespan of the shanty.
If you plan on using a heater, use an insulated option to help offset the costs of heating a large space.
5. Tent Vs. Traditional Shanty Vs. Trailer
Generally, ice fishing shelters are separated into three categories: flip-overs, ice houses/shanties, and tents/hubs. Flip-overs typically have a smaller capacity than the other options.
Ice houses can be built to pretty much any size, but at the end of the season still need to be pulled off the ice or disassembled, which becomes increasingly difficult as the ice shelter gets larger.
Large shanties also lose a lot of portability, being best for those who own properties right on the lake and do not need to move the house far.
Ice shanties built on trailers are a much better option if you need to move them fairly often, but they come with some drawbacks. The first is width can only be about 8 feet to be road legal.
Length is usually limited to about 25 feet, as too much larger becomes difficult on the different mechanisms.
Going with a large ice tent will be your best bet if you value portability. If you want a mix of portability and a solid design, a trailer converted to an ice shelter can be a pricey but excellent choice.
Standalone ice houses offer the most customizability if you have the space and ability.
Tent And Shanty Options For Large Groups
Alright, here are some of the biggest ice fishing shelter options available. We'll cover the largest flip-over out there, some large tent options, and other alternatives for large-group ice fishing trips.
1. The Clam X400 Pro Thermal XT Is A 4-Person Flip-Over Shelter
Flip-over shelters usually have a capacity for two people, sometimes three. The Clam X400 Pro Thermal XT offers 68 square feet of fishable space and seating for four people.
Sixty-eight square feet might not sound like a ton of space, but this tent is one of the biggest and best options out there for a flip-over tent.
When it's packed away, this shelter measures 75" long, 49" wide, and 26" high, weighing 190 pounds with everything included.
When set up, this shelter offers plenty of space with a base of 185" x 75" and a height of 81" with plenty of room to stand up straight.
This option comes at a hefty price tag at the time of writing, thanks to its quality features and materials. Thick poles and a sturdy tub mean this shelter will last for a long time and many seasons.
The insulation in this shelter is 90 grams per square meter, which is plenty to keep you and your friends or family warm on even the coldest and windiest days.
Four adjustable swivel seats make this a comfortable option if you are a fan of flip-over shelters.
2. For A Group Of 7-9, The Eskimo Outbreak 850XD Delivers Big
With 114 square feet of fishable space, the Eskimo Outbreak 850XD is one of the largest hub-style tents for ice fishing.
Two doors mean you won't be tripping over one another to get out, and one of the doors is "no-trip," zipping all the way down to the ice.
At a packed size of 62" x 14.5" x 14.5" and a weight of 68 pounds, this shelter is still portable for what you get. The setup size gives you a 94" x 180" footprint and 80" of standing room.
This option is reasonably affordable. A tent at this price point includes insulated fabric, three cam strap tie-downs, and nine ice anchors to keep the shelter steady in any amount of wind.
3. VEVOR Ice Fishing Tent Offers An Affordable 8-person Shelter
At a minimal price, you can own an eight-person ice fishing tent that will keep you reasonably sheltered while out ice fishing.
While the quality will not match that of more expensive options, this is an affordable way to get your family out on the ice.
The VEVOR Ice Fishing Shelter Tent comes with 300D Oxford waterproof fabric walls to keep you dry while remaining inexpensive and lightweight.
In fact, this tent only weighs 29 pounds, lighter than many small tents out there.
This tent can be an excellent way to try out a large ice fishing shelter without paying the top dollar other tents require.
At a packed size of 50" x 9.6" x 9.6" and a setup size of 141" long and 70.8" wide, with over 6.5 feet of headspace, this tent provides plenty of room for your group.
4. Nordic Legend Aurora Lodge 7-9 Person Insulated Shelter
The largest tent on this list, the Nordic Aurora Lodge 7-9 person insulated shelter, offers the most fishable area at 129 square feet, an impressive amount of space for the average user.
One unique feature of this tent is the chimney opening for adding a wood stove to your hut.
With plenty of ventilation and six removable windows, you don't need to worry about having adequate airflow for any heating device.
Many users are impressed with the warmth and stability of this tent, saying that it offers the most bang for your buck of any tent available.
And with 12 heavy-duty ice anchors, it's no wonder this tent performs so well in the wind.
When packed away, this tent is 77" x 12.5" x 12.5" and just under 54 pounds. Set up as a hexagon with 85" sides and a 143" size from corner to corner, and an impressive 83" of headroom in the center.
5. Renting A Large Ice Shanty For A Day Or A Weekend
One of the best options for a short trip with a large group is to rent a large ice house for the weekend.
What type of shelter required will be dependent on the area and what available options there are, as well as the prices.
Daily rates for a group of 10 can range from $200-$400 for a 24-hour rental, and for groups of 14 or more, you can look at spending as low as $400 for 12 hours upwards to $1000+ for a whole weekend.
Again, prices will be dependent on your area.
For once-a-year trips for large groups, this might be your best option, as these shelters will include amenities, including heat, lighting, and, best of all, no responsibilities for the shelter after you leave.
6. Renting Or Buying A Custom Built Trailer
Ice shelters built on trailers are a great way to have a sturdy shelter that can withstand all elements while being reasonably portable.
A heavy-duty truck might be required to tow the shelter, and the ice will need to be thick enough to support that weight.
Trailers designed as ice fishing shelters usually contain helpful features, including hole covers, extra heating and insulation, and a mechanism to drop down from towing height to the ice.
These features can add up quickly, with most trailer options priced at $10,000 for basic models and over $40,000 for large and fully-equipped options.
Since it is such a large-size shelter, shipping is expensive, so check out your area for local manufacturers or used options.
If you don't mind a bit of patience and time, you can get a good deal on a fixer-upper or find one to rent for a single trip.
7. Using Several Shelters For Extra-Large Groups
Ice fishing shelters can rarely be found for more than nine people for portable options and 14 people for rental options.
If you have a group larger than that, consider some different options to accommodate the whole squad. Using several different shelters might be a needed solution to fit an extra-large group on the fishing trip.
Two large shelters next to each other with the door open can accommodate 18 people, and while not ideal, it can be an excellent way to keep communication accessible.
Some rental places will offer package rates for multiple ice houses, all close to one another, so that may be another option depending on your needs.
Each trip will be unique, with different needs, so you'll have to evaluate your options based on your circumstances.
Thank You For Reading!
I hope this answers some of your questions about the biggest ice fishing shelters and available options.
From portable options for frequent use to short-term rentals, you have plenty of available choices to best suit your needs.
While ice-fishing shelters will continue to increase in size as time goes on and materials improve, it seems rare for manufacturers to create shelters much over 120 square feet in size.
Custom builds might be the only option for extra-large ice fishing shelters, especially if portability is still a priority.