Best Spinning Reels For Bass Fishing [Updated 2021]
If you are in a hurry and just want to find out which is the best spinning reel for bass fishing, then we'd recommend the ​​​Daiwa BG Spinning Reel as the best one.
​​So you have had your share of experience with baitcasters for bass fishing and now want to switch over to spinning reels?
Or maybe you are one of those who are stepping into the world of bass fishing and want to start with the easy to learn option first?
Whatever the reason is, this article will leave you with ​a great bass fishing spinning reel.
​Best Bass Fishing Spinning Reels
​​ Daiwa BG Spinning Reel
​​Cadence CS8 Spinning Reel
​​Shimano Stradic Ci4+ Spinning Reel
​​Penn Battle II Spinning Reel
​​Shimano Stradic HG Spinning Reel
​​Pflueger President Spinning Reel

​
​Compare Top Products
Swipe Left On The Table To Scroll
| ​Product | Our ​Rating | ​Bottom line | ​Latest Price |
| --- | --- | --- | --- |
| ​Daiwa BG | 4.4 stars | ​Drag and power to handle almost any kind of fish. | |
| ​Cadence CS8 | ​4.4 stars | ​High-performance at a modest price. | |
| ​Shimano Stradic Ci4+ | ​4.3 stars | ​Laced with advanced state of the art features but comes at a price. | |
| ​Penn Battle II | 4.2 stars | ​A well-made reel which will add plenty of fishes into your fish box. | |
| ​Shimano Stradic HG | 4.2 stars | ​For those who are looking to upgrade their arsenal with a dependable reel. | |
| ​Pflueger President | 4.2 stars | ​Awesome value for your money. | |
​Before We Begin
Basses are one of the species that put up a really hard fight. And more often than not we have seen sub-standard reels kneeling down in front of the power of a bass fish. Thus, having a great quality reel is so important or you would be left regretting when your fishing tackle takes a hammering.
​
You would particularly want to look for a reel that would provide both control and comfort.​ It should be smooth, reliable and have a good design. Don't forget a satisfactory customer service that won't leave us feeling frustrated. Finally, it should be available to us at a decent price.
Bass fishermen are fond of using light lines, lures, and tackles. ​When the fish isn't biting your traditional larger lures then you want to switch to some finesse fishing techniques and a spinning rod and reel makes your job easier. Thus they are particularly specific about pairing their pole with a spinning reel.
Let us now have a look at some of the best contenders in the market.
​Detailed Analysis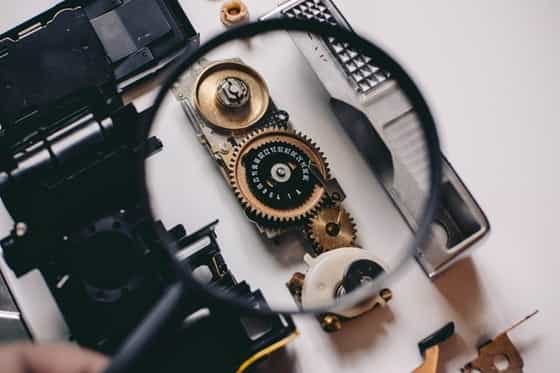 ​The reels fared really close to each other in star rating with a minimal difference to separate them. Depending upon your need and using the buying guide as a reference to choose your favorite bass fishing reel, you can pick out one.
In case you feel overwhelmed and cannot decide, then simply go with the 'Editor's Choice' option i.e. the Daiwa BG Spinning Reel. ​Bass fishing is a really exciting sub-area of fishing and it requires sophisticated fishing gear. Having a good reel will certainly take you a long way and this is exactly what we are trying to achieve through this article.
The best features including the pros and cons have been detailed out for each reel for your better understanding.
​SHIMANO Stradic Ci4+ Spinning Reel
4.3 stars
​Highly reduced wind-knots and line twists

​Buttery smooth performance

​Impressive drag

​Lightweight and high corrosion resistance
Comfort
​The Shimano Stradic Ci4+ is 25% lighter in weight than its predecessor i.e. the Ci4. And the reason behind this remarkable reduction in its weight can be accredited to the Magnumlite (MGL) rotor. The G-free body design brings the center of gravity of the reel near the rod handle where our hand is.
This significantly reduces the stress on our arms and the wrist. Further, the carbon fiber build also helps the Stradic Ci4+ to remain super light.​
Durability
​Thanks to its Core Protect 360-degree water resistance feature, the Shimano Stradic Ci4+ get the ultimate form of durability. And due to the cold forged aluminum spool and super hard Hagane drive gears, it works like a charm in all weather conditions while sustaining even the most adverse treatment.​
Functioning
Since its operation is one of the smoothest you would ever come across in spinning reels, less inertia is required to start and stop line retrieve. To improve the fishing experience, the feeling of strike and fighting against our catch is magnified manifold.​
Available in a variety of gear ratios and weight, it packs in an impressive drag power and line retrieve rate in each model.​ Moreover, you would be using one of the best line management system ever made. ​The spool is a lot more powerful than diecast aluminum or graphite builds and it makes the drive gears smooth and fluid, especially under heavy loads.​
A bearing is positioned on the pinion which increases the smoothness of the gear system. Also, the X-ship feature increases casting accuracy and maximizes the efficiency of the Stradic Ci4+. You might not notice the same until and unless a situation arises where you would be fighting a big and tough fish.Instead of channeling extra power to the handle, the pinion gear transfers it to the rotor and is positioned around the center line of the drive gear which has a large diameter.​ Further, it is backed up by 2 Shimano A-RB roller bearings which stabilize the reel and reduce any twist and rotor deflection.
Also, the X-ship gear feature that we mentioned above helps the gears to remain aligned under heavy load and minimize any wear and tear. ​With its AR-C design and power roller, the Stradic Ci4+ has its wind knots and line twists reduced to more than half. A Super Stopper II anti-reverse switch helps in instantaneous hooks and avoid any back play.
Actually, the CI in Ci4+ stands for 'Carbon Infusion' which is a trademarked Shimano legacy to introduce reinforced carbon. The cold forged aluminum drive gear and the hardened brass pinion gear that we mentioned above is actually a part of the Paladin Gear System which enables the reel to function as out of the box for years down the road.
Finally, a high line capacity for both monofilament and braided lines make it suitable for tackling any bass that we may encounter.
Maintenance & repair Cost
The 6 S R-AB shielded stainless steel ball bearings make the internal mechanism of the reel resistant to corrosion and highly reduce the chances of any salt, dirt, or water entry. Since the reel lacks metal components, therefore it automatically develops the ability to resist corrosion.​
price
The Stradic Ci4+ is laced with some advanced state of the art features but those surely come at a price. The price is highly justified though because it is a high-quality product. This is one of the best spinning reels for catching bass fishes. ​Shimano is a highly-reputed name in the fishing industry and the Ci4+ shows us why.
Even after searching through various models from different brands, we were not able to find a reel that can outrank the Stradic Ci4+ in reliable performances.​
​CADENCE CS8 Spinning Reel
4.4 stars
​Premium features at optimal price

​Suitable for a variety of applications

​Sturdy lightweight construction
​The drag can take some time to adjust
Comfort
​The Cadence CS8 Spinning Reel is a very lightweight product primarily due to its oversized EVA knob, an aluminum handle, and ergonomic design.​ This allows you to fish for long hours and will not leave you feeling tired at the end of the day.
Durability
It is completely built out of materials that add a lot of strength to it but do not add any weight.​ It features a light magnesium frame ​which is 34% lighter and 1.5 times stronger than aluminum, pushing lightweight to next level.​​​. It also has a carbon rotor that glides on ten corrosion resistant bearings.
In the CS8 we have a quality product that will last in our fishing arsenal for a long time. Using aluminum OS gear, pinion gear and main shaft to make the reel both strong and durable.
functioning
​The presence of a machined aluminum spool doesn't allow any line slips. Constant and consistent pressure is dealt with by the carbon fiber drag system.
With its premium build, the all-purpose CS8 Spinning Reel is applicable to a variety of situations like for catching freshwater bass, walleye, and trout along with popular inshore species like redfish, speckled trout, and flounder.
​These reels exceed our expectation with their high-end features, quality, and design, one of which is nine ball bearings in tandem with an anti-reverse bearing.​ Other notable things are a carbon composite rotor and side plate, a strong carbon fiber drag system, a braid ready machined aluminum spool and lastly a machined aluminum 1-piece bail.
CS8 Spinning reel's Superior Drag System offers incredible stopping power up to 20LBs to handle the big fish you are after. With innovative wave spring drag system, you can precisely adjust your drag power to suit your needs. ​The drag may take some time to get used to. Finding the perfect setting would need patience.
Sometimes it was too loose which made the line run through and at other times it was too tight which made the line stick.
Maintenance & repair Cost
​The Cadence CS8 Spinning Reel has a magnesium frame which remarkably resistant to corrosion under all freshwater and saltwater circumstances. These are one of the highest quality reels that will not trouble you by asking for constant maintenance and repair. Thus there is almost a negligible amount that would go towards post-purchase care of the reel.​
And finally, Cadence offers us a 3-Year Manufacturer's Warranty and 90 days return policy for a 100% refund.
Price
​The value offered by this reel is comparable to what we get in the market for almost twice the price.​ But it is available to us at a modest price point with high-performing premium features. ​Built to deliver, Cadence yet again shows us how and why quality fishing gear doesn't mean breaking the bank.
With its top design, components, and quality, it outright puts any competition to shame.​
​PFLUEGER President Spinning Reel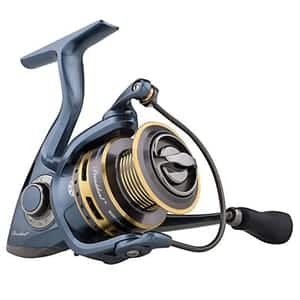 4.2 stars
​Low price

​Feels really light

​Aircraft grade aluminum in construction
​Unsealed components

​Possible grinding noise
Comfort
The President reel saw its complete redesign by Pflueger in the fall of 2011. It is a lightweight, high-strength graphite reel which allows us fatigue-free fishing. Pflueger has reduced the body weight of the reel by 10% and has still been able to maintain the required durability. Our hands and wrist really thank them for this.
Both the body and the rotor are lightweight graphite. The knob is soft to touch, ergonomic in design and provides a strong grip. The dimpled knob design is friendly to our fingertips and fits very well.​
durability
​The reel has a 10 bearing system which consists of corrosion resistant stainless steel ball bearings. Featuring a machine ported and double anodized braid ready aluminum spool, the Pflueger President Spinning Reel also has a drag system with multiple discs which have been constructed from stainless steel.
There is minimal friction due to the titanium coated spool lip and line roller. With aircraft grade aluminum used in construction, the reel has extreme durability and its components can take constant physical wear-and-tear.
Functioning
​The reel allows braid to be tied directly to spool with its braid ready spool. It does so by using a series of vertical rubber grommets and doesn't need to have any kind of mono backing. A sealed drag system consisting of sealed drag washers always feel lubricated and smooth.
Any line twist is minimized and line inlay is improved because of the slow oscillation gearing. The Pflueger President actually makes you feel like a president with its smooth operation and classy design when you reel in those big fishes. With its audible Pflueger's Sure Click™ bail, we are saved from casting on a closed bail.​
It is made of heavy-duty aluminum and is supremely stronger than previous models. With its consistent drag pressure and corrosion resistant parts, we are looking at an impressive reel. Further, its drag is adjustable in micro increments which give us precision in control.
One thing however that you may come across is the grinding noise in the reel. It seems to be coming from the back of the reel and is quite irritating at times. Some of our test reels worked smoothly for some time but then there was this grinding. Did not happen with all the reels so this seems more of a quality control issue.
Maintenance & repair Cost
​The biggest downside of the reel is the fact that no component is sealed and the reel, therefore, requires high-effort towards maintenance after every use especially if it has been near salt water. Mostly, you would need to rinse the reel and that is pretty much it.​ ​Pflueger gives us a one-year warranty on the reel from the date of purchase.
Price
​This is probably one of the best bass fishing reels in the market which is available at a modest price. Not only it is smooth and delivers a great performance but it is also time tested and reliable.​ ​Whether you are a first-timer or an angler with their fair share of experience, this cost-effective reel surely deserves your attention at least once in life.​
Yeah, it is nothing like those high-end reels in the price bracket of a Shimano Stradic Ci4+ but at this price, it is still an awesome buy.​
​PENN Battle II Spinning Reel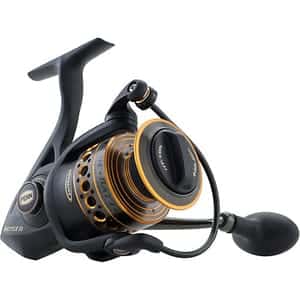 ​4.2 stars
​Smooth, powerful drag

​A very durable reel

​Isn't too expensive

​Braid-ready, marked spool capacity
​Comparatively heavier weight

​Water resistant but not completely waterproof
Comfort
​The Penn Battle II was first released in 2014 and since then it has been constantly doing a wonderful job in the mid-tier reel category. When you take the reel out of the box for the first time, you would definitely get the feel of its solid weight and build quality. Yeah, all the models kind of feel heavy when you compare them to other reels in a similar range.
The reel knob is of good quality and ends up providing you a solid grip whenever you go out to fish. But long hours with this one can really make the arms and wrist feel sore due to its sheer weight.​
Durability
The reason for its heavy weight is the use of some heavy-duty durable material in construction. Where it loses in weight, it wins in durability. With a full metal body, side plate and rotor, it is packed with some serious ability to provide you awesome fish-fighting experience for a long time.​
​In fact, it is one of those durable, high-range spinning reels which make it an ideal choice for conquering big saltwater gamefish. ​And there is an extra heavy-duty aluminum bail wire too.
Functioning
​The engineered design of this saltwater expert reel is perfect for landing you those big catches. It has an HT-100 Versa-Drag carbon fiber drag system which kind of leverages both sides of each drag washer. This maximizes the drag. With its instant anti-reverse bearing, any kind of pullback is eliminated so that we are able to reel without interruption.
Further, super line slip under pressure is prevented with a rubber gasket fitting on the spool. This enables anglers to use braided line with no need of a monofilament backing. ​The line capacity rings marked at 1/3, 2/3 and full capacity help the spool display how much line is remaining.
Also due to the 5 sealed stainless steel ball bearings and instant anti-reverse bearing, we are able to achieve fluid cranking.​ Apart from bass fishing, this reel is an awesome choice for ice fishing, freshwater fishing, and inshore fishing. The reel is available in a lot of different sizes which have different gear ratios​.
With a refined carbon fiber drag system, this reel often makes it to the chart as one of the best bass pro reels in the world. ​The smaller models of the Penn Battle II are an excellent choice for small freshwater species, trouts, smaller reds and snook while the larger sizes are good for species like tarpon and shark.
These reels ​will not flex under the pressure of larger fish are perfectly capable of being used on a charter boat.​ The HT 100 drag system where HT stands for High-Tech is a drag system where carbon fiber has been laminated on fiberglass.
It uses keyed carbon washers instead of traditional felt washers which not only provide smooth, non-jerky drag under the weight of a retreating fish but also increases the lifespan of the reel.​ ​The 100 in HT-100 comes from the fact that around 100 miles of line were taken from the reel by Penn during testing with no noticeable deterioration.
Pretty cool, right? ​The bail wire doesn't warp over time as a warped bail is equal to inferior line management.
Maintenance & repair Cost
​The drag washers on the Penn Battle II have been treated with proprietary grease which ensures longevity if the reel components.​ The paint quality is immensely better when compared to the previous Battle reel models as it protects the reel from saltwater corrosion and harmful chemicals.​​
Penn has a nice reputation when it comes to customer service as they do listen patiently to their customers and try their best to solve any problems.​ ​The original Penn Battle reel had five ball bearings too but now these bearings are stainless steel which provides protection against corrosion from saltwater.
However, avoid getting the reel wet. It is water resistant but not completely waterproof. It would require you to completely disassemble the reel and clean it before further use if saltwater somehow gets in.
Price
​When it comes to fishing in the saltwater realm, this reel is a beast as it can take a hammering to any extent and still continue to work.​ It enjoys a good reputation in the market because of its performance and a relatively modest price. It is a well-made reel which will catch plenty of fish for you including basses.​
Whether you are a pro angler fishing every day or someone who goes for fishing just on the weekends as a hobby, this reel will amaze you with its capabilities.​
​DAIWA BG Spinning Reel
​4.4 stars
​Minimal line problems

​Extremely sturdy body

​Smooth as silk
​Might feel clunky on light rods

​Due to the above reason, more suited for larger rods
Comfort
The current models of the Daiwa BG saltwater fishing reels, released in the Spring of 2016, are actually an upgrade on the immensely popular Daiwa Black Gold.​ If considered individually, the reel feels solid without feeling heavy. This comes as a respite to our arms and wrist as they won't tire after long hours of fishing.
However, the reel did feel clunky when we paired it with some of our ultralight rods. Their metal build does create an imbalance in case of lightweight rods. ​But use it on any other rod and you will understand how well balanced the whole setup actually is.​ Also, the reel is aesthetically pleasing with some good detailing.
Durability
Daiwa has put in extreme efforts to make the BG a durable spinning reel.​​ It has a dynamic cut ABS spool​, an aluminum body, and a machined aluminum screw-in handle, all of which make it a tough reel for any bass angler​. The presence of anodized aluminum means the reel puts up against corrosive elements better than normal painted aluminum.
With its hard layer anodization process called the 'Hard Bodyz', the Daiwa BG Spinning Reel shows better endurance against bumps and scratches and actually lasts longer than reels which deploy traditional anodization.​
Functioning
​The reel has an ABS swept spool which lays line perfectly. We tested out braid, fluorocarbon and a braid with fluoro leader combination on the Daiwa BG Reel. They all worked like a charm. Not only the line lays well on the spinning reel but it also slides off perfectly during the cast which allows a greater casting distance.​
It also has minimal loops, line twists or wind knots because of the larger roller and pickup bail.​ The spool design makes it a very fluid reel with its air rotor construction.
​During the extensive testing period, we did not have any problems with line management and were easily able to fish everything from shaky heads, jerk baits and drop shots to small swim baits. Further, we found that the bail opens easily and firmly locks in hook sets.
For many anglers who have a habit of leaning towards deep water fish, it is a common scenario to see flex in bails and loosening. Whereas, the Daiwa BG in the same place remains rock solid. ​The Daiwa BG Spinning reel boasts of a carbon ATD waterproof drag system which is one of the best we've ever seen on reels at this price point.
These consist of cross-cut carbon fiber washers. The drag ​feels silky smooth while fighting the fish and is easy to adjust.​ It is also available in a wide variety of models with some extensive gear ratio range making it suitable for different fishing applications.
So whether it is about your favorite lures, basses, spotted sea trouts or even sharks that put up a tough fight, we have a model perfectly fitting the need in Daiwa BG. ​The models from 1500 to 4000 feature an infinite anti-reverse system which removes any back play when we set the hook.
Whereas for models above that we have a roller bearing for the infinite dual anti-reverse plus a dog-ratchet and mechanical anti-reverse for a safe backup. We saw oversized gears on these reels which felt like CNC machine cut but has not yet been confirmed by Daiwa.
These oversized gears increase the number of teeth in contact with each other at a point in time, which helps us get much smoother retrieves. ​This design carries one more advantage and that is the increased torque and power while retrieving larger fish.
We have a screw-in handle design instead of a through one in Daiwa which eliminates any play between the handle arm and the main gear. The result is a solid feel while cranking the handle. The air rotor design of the reel enhances balance by distributing the stress evenly across the entire reel and ends up being 15% lighter than a conventional rotor design.
The center of the ABS spool has a rubber ring​ which allows us to go straight to the spool with the braided line without the need of any kind of monofilament backing. Finally, ​​the paddle on the aluminum handle arm stays tight and locked down when we are fighting a tough catch.
Maintenance & repair Cost
​The Daiwa BG Spinning Reel has seven stainless steel ball bearings which are all anti-rust. Sadly enough, they haven't been shielded for water protection. Due to its sturdy build quality, this reel ​It will last you a long time. And because of the oversized gears, our reel tends to live longer as pressure is not solely on a few teeth at a time.
Price
​It is an amazing and durable reel to fish with.​ ​An excellent, sturdy and smooth reel for the money with drag and power to handle anything from inshore species to those large pelagic fishes. The reel did not disappoint us in any way and in fact at some points performed much better than the Penn Battle II.
So, if you had to choose between the two, we suggest that you go with this one.
SHIMANO Stradic HG Spinning Reel
​4.2 stars
​Cold forged gears

​Hagane technology

​X-ship gear and shield
Comfort
The Shimano HG Spinning reel is synonymous to quality.​ It has a new compact and angular design which playoffs the main Hagane design.​ It is made up of lightweight yet durable material. So it won't feel heavy and doesn't feel cheaply made either.​
We fished with this reel for long hours at stretch and never did we feel that our wrists or fingers were aching or were under any kind of stress.
Durability
The Shimano HG Spinning Reel has a high-quality Hagane body which deals with unexpected shocks easily. Even if its body isn't 100% metal, the major parts are and in fact precision engineered like some expensive Shimano reels. It is a smooth reel overall because of the Hagane precision cold-forged gears.​
The X-Ship system places a bearing on the pinion which gives us a smooth and strong gear system.​ ​This so much talked about Hagane is actually high-quality steel which was used to forge Samurai swords in Japan in ancient times. Needless to say, they had epic strength due to being made for battle purposes.
Now we have the same technology in our Shimano HG reel and any guesses what does it mean for us? Yeah, you are right! A reel built to serve us for years.
Functioning
​The reel is not only smooth but it also has a remarkable retrieve rate. ​It is available in a variety of models which are all well balanced. ​Even under heavy loads, the Hagane body doesn't flex during a fight​. This is a reel that you can finesse fish with for smaller species and it also holds up to the larger species like bull red and snook.​
The X-ship is actually many features combined together which make the reel much more efficient. Since the centerline of the large diameter drive gear has a pinion gear close to it, we have much more power being transferred from the handle to the rotor.
Further, the two Shimano AR-B roller bearings support the pinion gear thus creating more stability and minimizing pinion gear twist and rotor deflection in whatever adverse situations we may encounter.​ The reel has been designed in such a way that its center of mass lies close to our rod which again is beneficial to the overall balance and weight.
This means better strikes and better fights.​ The Stradic HG has a large stainless steel bail which in comparison to a plastic lever has an increased opening. When engaged, a heavy-duty spring and metal bar create a solid snap sound.
​​But you would need some time to adjust as to re-engage the bail a little more pressure would be required from your side. Though flipping the bail manually would add to the longevity of the reel. Now, we get a well-designed spool in the form of AR-C cold forge which not only has a smooth lip design but also does a great job with line management.
Our testing phase was marred by only a few wind knots and line twists. Ample drag is provided by a combination of felt and steel washers. No jerking and stuttering, really. And now it is much easier to attach the line when it isn't rigged due to a new design of line clip. ​​Drag adjustment is pretty easy too due to the larger diameter drag knob.
One thing the anglers who were testing the reel were upset about was the fact that the anti-reverse switch had been removed by Shimano. Of course, this is an inconvenience as you would not be able to back spool in tight situations but Shimano had their reason.
That anti-reverse bearing design has seen a reworking thus reducing friction by up to 25%. Also, its new rotor design is way more rigid than the earlier models which means greater power for anglers. ​Whether retrieving your favorite jerk bait through grassy flat-water or reeling in those big fishes, this beauty is incredibly smooth throughout.
Maintenance & repair Cost
The ​core-protect functionality gives you a 360-degree all-weather resistance to water and increases the life span of your reel. We found that maintaining the Shimano HG was fairly easy as opening the outside body and assessing the condition was a piece of cake.
But you still might want to be careful if you are planning on using it around saltwater. Though it has improved seals to prevent water from entering it.​
Price
​Its price point seems to be a bit on the higher side but is favorable to both kinds of anglers i.e the ones who are looking to upgrade their fishing arsenal and those who want to invest in one solid reel rather than multiple cheap buys.
Throughout several uses in different environments, including the good, the bad, and the ugly, this reel never let us down even once.​
​Buying Guide For Bass Fishing Reels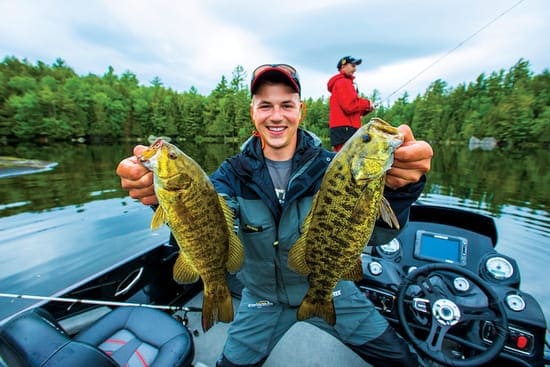 ​Choosing the best spinning reel for bass fishing is not at all easy. Even if we have filtered out many bad choices and narrowed our search down to the final six, still, choosing one out of these should be an informed decision specific to your needs. While it is a safe bet to go with what we recommend but it wouldn't hurt to form your own opinions.
And before forming an opinion about something it is always healthy to get to know the subject in question. ​The worst thing to do is having an opinion not based on knowledge and that is what we can call as being judgemental. So, let us first figure out some important factors that you need to keep in mind while choosing your favorite bass fishing reel.
​Size of the reel

​Reel construction

​Capacity of the spool

​Gear ratio
​Drag system

​Bearing system

​Sensitivity of the reel
​Bass Fishing Reel Features Explained
​​Size Of The Reel
​It is important to have a balance between strength and usability. Bigger reels might have greater power and some added features but they sometimes may be uncomfortable. Similarly, small reels might be very comfort-friendly but lack the necessary virtues to land in those big basses.
​
​​​​Reel Construction
​​​Having a high-quality build is of paramount importance as not only it means a durable reel, but also that it would be able to withstand the load when subjected to pressure. Metal bodies are most sought after as they do not flex easily. Also, a combination of graphite and aluminum ensures both durability and less weight.
​
​​Capacity Of The Spool
​While bass fishing, you want to have plenty of line on your spool as long casts and long runs are required. Now by plenty, we don't mean way too much and surely the line thickness should be medium. A medium-capacity spool can serve the purpose well and having extra line than required sometimes just adds to problems rather than helping us out.
​
​Gear Ratio
​Again, hitting the middle grounds is the solution here as you need both a good gear ration and cranking power to reel in bass fishes. Bigger reels have a lot of power but low gear ratios and small reels might have high-gear ratios but fall short on power. Thus a medium-sized reel of gear ratio around 6:1 would be our best option.
​
​​Drag System
​​Basses put up a tough fight and therefore you need a smooth, non-jerky drag system which takes in a hammering easily and doesn't make us lose our catch once the hook sets in. So, we suggest you go with at least 12 lbs of drag pressure. A low startup-inertia is another plus which will help us in protecting our line.
​
​Bearing System
​​We want an optimal-number of high-quality bearings in our reel. We stress the word optimal and not use more bearings instead because more bearings don't necessarily mean better performance. It all depends on the internal design. Too many bearings can be sometimes detrimental to the functioning if they are not being complemented by intelligent design.
​Sensitivity
​​​You want to be able to detect even the slightest bite on your line. Here the best ones have been known to be having a composition of aluminum and graphite when compared to all-metal builds. Metal reels though offer more strength and durability, they do suffer in sensitivity.
​Conclusion
We hope now you have a clear ideas as to why we chose the Daiwa BG Spinning Reel as the best spinning reel for bass fishing.
​You can significantly improve your chances of catching bass fishes when you use light lures, light lines, and spinning reels. ​Your angler friends might try to put them down as 'finesse fishing stuff' but if it gives you more fishes then hell yeah, why not!
The best spinning reel for bass fishing arms you with a plethora of techniques like drop shot, split shot, shaky head, wacky worm, weightless plastics, tubes, spinners, grubs, and small crankbaits. Pair your medium-sized bass fishing spinning reel with medium-sized and around medium action rods and you would be good to go.
Hope this article put to rest all your queries regarding the best spinning reel for bass fishing. And we also hope that you were able to choose the best one for you and feel confident in your choice. Hoping to see you again in our future articles, till then, zbogom!
​Recommended Reads
​© {tcb_current_year} Fishing Is Bliss