Best Fly Fishing Reels [Updated 2021]
If you are in a hurry and just want to find out which is the best fly fishing reel, then we'd recommend the ​​​​​Piscifun Platte Fly Fishing Reel as the best one.
​Smelling those bushes, rocks, trees, and the whole vegetation around you. Looking at the fishes swim as you move around through the water.
Standing there for hours, not catching even a small fish, yet going home with a sense of contentment.
That feeling of you and the nature becoming one single entity as the sunlight warms your face and the breeze ruffles your hair. Ah, the nostalgia of fly fishing.
​Best Fly Fishing Reels
​​Piscifun Platte Fly Fishing Reel
​​Okuma SLV Die-cast Aluminum Fly Reel
​​Piscifun Sword Fly Fishing Reel
​​Piscifun Blaze Fly Fishing Reel
​​Piscifun Sword II Fly Fishing Reel
​​Redington Behemoth Fly Reel

​
​Compare Top Products
Swipe Left On The Table To Scroll
​Product

Our ​Rating

​Bottom line

​Latest Price

​PIscifun Platte

4.3 stars

​Packs in some serious capabilities and provides enormous value.

​Redington Behemoth

​4.0 stars

​Great choice for large and fast swimming species

​Under $100

​Okuma SLV Diecast

​4.3 stars

​Can be a great purchase for light to medium usage.

​Piscifun Sword

4.3 stars

​Best fly reel for the money you pay.

​Piscifun Blaze

4.3 stars

​Definitely worth a shot if you've never tried it before.

​Piscifun Sword II

4.3 stars

​Relatively new in the market but has made its own name.
​Before We Begin
We've found fly fishing to be the most peaceful and humbling experience, to be honest. If this isn't enough, then there is the feeling of your fly fishing gear become a part of your body. ​Since even the best fly fishing reels have no impact on your ability to cast, many anglers wrongly consider it to be a negligible part of your fly fishing equipment.
This is where they go wrong. ​You tell us. If the rod felt like a part of your own body, shouldn't the reel feel the same too? ​​The right fly reel is extremely important to match the strength and flexibility of our fly rod​. ​​Fly reels can be the most integral part of an angler's success if they make a wise purchase.
There are so many fly reels in the market, but we have boiled them down to the best six on the basis of good performance on a variety of parameters.​
​Detailed Analysis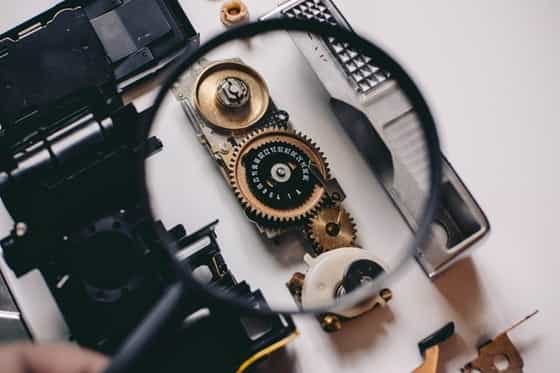 While compiling the comparison table and writing the in-depth reviews, we were beginning to question ourselves that are we being biased by featuring four Piscifun reels in an article which is comparing six reels in all? The answer is 'No!'. Certainly not. We are only being dead honest here.
We want to choose the best for you and Piscifun literally outperforms several other competitors. ​So far we have felt that only Okuma and Redington are on a level to compete with the Piscifun fly fishing reels.
So let us jump into the detailed reviews and understand why Piscifun is literally single-handedly dominating the fly fishing reels section with so many products.
​REDINGTON Behemoth Fly Reel
4.0 stars
Extremely impressive drag

​For both fresh & saltwater

Pleasing looks
On the heavier side

​Unsealed drag system requires more care
Comfort
​The best part about the Redington Behemoth Fly Fishing Reel is its ease of use for both a new and a skilled angler. With a super awesome design and nice color scheme, it won our heart in the first look. ​But here we have to talk about comfort and not just looks.​ The intelligent designing actually adds more room for the backing.
However, a major bummer is the reel's weight. Due to heavy-duty materials being used for durability, it couldn't deal with its weight issues (we sound as if we are fat-shaming the reel). For anglers who travel, backpack or hike often this bulky behavior is not only inconvenient but a major downside.
​What were you thinking when you read the word 'behemoth'? Yeah, this fly reel is bulky due to its large size but it is worth mentioning that it is extremely powerful too. Talking about comfort, did anybody tell you that its conversion from left to right-handed retrieve is also easily adjustable?.
Durability
​An elite carbon-fiber drag system makes this reel capable of showing some serious strength and durability while scoring highly on performance and reliability too. In terms of brute strength, we see no other reel coming anywhere near the standards set by Redington Behemoth. In fact, we heard a lot of anglers vouch for the same.
Not only it's super tough and durable but the unmachinable die-cast aluminum construction allows it to brag itself as an all-around heavy duty tool.​ But despite all the favorable reviews don't ever drop this reel! It doesn't give second chances in such instances and is known to break easily when compared to other reels here. ​
Functioning
​The die-cast that we mentioned earlier has been paired with a heavy duty, interlocking, spool design. In layman terms, you are getting the look 'n' feel and functionalities similar to some premium reels. The large arbor-style design and deep v-spool speeds up line retrieve and reduce its memory exceptionally well. Also, it helps the line to keep straight.
Available to us in several different sizes from 4/5 (sized for a 5-weight trout rod) to 11/12 (for big game saltwater angling with a 12-weight line), our choice depends on the rod size and the kind of fishes we aim for. Each of the sizes caters to different weight and yard capabilities.
The 7/8 model offers 20 pounds of torque and holds up to 200 line yards. The most anticipated function of this reel was its drag system and it was quite impressive too. ​​A very large arbor design along with a large line capacity is good for those large and fast swimming species.
Salmons, bonefish, tarpon, striped bass, bluefish and the likes of them won't be a difficult catch for you. The drag system is also pretty adjustable with a large, easy to turn drag knob. ​It can not only withstand rigorous conditions and harsh environments but it also packs in the ability to use extra spools.
In short, it comes in with all the features an angler could ask from a fly reel. Due to its versatility, anglers also classify it as one of the best saltwater fly reels.
Maintenance & repair Cost
​The reel is not sealed and if you intend to use it for saltwater fishing then be careful to not let the water or sand get inside (which will at some point of time). In case you do, disassemble the reel and wash and dry it thoroughly, else the drag system will lock up on you.
Also, as we had mentioned earlier, don't drop this one.
price
​Redington has delivered an exceptional product in the Behemoth series and allows us to target both big and small fishes with remarkable ease.​ Take it to the sea near you or the lake behind your house, these reels will deliver on the promises made.
The price point is just marginally on the upper side as compared to other reels here but given the performance of this reel, it is justified and not a deal that fleeces you. ​It is a great choice for even the larger fish species like whopping carp, pike or salmon.
The construction quality, state of the art features and remarkable performances in our tests have earned it the title of the best fly fishing reel in the mid-level price range.
​PISCIFUN Sword Fly Fishing Reel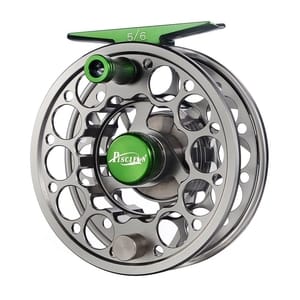 4.3 stars
​Durable and lightweight

​Value for money

​Attractive colors
Drag doesn't stay where you set it
Comfort
​With so many colors available you do get a sense of personalization in what is an otherwise basic and simple design. It looks and feels like some of those high-end reels which you get only after putting in a few extra bucks. The reel configuration is pretty adjustable, suiting both left-handed and right-handed anglers.
​​From trouts in the fresh streams to redfish & tarpon in the saltwater, this reel will give you a variety of catches. This just goes on to show its smoothness and versatility. Always giving you a sense of control, this is a very good fly reel for every type of angler. Due to its mid-arbor design, it is a lightweight reel.
​Coming with an easy-grip knurled handle, it put in us some confidence regarding our grip when we battle those big fishes. It rotates smoothly and is double-screwed which makes it damage-proof. You also get slight grooving in the handle which gives us a trustworthy grip.
Durability
​Featuring a machined heavy-duty anodized construction, this awesome fly reel was built to last. Suitable for handling various situations related to both, weather and the environment it is put in, it will work pretty well without fail. ​Now Piscifun Sword Fly Fishing Reel uses really high-quality aluminum in their design.
Strengthened and made to be thoroughly rigid by cold forging and tempering, this is one sturdy hell of a reel we are looking at. Intricately designed using CNC-machined 6061-T6 aluminum alloy, it has 3 times the quality, strength, and durability of other die-cast reels. And the best part is that it still manages to remain lightweight.
functioning
​Piscifun has gone for the 'mid-arbor' design with this one here. Such a design provides more capacity when it comes to our line. The large arbor reels aren't that capable in terms of line capacity. The mid-sized arbor reduces some extra pounds and makes it a lightweight reel with an impressive line retrieval rate.
​The drag system is multi-disc cork, one-click, and a silent retriever. Further, it is made of stainless steel with a one-way clutch bearing. Through this, we can make small adjustments. It is suitable for medium size fishes like the bass, bluegill, and trouts.
​Along with other features we also get a concave spool that not only provides great line capacity but also packs in some strength. We have four different reel sizes ranging from 3/4 to 9/10​. A standard disc-drag system has been used just like other reels in the market.​
With the company claiming that it is "silky smooth", we found out that the parts responsible behind this claim were cork and stainless steel washers. ​This statement hasn't always proved to be true as we had to deal with a jerky drag at times, but overall it was strong and worked pretty well.
Now, we have many reels in the market that offer a much better drag system. This one isn't as smooth and the adjustment lever didn't help us much. ​We have a pretty sensitive drag knob that needs to be readjusted constantly. The drag system doesn't stay where you set it to be.
Maintenance & repair Cost
Since the reel is made with quality materials, we can be a bit sure that it is one of those fly reels which will last long. This certain durability is a huge plus and it significantly reduces the maintenance and repair cost. We have anodized surface and get sealed bearings which reduce corrosion and abrasion by up to 30 percent.
​Allowing us to fish in both fresh and saltwater environment, the reel comes with a standard three-year warranty.
Price
​Any angler fishing in the saltwater should pick up this great, entry-level reel.​ Though not the most high-end reel in our, Piscifun Sword Fly Reels do their job significantly well. This reel can easily be called the best value fly reel. When we see its price, construction quality, performance, and drag system, you cannot resist but call the best fly reel for the money.
​It would look attractive on your rod with colors like black, gunmetal, pink and space grey but still manage to work well instead of just 'looking pretty' which is what a lot of reels end up doing. ​This is an all-rounder in a true sense.
​OKUMA SLV Diecast Aluminum Fly Reel
4.3 stars
Large arbor design

​Smooth drag performance

​Favorable price point
​Drag system requires trial 'n' error to achieve desired tension
Comfort
​The Okuma SLV Diecast Aluminum Fly Reel comes in with rubber handle knobs that are non-slip in nature. Their tendency to not slip from our grip prevents us from accidentally tossing them into the water in case we hook a big fish. Changing from left to right-hand retrieval is a fairly intuitive process or you could always contact the company.
In case you need to switch spools, it is simple enough to do so and doesn't require you to detach the reel first. ​Weight of the reel might be something noticeable, but unlike the Redington Behemoth, it is not a major make or break factor here. ​The extra weight that it packs in is mainly due to its high-quality aluminum.​
durability
​A durable construction supporting a great design is what Okuma has given us in this reel. Constructed from a die-cast aluminum frame, it secures itself on the durability front unlike those cheap reels out there who have cheap quality material in them.
Both the spool and the washers are made out of stainless steel. ​Do you want to prevent rust from eating away at your reel? Stainless steel does the job.
Functioning
​We were mighty impressed with the high performing drag system of this reel. The stainless steel roller bearings limit the drag movement to one direction. Further, the brass bushings facilitate a smooth and efficient performance. ​The drag is easily adjustable through a small wheel. Stainless steel washers allow super smooth retrievals and casts.
A precision machined brass drive system, multi-disk cork, and stainless drag system allows it to be a versatile reel capable of use in the saltwater environment too. ​Wearing a large arbor design, it allows fast retrievals and reduced line memory.
​You can choose from a variety of sizes and also opt-in for spare spools in case there is a need to use it with your floating, sinking lines.
Maintenance & repair Cost
​With reel quality equaling the mid-level ranges in the market, it also brings with it strong rust and corrosion resistance.
Price
Looking for a quality reel at a budget-friendly price? This is your answer. As the fishing line thickness rises, the prices shoot up. So the choice of the model is dependent on your needs. Packing in an attractive finish the SLV is one of the top picks in budget fly reel departments.
​Giving more features and performance value than the price it demands, it is a good buy for medium usage and can always be kept as a backup.
​PISCIFUN Platte Fly Fishing Reel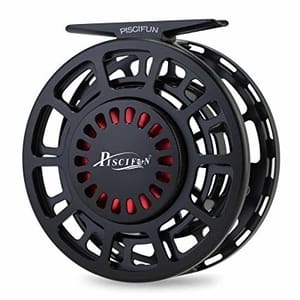 ​4.3 stars
Strong and durable

​Smooth drag

​Low startup inertia

​For both fresh & saltwater fishing
3/4 model might feel a bit heavy
Comfort
​With its ventilated spool and lightweight design, the Piscifun Platte Fly Fishing reel majorly eliminates fatigue due to long hours of usage. For the same reason, it is a friendly reel that perfectly goes along with most lightweight fly rods available in the market these days.​
​The presence of diamond knurling on the drag knob provides a strong and comfortable grip when we need it the most, i.e. during battles. By default, it has been set for left-handed retrieve but in case you want to switch, then you can either do it yourself (yeah, it's that easy) or you could always contact the company.
Durability
​Durability and strength have been taken care of well with the precise CNC-machined design which is both strong and lightweight. The machine-anodized 6061 T6 aluminum ventilated spool allows it to lose weight, yet keep its strength.
Functioning
​This reel is a sweet deal when it comes to keeping dirt, debris, water or salt out and not let it penetrate the components. In fact for both fresh & saltwater fishing, this is almost an ideal design. The alternating stainless steel and Teflon design of the drag system that is the root cause of its extremely robust drag experience.
​Just like most reels in the market today, Piscifun has made this versatile too by making it capable of usage in both saltwater and freshwater settings. The inclusion of a click-retrieve and positive drag knob feature, allow drag settings which are both repeatable and accurate in nature.
Both the reel and the spool are pivotal in providing a lot of air exposure to our line and backing. Thus fast drying is no longer an issue. ​One surprising thing that we found while testing was that when we pulled off the line, the startup inertia of this reel was pretty low.
The line release is really smooth due to an efficient drag system, however, there was a subdued clicking sound when we tried to either retrieve the line or it was outbound.
Maintenance & repair Cost
​Simple rinsing is more than enough after using it in a saltwater environment. A sealed drag system has chucked major maintenance efforts and issues right out of the window.​ Also, it boldly quotes a lifetime warranty on the product page and we are yet to encounter an angler who has said the above isn't true.
All in all, due to its stainless steel corrosion resistant material and sealed drag system, the reel will last you long.
Price
​A surprisingly good performance for an entry-level class fly reel was our final takeaway. Though it is a bit on the pricier side still it is the best fly reel under $200. Offering enormous value and features to us anglers, it arms us with some serious capabilities who love the sport of fly fishing.
A bit of validation can be the fact that this reel has great reviews online, with over 90% positive feedback at the time of writing this article.
​PISCIFUN Blaze Fly Fishing Reel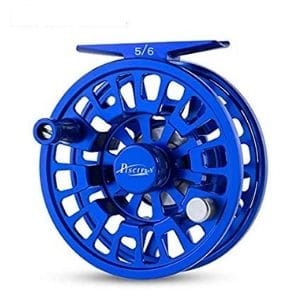 ​4.3 stars
Inexpensive price point

Corrosion resistant
Drag settings are a bit wobbly

​Lack of models above 5/6 at the time of writing this article
Comfort
​Along with beautiful looks, we get a high-quality machined reel in the Penn Blaze Fly Fishing Reel. ​Moreover, it also has knurled metal screw caps which aid to loosen the spool. Factory set for a left hand-retrieve, you can always switch it to right-hand to suit your style either yourself or asking the company for guidance.
Durability
​CNC-machined 6061-T6 aluminum alloy provides our reel with some extreme high-impact durability.
Functioning
​With lock getting a tight hold over the screws this reel isn't falling apart like those other cheap buys. The one-way drag system is not only silky smooth but also quite adjustable.​ A small point but it still it got our attention was the fact that the nut securing the spool cannot be detached from it and hence you do not have to worry about losing it.
​Bearings inside the spool have been protected by an o-ring on the reel shaft. ​​Go for the 5/6 wt if you want an all-around rod wheres for lakes and bass fishing 7/8wt would be a decent choice.​ It is an exquisite reel with great appearance and no wobble or side play.
​The drag system on this reel is both multi-disc and stainless steel. The smooth and instant drag engagement is achieved through the one-way clutch bearing. Facilitated by a mid-arbor design, you get a proper balance between fast line pick up and backing capacity. This makes it difficult for the line to backlash.
​The ported arbor on this one is a bit concave in shape which is perfect for greater strength and capacity supports its design at the same time. However, again Piscifun has made a reel with drag setting that tends to change when the reel bumps against something or your arm brushes off it.
Maintenance & repair Cost
​Aluminum alloy is a great corrosion resistant material but along with that on the body, we get a three-year warranty too. Being hard-anodized for protecting the reel surface, it keeps rusting at bay even after contact with water.
​Just like some other Piscifun reels this one too is cold forged and tempered ​to arm it with super rigidity and strength.
Price
​At the price point, it is available at, it is definitely worth a shot if you've never tried it before.
​PISCIFUN Sword II Fly Fishing Reel
​4.3 stars
​Price doesn't pinch

​Requires minimal maintenance
​Again the drag knob is too sensitive
Comfort
​The moment you lay your hands on the Piscifun Sword II Fly Fishing Reel, "Wow!" would be your first reaction. Being extremely high quality and ridiculously lightweight the Sword II is a joy to fish with. Its large CNC hollow design allows it to be lighter than the ordinary reels we so often come across.
​Again switching from a left-hand retrieve to a right-hand one is not a problem here and is well taken care of by the company in case you come across difficulties adjusting it yourself.
Durability
​This is a big bomb in a small packet. With a highly ventilated reel design, this reel has been superbly crafted using some brilliant machining techniques on aluminum. Just like other Piscifun models, here too we get a precision CNC-machined 6061-T6 aluminum alloy that keeps the reel durable and going even after high-impacts.
Cold forged and tempered for superior strength and rigidity.
Functioning
​Even though the reel is lightweight but that doesn't interfere with its power and performance in any way. Having a mid-sized arbor design, we have experienced a rapid line pickup from this reel while enjoying a reduced line memory. Needless to say, it felt so cool.
Currently, this reel is only available in 2 sizes i.e. the 5/6 and the 7/8 at the time of writing this article. ​Moreover, it has shown remarkable versatility with pikes, redfish, brooks, bonefish, and trouts while fishing in both freshwater and saltwater.
A multi-disc cork, stainless steel drag system gives us the luxury of a silky smooth drag. Now it also has a one-way clutch bearing which engages the drag almost immediately. There is no sound while retrieving and the click drag is dead accurate too.​
Maintenance & repair Cost
​Since it carries a well-built design and significant resistant to corrosion, maintenance is minimal with anglers just giving it a good rinse even after using it in the harshest saltwater environments. ​Another factor to bring some kind of assurance and peace of mind is that the reel is backed up by a three-year warranty.
Hard-anodization has improved the protection provided to the surface. Abrasion resistance is on the high-end side too and isn't something that has caused any problems yet.
Price
​​Want to look classy and stand out? Want some envious angler friends trying to sneak a look at your reel? Also, do you want them to gasp in astonishment when they see your reel perform and hear its price? Well the Sword II is your way to get all those.
​If you are looking for a high-quality buy that costs less but performs more​, your search ends here.
​Buying Guide For Fly Fishing Reel
​Fly reels have one of the simplest designs on earth, with no-complex parts and mechanisms. Thus, they are easily identifiable and you can spot one from a mile away (well, if you can look that far). ​Certain attributes make the various reels we see in the market differ from each other. And this is exactly what we are going to discuss in this section.
First of all, to know what those attributes are and secondly to use this knowledge to make an informed decision, rather than just throwing away your money at the most heard-about or the most expensive setup you come across. Even if we are not discussing the best fly fishing gear over here, at least we are touching a really important aspect i.e. the reel.
Some anglers who don't even educate themselves enough in this area, end up buying the first thing they come across and no wonder end up regretting it later, every time they go out fly fishing with that reel.​ They hear a friend say, "Oh, this is the best value for your money" and the next thing we know? Bam! They have bought it from Amazon. Don't be a fool like them.
​
Fly reels are designed to suit a vast range of needs and preferences. And just like every product on this planet, each reel caters to a particular section of requirements and there is no absolute answer regarding which is the best.
You can give a general idea or recommend the best in general (like we did above) but what might be the best for us, may not suit you at all. Therefore, we cannot stress enough how important it is to know your needs.​
​Retrieval Mechanism

​Spool size + Line Weight

​Reel Weight

​Finishing
Size of the Arbor

​Drag Mechanism

​Reel Construction
​Fly Fishing Reel Features Explained
​​​Retrieval Mechanism
​The retrieval system gathers your line back when you hook-in a fish. It can be classified as:
Single Action

Here one turn of the handle equals one rotation of the spool.

​Multiple Action

​Gear ratio decides how many times the spool will turn for each turn of the handle.

​Automatic Retrieval

​Creates tension through a spring device and stores tension during line feed-out. ​The safety latch is released by a trigger upon line retrieval. ​This action causes a quick spool spin back.​
For novice anglers, a single-action fly fishing reel is more than enough due to their ease of use.
​
​​​​Spool size + Line Weight
​​Line weight is dependent upon the spool and arbor size.
​
​Lightweight line usage

​​Go for a small arbor.

​Heavy Line Usage

​​Choose a large arbor.
Spool size helps with the drag and allows a smooth functioning.
​
​​REel Weight
​If you don't want to tire yourself out, choose a lightweight reel. But then don't pair it with a heavy rod and line. There should be strict coherence between your choice of rod, reel, and line. In case you go for a heavy reel, then an ultralight rod would only feel uncomfortable because there would be an imbalance in the whole setup.
​
​Finishing
One of our Australian friends told us this little secret. We don't see this getting talked about a lot but this is a small factor which does come into play sometimes. ​You don't want your reel to be ultra shiny that reflects sunlight into the water making it seem like a huge glare. It scares off the fish mate!
​
​​Size Of the arbor
​That wheel you see inside your reel that is responsible for storing your line? Well, that is your arbor or the reel's arbor to be technically correct. They too, come in three categories:
​
Small

​Least in weight and size. Suitable for lightweight fishes and don't tire you out. Plus they are easy to carry around.

​Large

​​Maximum weight and size. Suitable for heavy, aggressive fishes but they can tire you out. Plus they are the least friendly in walking around with once they are on your rod.

​Medium

​​As the name suggests, they lie in between the small and large sizes and eliminate some cons of each other while retaining the pros.
​Drag mechanism
​A high-quality drag mechanism provides total control on line operation and makes it run in a silky smooth way. There are two broad classifications here:
​
​​Click 'n' Pawl

​​Comes with a spring geared tension system that activates the drag.

​​Disc-Brake

​​Line tensions are created using disc-brakes and not the conventional spring gears. This system provides more options.
​Reel construction
​​The material quality is of extreme importance when considering which reel to buy. They are as divided:
​​
​​Low Quality

​​Cheap price, cheap materials used. Feel heavier and yet aren't durable.

​​Medium Quality

​Mid-tier reels with die cast manufacturing. Reduced weight and increased durability.

​

High-Quality

Made of machined steel with acute-precision using computers. Further anodized for extra strength.
​Other Variables Explained
​​​Target Fish – The What?
​If we were to put you in the ring with Mike Tyson tomorrow, how would you spend today? Learning boxing? Or trying to find that one weakness of Tyson which you can exploit and come out alive in this precarious situation. Yeah, you get the message.
​
​Make it a habit to study your fishes well. All good anglers do it. If you try to catch a big aggressive fish with a small arbor and line, trust us it is not going to end well for you.
​​​​
Location of your fish – The Where?
​Trying to catch fishes in the saltwater using a reel that is only designed for freshwater might go well on the first trip but it will be kind of useless in the nest. It is not wise to play baseball with a thin stick right? You need the right equipment.
​​​
​​Your Experience – The How?
​So you are a new angler in the scene and loaded up with all that fancy state of the art gear on your first day? Wait, what? You are not able to make this equipment do what it is capable of doing? So do us a favor and tone it down. Get a beginners setup first, learn to fish with it and gradually move up to fancy gear. How experienced were you again?
​Conclusion
​So the bullet points to take away are as follows:​
​Match your reel with the rod and line weight

​Understand your fishing needs

​Educate yourself about your fishes

Don't save money by investing in cheap quality stuff
So there were your in-depth fly reel reviews and a long guide on how to choose the best fly reel for fly fishing. ​Our recommendations save you from the bad options and present to you the best in the industry. Great casting distances are possible even in fly fishing.
You just need to work on your knowledge, technique and then your gear. ​We were also able to understand why Penn is kind of dominating the fly fishing reel market and how each product fares on various parameters.
​We did see a tough competition among various reels with the same star ratings but the ​Piscifun Platte Fly Fishing Reel emerged victorious and got the 'Editor's Choice' award. Despite having 4.3 stars like some other reels, it fared the best in 'Functioning' section and that is what we really want.
Hopefully, as always this article was helpful to you. Feel free to drop us a mail and please do share this article with your friends. We wish you nothing but the best in your search for the best fly fishing reels! Till then, geros ilas!
​Recommended Reads
​© {tcb_current_year} Fishing Is Bliss