Best Surf Fishing Reels [Updated 2021]
If you are in a hurry and just want to find out which is the best surf fishing reel, then we'd recommend the ​​​​Kastking Sharky III Spinning Reel​ as the best one.
​​Surf fishing is exhilarating and exciting beyond comparison. Add in the ingredient of a great surf fishing reel, a good rod, some scenic beauty of the beaches and it fast becomes a vivid memory for life.
And garnish it with the unpredictability of hooking a bass, bluefish, redfish, shark or even a whale (ok we were trying to be funny here……didn't work).
​Best Surf Fishing Reels
​​Kastking Sharky III Spinning Reel
​​Shimano Stradic Ci4+ Spinning Reel
​​Daiwa BG Spinning Reel
​​Penn Fierce II Spinning Reel
​​Pflueger President XT Baitcasting Reel
​​Penn Spinfisher V & VI Spinning Reel
​​Penn Battle II Spinning Reel
​Compare Top Products
Swipe Left On The Table To Scroll
​Product

Our ​Rating

​Bottom line

​Latest Price

Spinning Reels

​KAstking Sharky III

4.4 stars

​Surprise, surprise. We knew it was a good reel but here it tops the charts on our parameters.

Shimano Stradic Ci4+

​4.3 stars

Premium quality build and features but they come at a price

Daiwa BG

4.3 stars

Top quality and high-performance with larger rods.

Penn Fierce II

4.3 stars

Inexpensive, feature rich and reliable.

Penn Spinfisher V & VI

4.2 stars

An upgrade from Battle II both in price and features.

Penn Battle II

4.2 stars

​An all time reliable partner of anglers backed by the famous Penn name.

​Baitcasting Reel

​Pflueger President XT

​4.4 stars

​If you prefer a baitcaster, this is the one you should buy.
​Before We Begin
The basic requirement to have a great fishing experience on the beach is having the proper gear. And have no doubts that a reel is one of the most important equipment. We need to be on the top of our game by being equipped with a good reel which should be able to handle large and powerful saltwater gamefish.
A great surf fishing reel should be able to handle years of rough use and abuse. From being under the strain of big weights, baits, lures, and fish, to constant exposure to saltwater, banging against rocks, being dropped in wet beach sand or troubled by wind-blown sand it should be able to survive everything with ease.
​To make the job easier for you, we've listed the best baitcasting and spinning reels suitable for surf fishing. From casting long distances to handling large and strong beasts, they offer a lot to you. They also score well on durability against repeated saltwater exposure and rough use.
Needless to say, they are top rated contenders due to their surf fishing performances. ​So without further ado, let's check them out.
​Detailed Analysis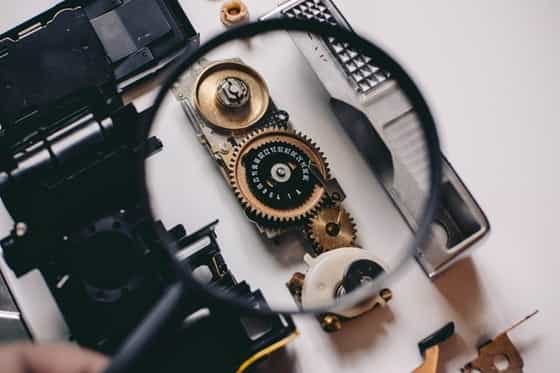 ​Now let us get into an in-depth analysis of each of the reels mentioned above to find you the best surf fishing reel. As you can see from the comparison table above that the 'Editor's Choice' award has been bagged by the KastKing Sharky III Spinning Reel.
In case you are wondering, how did that happen, read the detailed analysis below.
​PENN Battle II Spinning Reel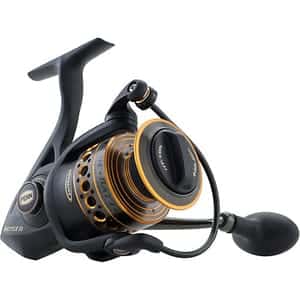 4.2 stars
​Smooth and powerful drag

​Durability is remarkable

Great features for the price
Might feel a bit heavy

​Water resistant but not waterproof
Comfort
The Penn Battle II is from a lineage of high-quality reels, who have been the forerunners in reel technology since 1932. The rubber knob that it contains has a comfortable touch and feel. ​The problem issue, however, lies with the weight. We agree that an all metal reel is essential for durability, but it shouldn't make the reel feel like a heavy chunk of metal.
Durability
​This reel may not cast as far as some other reels, but the level of durability is something that these other reels may never achieve. Some anglers even call it one of the best jetty reels as jetty reels need to be tough. It has a full metal body, a side plate, and a rotor to work with.
​Coated in a new and improved saltwater-resistant paint, it can easily deal with the rough and tough seawater. Also to make things better, it boasts of a heavy-duty aluminum bail wire.
Functioning
In the ​Penn Battle II series, we have eight different models to choose from. The smaller 1000 one is an apt choice for panfish and small fishes. Whereas, the 8000 one is able to handle larger catches. With an altered drag system, we can vote that it has more pressure capabilities than the earlier models.
​Since it uses carbon fiber drag washers, it gives a leverage to the two sides, thereby increasing its drag by a phenomenal 20 percent. For battling big game fish, a powerful and smooth HT-100 carbon fiber drag system does the work wonderfully well. 5 sealed stainless steel ball bearings allow fluid cranking.
​The instant anti-reverse bearing paired with a large line capacity resists any reverse pull from the hook by the fish. Superline spool design allows us to spool it with a braided line without any need for a mono backing whatsoever. The 4000 variant consists of a 6.2:1 gear ratio.
Models like 5000, 6000, and 8000 pack even more drag power and line capacity. ​The drag is the highlight of this reel. ​And as if all this wasn't enough, it has line capacity rings with markings at one-third, two-thirds, and full capacity. Also, a rubber inlay on the spool helps anglers to load braided line directly.
Maintenance & repair Cost
​The all metal build with corrosion resistant paint helps prevent salt corrosion and damage. The five sealed stainless steel ball bearings are great for this surf reel as they are also corrosion-resistant. ​Durability is one of the most cherished features of this reel with anglers being completely satisfied with the same.
But still, do not get the reel wet. It won't come into much contact with saltwater on the surf but once you take your kayak or boat in deep sea waters and the reel gets wet, you are in for a world of trouble. It will require you to disassemble the reel completely and dry it off before usage.
And then too there is no guarantee that it will work as it did before.
price
​If you love a reel that's going to stay with you for years, add this one to your gear. It will never let you down. Though available at a suitable price point considering the features it offers, this isn't the best reel for beginners. If you are an angler with some experience, Battle II is a great choice. A solid mid-tier reel that never disappoints.
​PENN Spinfisher V & VI Spinning Reel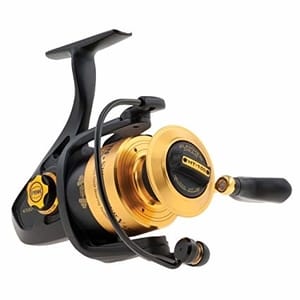 4.2 stars
Eliminates premature bail closing

​Strong and smooth drag

​Smooth-distant casting
Expensive price point

​

​Water resistant but not waterproof
Comfort
​The Spinfisher V & VI Spinning Reel provides us with a rubber knob that allows us a comfortable grip for long fishing hours.
Durability
​Not only this reel uses materials that will protect it from the saltwater but its balanced design and build keeps everything in place when the reel is under enormous pressure. It has a full metal body with a techno based rotor and aluminum bail wire. This minimizes the effects of saltwater on our reel.
​Since it consists of the best and durable material the reel would able to withstand rough conditions.
functioning
​Five ball bearings enable a smooth retrieve and solid performance even under large loads while fighting big fishes. A rapid 5.6:1 gear ratio is among the fastest in the reels with the same ratings. The spool of the reel has a large capacity for all mono, heavy, and braided lines.
​If you want to adjust the lay of the line on the spool, then the extra washers are very handy. And the amazing thing is that the Spinfisher has a separate bearing only for instant anti-reverse. One other feature includes the live line. It permits free spool bait running even when the bail remains closed. Cool, no?
​Now, who doesn't love a long cast while surf fishing? Some spots on the beach require us to cast more than 100 yards to reach the desired target i.e. the large predator species. Their easy to adjust, patented drag system gives us a lot of control during fights.​ And in the case of strong impacts, this reel has a mechanism to maintain initial alignment of the gear.
​The sealed HT-100 Slammer drag system provides us with immense strength and durability. Not to forget that it feels incredibly smooth too. Such smoothness and fluid cranking is imparted to it by five shielded stainless steel ball bearings. Since it features marked line capacity rings at 1/3, 2/3, and full capacity, we won't have to worry about using the right line either.
Casting too isn't an issue as we can cast far and smoothly at the same time. The Superline spool doesn't need any backing. It is also braid ready. Featuring an instant anti-reverse bearing, it prevents a reverse pull during a big haul. And lastly, it possesses a friction trip ramp which prevents the bail from tripping when it is cast.
There seem to be some issues with the drag setting though as some users found it to be too tight in simple words.
Maintenance & repair Cost
​A watertight sealed design keeps our reel protected from the saltwater. This allows us to fish from the shore as well as makes it possible for us to go deeper into the seal. The durability is unquestionable. Its construction makes it one hell of a reliable reel. Some of our readers have told us that it is "the best surf fishing spinning reel in 2019″.
The durable construction design, a full metal body with a side plate, a techno-balanced rotor and heavy-duty aluminum bail wire allow really rough and tough use of these reels without much worry. However, here too the possibility of reel acting up if the saltwater gets inside persists.
In plain and simple words, this might be a water-resistant reel but it is certainly not waterproof. You might have to open it up and re-grease it if it gets wet from within.
Price
​All these features come at a price that is pretty much justified. We know a lot of brands that offer almost the same set of features in terms of quality and functionality, yet demand a lot more money.
​KASTKING Sharky III Spinning Reel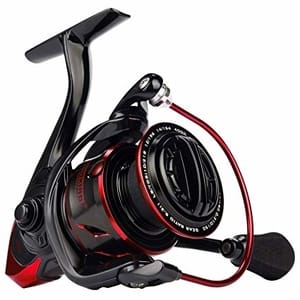 4.4 stars
Reel might make some sound initially
Comfort
​The KastKing Sharky III is a pretty lightweight spinning reel with a foam handle.​ This means that there won't be problems when you take it out with you for long hours of fishing.
durability
​A versatile and all-rounder fishing reel which works extremely well in the surf as well as other conditions. Not only do these reels look great but they are also very tough which makes it easy for us to land trophy fish in saltwater and freshwater.
​With a high-percentage fiber reinforced graphite body and rotor, this is a sturdy thing available in the market!
Functioning
​These reels have 10 + 1 high quality, saltwater rated double shielded stainless steel ball bearings, instant lock anti-reverse, stainless steel hardware, aluminum handle, more line capacity and drive system. The retrieve system is both smooth and effortless.
With a 40lbs max drag, you can be sure about having solid control over those big fishes which demand a decent fight even with easy drag adjustments. The unique Shark Fin Braid Ready aluminum spool to our great joy was backing- free. So, it takes braided lines directly and at the same time offers its maximum capacity.
​
​The reel is available in four sizes and each size is larger than the previous one, which of course means that it can handle more line. A bit of a side note though. if you're using braided line, be sure to read the specs thoroughly because it has a different capacity than monolines.
​With a world-class and reliable triple-disc carbon fiber drag, we also get an oversized stainless-steel main shaft. Stronger precision-mesh manganese-brass pinion gears are also a part of the whole setup. Sharky III reels have a unique water-resistant design for its spool, body, and rotor.
They are sealed with a KISS – K. I. S. S. (KastKing Intrusion Shield System). It helps to keep water and dirt out helping the longevity of your reel. ​The reel might make some sound initially but it eventually fades off with use. It may be a cause of concern to some but for others, it is something they don't worry about.
Maintenance & repair Cost
​As hinted earlier, the KastKing Sharky III has a tight waterproof seal which reduces internal corrosion to a great extent. With the reel being made of mostly aluminum and stainless steel, it keeps everything in top shape for you even when exposed to corrosive saltwater.
KastKing really cares about its customers so expect good service.
Price
​The price of this feature-rich fishing reel is what surprised us the most. We were expecting it to be quite an expensive buy but KastKing yet again delivers on its belief that good fishing gears need not be expensive.
Scoring high on all the parameters and being a low priced buy, it was bound to win the 'Editor's Choice" award for being the best surf fishing reel as per our comparison.
​SHIMANO Stradic Ci4+ Spinning Reel
​4.3 stars
​Minimal wind knots and line-twists

​Extremely smooth

​Great drag

​Light weight and strong water-resistance
The price is quite high which may be something that deters you
Comfort
​The Shimano Stradic Ci4+ is a premium quality reel featuring a carbon body construction and a magnumlite rotor that provides a super-light feel making it a pleasure to use. Adding a 'G-free' body design has helped in significantly improving the weight and balance of the reel.
​First incorporated in the Shimano Stella, this design helps prevent forearm fatigue.
Durability
​Shimano has been known to make excellent reels that you as an angler can always count on.​ The body is made out of Ci4+ carbon. With super durability and light weight this material was usually used for more expensive Shimano reels.
Functioning
​Equipped with Shimano's latest technology experience a smooth casting, great reeling performance, and enhanced durability. The Dyna-balance rotor, Fluidrive II system, and propulsion line management system guarantee a smooth and long distance casting performance without any fear of line twists and wind knots.
​Armed with X-Ship technology (pinion gear supported by a double bearing) and HAGANE gearing, it is a robust reel with immaculate strength needed to fight large fishes. Also, it has a lot of toughness to withstand usage in a saltwater environment for long hours.
When out fishing, these specs transform into a great experience giving one of the most top-rated performances we have ever seen. ​Equipped with 6 ball bearings and 1 anti-reverse roller bearing, it provides smooth casts and retrieves.
With a max drag of 24 lbs and a retrieve per crank range of 35″, it packs in some powerful performance and serious strength. Apart from a balanced feel, long distance castings, it also reels smoothly. The drag system is famous for handling large fishes without wavering.
​
​A Super Stopper II anti-reverse bearing system helps the anglers to set the hook without any back play. As far as line management is concerned, Shimano uses an advanced AR-C spool and a power roller. This helps to minimize wind knots and line twists by nearly 50%.
Maintenance & repair Cost
​It survives well against heavy saltwater use. Advanced core-protect water resistance provides all-weather resistance against water and ensures that our reel offers lasting reliability. To make things even safer, the ball bearings are shielded which greatly reduces the risk of water, salt and dirt penetrating our reel.
Price
The reel is enriched with ​premium features but they come at a price. In the same article, we have reels which cost way less but of course offer fewer features than this one. So if you have some money saved up, give up on those low priced options and definitely buy this one.
​PFLUEGER President XT Baitcasting Reel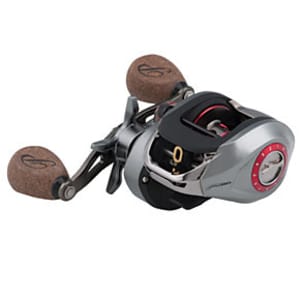 ​4.4 stars
​Lightweight design

Double shielded bearing system
​Drag performance can be improved
Comfort
​Equipped with a low profile design, lightweight C45 side plates, and aircraft-grade aluminum handle, the touch, and feel of this reel is extremely pleasant. It has an easy to grip soft-touch rubber knob which feels good in the hand, thus making the reel really comfortable to use.
Durability
​When it comes to ergonomics, the aircraft-grade aluminum handle mentioned above has been designed for extreme durability. The reel body itself is rough 'n' tough and is known to last long without giving you any hassles or frequent trips to the repair shop.
Functioning
​Through its repeated proven performances when we took it out for fishing, it justified itself as one of the top rated surf casting reels. Smooth performance on the cast and retrieve are no wonder as it encompasses a powerful and smooth drag.
9 ball bearings made of stainless steel along with a one-way anti-reverse bearing and a magnetic braking system make its job super smooth and efficient. ​Equipped with a 7.3:1 gear ratio, it is able to offer us high-speed line retrievals just in case a fast swimming fish comes towards us or tries to swim away.
The spool has been known to hold 185/20 140/30 100/50 yards/lbs braid and 145/12 125/14 100/17 yards/lbs monolines. Once you adjust the brakes and tension with the right settings, it can cast very far and doesn't backlash easily.
​Expecting a super fast retrieve of 28" per crank won't be asking too much from the reel as it is able to deliver easily. Another noteworthy feature of the Pflueger President XT Low Profile Reel is its multi-disc drag, with a respectable counter pressure of 5.5 lbs.
The magnetic braking system allows us to adjust the spool rotation easily and the backlash externally.
Maintenance & repair Cost
​Double shielded corrosion resistant ball bearings and body enhance its durability and arm it with the ability to survive the tough saltwater and surf conditions.
Price
​If a baitcasting reel is your preference then this will give you more power and control when you are out surf fishing. The Pflueger President XT is known in the angling community as one of the best surf casting reels.
Now, this is not just because it belongs to a popular brand that makes excellent reels for the money, but rather because of its performances in which the anglers have faith. ​As an inexpensive bait caster, it is a great option for our angler friends on a budget or those who have been looking for their first baitcaster for surf fishing.
President XT Low Profile Reel offers stunning performances at a reasonable price.
​DAIWA BG Spinning Reel
​4.3 stars
Great drag

​Designed to minimize line issues

​

Screw-in handle eliminates main gear & handle arm interaction
Heavy

​Suitable for larger rods
Comfort
​The extremely lightweight air rotor design of the Daiwa BG Spinning Reel gives it a light feel.​ ​It is certainly a high-quality, durable angling tool. The Daiwa BG (Black Gold) spinning reel is available to you in many sizes ranging from 1500 to 8000.
Take the smaller one if you are aiming for those for panfish and the larger one is your option for catching those coveted trophy fish. ​​Beware though, these reels might feel a little clunky to you if you plan on pairing them with lightweight rods. The reason for the same is their metal build.
Durability
​The performance of these reels when it comes to surf fishing is flawless. Having been equipped for durability, they can withstand abuse in the sea environment. Since they have been made keeping in mind their use around saltwater, the BG carries a corrosion-resistant body that Daiwa so fondly likes to advertise as "Hard Bodyz."​
When we first read it, it looked as if they meant "Hardy Boyz". ​Basically an abrasion-resistant reel with an anodized finish which provides continuous protection to the surrounding aluminum housing. Its highlight is the black anodized machined aluminum housing which arms it with a tremendous ability to endure bumps and scrapes.
Functioning
Due to 6 ball bearings paired with an infinite dual anti-reverse system, ​we get a smooth and powerful drag. Along with it, you get a smooth casting and retrieval experience. The BG comes with an oversized "Digigear" system, which is the main reason for its smooth retrieval. For models above 4500, they have a manual return bail.
The oversized system facilitates more teeth to be in contact with each other, which creates a smoother retrieval thereby extending the life of the reel because the stress on each tooth is greatly reduced.
With a solid screw-in handle (that doesn't have play between the main gear and handle arm), braided line-ready spool, and a balancing air rotor, ​the Daiwa BG also offers more power when dealing with large fish. ​The air rotor is supposedly 15% lighter than any conventional rotor out in the market.
The presence of a dynamic cut aluminum ABS spool gives a smooth line loading and minimal wind knots. Incorporating an ATD Drag System with carbon felt drag washers it promises a fast and accurate hook set every time as and when we need it.
​The smaller BG spinning reels (1500-4000) are equipped with an infinite anti-reverse which also eliminates back play when the hook sets in whereas the larger Daiwa BG reels have an infinite dual anti-reverse with dog ratchet. You would also find a mechanical anti-reverse as a backup.
Maintenance & repair Cost
​The BG reels feature an all-metal body and side cover for strength, durability, and corrosion resistance. Daiwa also pays specific attention to detail while putting in the "Hard Bodyz" ability for more effective corrosion resistance.
Price
​If your purpose is to find a top-quality and high performing surf fishing reel which carries an accessible price tag, then the BG series is offering you the best value surf spinning reels. ​This is no doubt a good reel if you are on the hunt for larger fishes, as it maintains proper balance with large rods.
​PENN Fierce II Spinning Reel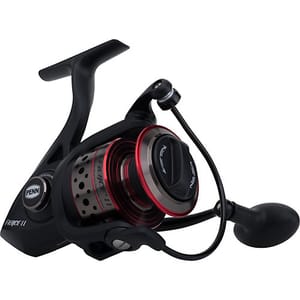 ​4.3 stars
Great drag

​Good quality and durability

​Improved corrosion resistance
​Drag might seem problematic
Comfort
​The reel is not only good to look at with its black and red color scheme but also lightweight with a comfortable grip and a sleek design.
Durability
It has a full-metal die-cast aluminum body with side plates that make it really strong and sturdy. ​It also keeps precise gear alignment under heavy loads and makes our reel durable in the long run.
Functioning
The ​​Techno-Balanced™ rotor is a trademarked Penn design that has been engineered to provide really smooth retrieve. Combine it with the ​4+1 shielded stainless steel ball bearings and you will know what we mean when we say the reel feels silky smooth.
​A total of 5 bearings not only provide us with a nice and smooth retrieve but they are also meant to last for years if proper care is taken. The detailed design looks something like this: two on the main gear, two on the pinion gear plus the one on the instant anti-reverse. Now mind you, these are shielded against water and NOT sealed.
​
Just like its other reels, here too Penn uses its tried and tested oiled felt drag system. This, in turn, results in a smooth drag that ranges between 10 and 25 lbs. The instant anti-reverse provides a solid retrieve without any back play to deal with. This was a major problem in the older models with a racket style anti-reverse system.
​The Penn Fierce II Spinning Reel has an extra heavy duty bail wire. This guarantees that our reel will withstand the test of time and should not cease to be useful over a long period. This is of primary importance as a warped or bent bail leads to inferior line management and lay while retrieving.
​The super spool features a rubber inlay into the spool. This allows us to go directly to the spool with a braid of our choice without the need of having to back it up with a monoline. The rings have been marked at 1/3, 2/3 and full line capacity. With more and more fishermen choosing mono as their preferred line, this feature is an integral part of reels these days.
​One noticeable point here is that some customers faced a little trouble with the drag, live liner, and the bail.
Maintenance & repair Cost
​All the parts of this reel which also includes the heavy-duty aluminum bail wire have been designed in such a way so as to make it suitable plus durable to be used in sea water. The improved paint quality on comparison to earlier models protects our reel against saltwater spray and chemicals that lead to corrosion and ultimately the death of your reel.
​It is nice to see that Penn listens to the feedback of their customers with the utmost care and diligence while addressing their issues in the best way possible.
Price
​If you are new to the world of surf fishing or fishing itself as a matter of fact then this reel is something you can try out. It doesn't require you to spend much but makes your experience an enjoyable one instead of the frustration which comes with sub-standard cheap gears.
​Buying Guide For Surf Fishing Reel
​Surf fishing reels should vary a lot in terms of features and functionality than reels made for conventional usage. The main idea to be kept in mind while designing is that surf reels are for use in saltwater, which is super corrosive to your unprotected fishing gear.
​Saltwater reels are primarily made of metals. The metal of such reels is pre-treated to be corrosion-resistant. A reel with a non-protective layer of paint, having an unsealed and/or unshielded design would be left with unusable in our hands after only a few outings.
​A surf fishing reel should be able to handle heavier duty lines and lures, as a lot of saltwater species are larger than their freshwater counterparts. Apart from these basic features discussed above, let us discuss some other important factors regarding what all you should know before you buy that reel which you have been longing for.
Species we aim for

​Bearings

​Drag System

​Material used
​Reel Weight

​Fish weight it can handle

​Type of reel

​Grip
​Surf Fishing Reel Features Explained
​​Species We Aim For
​You should have a fair idea about the species you aim to catch. Weight and size of the species you plan to capture is directly related to the type and size of reel you need to buy. You don't want to have a beast tugging at your bait with a reel which will not be able to pull it. Similarly, you don't large reels to catch small fishes.
They will simply tire your hand. You don't need to have a bomb in your hand to kill an ant.
​​​Bearings
You want your reel functioning at a good speed. If you want your reel to function as smoothly as possible, choose a reel with at least four to five bearings. But there is a myth that anglers often fall for, i.e. more the number of bearings the more smoothly your reel will perform.
Nothing can be further away from the truth. If the quality of the bearings is not good, they will just be an extra burden acting as parts that jam or fall out, thus seizing your reel altogether and ruining your fishing trip.
​​Drag System
​The fishes in the sea are much more energetic, stronger and most often larger than the ones you encounter in freshwater. You need more time to tire them and a lot of strength to fight and keep them coming towards you. Therefore, choose a drag system that has enough power so it does not disappoint you when the time comes.
​
​Make sure that the drag is as smooth as possible. ​If your drag hangs or lags, you not only lose the fish but also the line. Choose a drag system which is easy to adjust and control at the same time.​
​
​Material Used
The main problem area that surf fishing reels should conquer is the rough environment of the sea. You might be enjoying your saltwater fishing trip but it might be wreaking havoc on your reel. Surf or sea environment has sand and salt grains which damage your reel together.
​Hence, reel material becomes utmost important. The best materials for a surf fishing reel are known to be anodized aluminum, stainless steel, and stamped aluminum. If they are present in your reel, you are kind of safe here. They are good because they are the most corrosion-resistant materials we have available today.
​Strength and durability are important factors as well and carbon fiber works well here. Though aluminum reels give us a strong feel and powerful drags, graphite helps us in other ways. Mainly, graphite reels are lighter which makes them easier to maneuver. Now it all depends on you whether you want strength or ease of use.
Some reels use both of them at requisite places to maintain a balance between strength and comfort.
​​Reel Weight
​Don't forget that the reel itself has some weight. ​You don't want your hands to hurt if you plan to fish for a long duration. A lightweight reel doesn't strain your hands.​ As mentioned earlier, there needs to be a balance between weight and strength.
​But if the weight is light and the reel's strength is abysmal due to its design and material, then such a reel won't serve you long.
​Fish Weight It Can Handle
​Try pulling your car with a thin thread. "What?!" you must be saying. Exactly our point. We feel the same when we see someone ​use a reel that does not have the capacity to deal with the weight of large species. Avoid overload breaking your reel. Find a reel that with the correct weight capacity for the species you aim to target.
​
​Type Of Reel
​There are two options for you to choose from when it comes to surf fishing. First is the baitcasting reel and second is the spinning reel. Since spinning reels are easy to cast and control, they are highly preferred by beginners. ​​​Skilled anglers, however, prefer baitcasting reels. Baitcasting reels require skill to use.
Though not easy to cast and control they offer a couple of advantages over the spinning reels. First one is that we can cast further and the second one is that baitcasting reels enable us to fight better.​ ​​However, performance depends on your skills.
Even the most sophisticated fishing gear on earth is useless in the hands of a person who doesn't know what to do with it.
​
​Grip
​A good grip helps us to fish for long hours and also improves our control over the setup. It doesn't cause fatigue. It feels good, doesn't let our hands and the fish slip away when the reel gets wet and account for an overall pleasant fishing experience.
​Conclusion
Choosing the best surf fishing reel ​was a really arduous task for us​ as you can see there was neck to neck competition among the contenders. But finally, we were able to single out the ​Kastking Sharky III Spinning Reel in the spinning reels and the Pflueger President XT in the baitcasting type.
We did not find many worthy reels for surf fishing in the baitcasting section to list them and compare them with the Pflueger. Maybe we will find some in the future. ​Each angler is unique and so is his/her style of fishing. At the end of the day, it all boils down to what you need and are comfortable with.
Some prefer a premium reel such as the Shimano Stradic Ci4+, while others may go for a more famous choice like the Pen Battle II. ​Choose something that suits your style of fishing and not something that everybody else is buying. What may be good for them might not benefit you at all.
​Hope you got a lot of value from this article, were able to find what you were searching for and are ready to buy your dream surf fishing reel. ​Till then tight lines and zàijiàn.
​Recommended Reads
​© {tcb_current_year} Fishing Is Bliss