Best Fishing Rods For Kids [Updated 2021]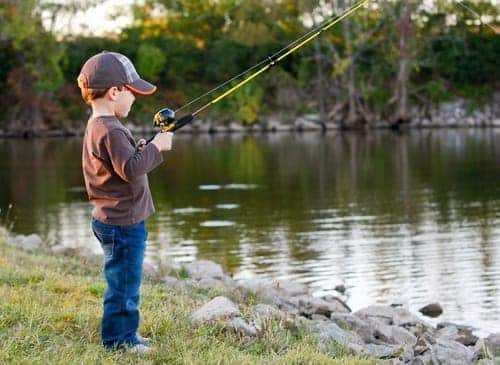 If you are in a hurry and just want to find out which is the best fishing rod for kids, then we'd recommend the ​​​Plusinno Youth Spincast Combo​ as the best one.
​So you have spent most of your life fishing and now it is time to pass on your treasure of knowledge to the little ones, the pioneers of tomorrow. There is no greater pleasure for an angler than to teach their child the art of fishing.
​But fishing is a tough skill to get a hang of that requires patience and technique. And while your kids try to learn it, they can lose interest quickly. ​Fishing rods meant for adults can feel too heavy in their small hands.
​Best Kids Fishing Rod And Reel Combos
​​Plusinno Youth Spincast Combo
​​Ugly Stik GX2 Spinning Youth Combo​
​​​Plusinno Youth Spinning Combo
​​Lanaak Kids Fishing Combo​
​Compare Top Products
Swipe Left On The Table To Scroll
| ​Product | ​Our Rating | ​Bottom line | ​Latest Price |
| --- | --- | --- | --- |
| Plusinno Youth Spincast | 4.4 stars | Your go-to combo in case your child is between 3-7 years. | |
| Ugly Stik GX2 Youth | ​4.3 stars | A world class combo and your child's first step towards adult fishing gear. | |
| Plusinno Youth Spinning | ​4.1 stars | Great overall performance at a remarkable price. | |
| ​Lanaak Kids Combo | ​3.9 stars | ​The combo which allows you to catch your own bait. | |
​Before We Begin
​​Fishing rods meant for adults require some previous experience to operate in circumstances that maximize their potential. Hence, the best option here is to get a fishing rod designed especially for children and young teens.​
They are short, lightweight, inexpensive and have a simple way of working.​ Thus the learning is easy and fun. ​​The good news is that the manufacturers we have featured here offer a complete fishing combo with simple mechanisms at relatively low prices. Their whole idea is to keep a child hooked to fishing.
This not only increases their chances of success but also opens them to the idea of learning new things. ​We took extra care to only include the best fishing rods for kids or rather the best fishing combos for kids. ​We stayed away from those colorful looking things that may have an attractive cartoon-type finish but aren't useful in the long run.
The best way to make a child learn is to hand him/her a rod reel combo that resembles what adults use but has been specifically designed for children. Something that will impart them useful lifelong skills.​
​Detailed Analysis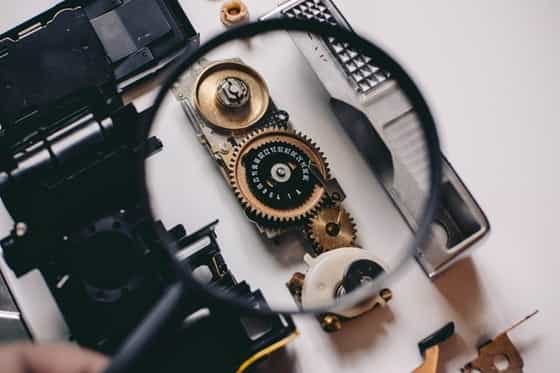 ​​So the 'Editor's Choice' award has been bagged by Plusinno Youth Spincast Combo. The other combos weren't bad either and in fact, the Ugly Stik GX2 Youth combo scored ​just a tad less than the Plusinno one. Why? Since it cannot be used by small kids, therefore, we had to refrain from calling it the best.
Below you can find a detailed analysis of how each combo performed on various parameters. ​It was interesting to notice that the spincast combo by Plusinno was chosen by our editors as the best and in case your child is in the age group of 3-7 years, we highly recommend you to choose the Plusinno spincast combo only.
​PLUSINNO Youth Spinning Combo
4.1 stars
Complete well packed kit

​Trustworthy performance
​Line tangles are a possibility
Comfort
​Since it is designed for kids, the rod and the reel are extremely lightweight so as to minimize any discomfort a child might experience. The rod is a telescopic fishing rod which makes the whole setup a compact build and easy to carry around. The rod-reel handles are soft-EVA builds which are pleasant to hold.
​The rod weights are 2.2oz and 2.67oz corresponding to two different lengths. The reel is just 6.58oz with interchangeable handles. A small manual might be given (not always) with the setup explaining how to attach the reel handle and the reel itself to the rod handle.
It is so simple that during our tests, kids who were 8+ were able to do it just by looking at the diagrams.
Durability
​The combo is predominantly made of Fibre-Reinforced-Plastic (FRP) and other plastic components. This has been done keeping in mind the weight of the combo. But being made out of plastic doesn't mean it is of cheap quality and brittle. In comparison to those fancy cartoon-type rods and reels out there, this will stand the test of time.
The reel also has a strong metal bail wire. ​Plusinno also has good customer service and really cares about the grievances of their customers.
Functioning
The telescopic rod has four sections with guides at appropriate places and the reel comes with a pre-spooled and roughly 6lb mono line. Both, the rod and the reel are sensitive to fish bites which lets the kids easily detect any activity by fishes. This lessens the chance of losing a fish after a bite as it is a strong signal to set the hook in.
The combo is suitable for catching lightweight fishes and the rod can be termed as moderate action. ​You have two options to choose from i.e 1.15M or 1.5M of extended rod length. ​The reel made some sound initially but got almost noiseless with use. Guess it was a question of the grease spreading and settling in properly.
It also has a double colored deep aluminum spool and a 5.2:1 gear ratio. Even though the reel has a large line capacity, it doesn't cast very far. Out of many attempts by kids who were fishing, a couple of them did result in line tangles and we had to cut some line. Nobody wants a bird's nest.
​Maintenance & Repair Cost
​The whole combo does last fairly long when we compare it to what we people are used to in the kids fishing section. It is compactly enclosed in a great quality bag which inhibits careless storage practices and keeps the setup working for as long as possible.
The pole is protected inside the bag with a belt roll strap and the head of the pole has a protective sleeve. ​Now since it is a plastic build and meant to be used by kids, we do understand that it will be subjected to some rough use. It will give in after some time but not without giving your child their earliest pleasant fishing memories.
price
​We get a lot of stuff apart from the rod and the reel i.e a box which contains baits, bobbers, sinkers, stoppers, lures, and fancy hooks to name a few. So much good quality stuff at a remarkable price is something which makes these youth combos an irresistible buy.
​UGLY STIK GX2 Spinning Youth Combo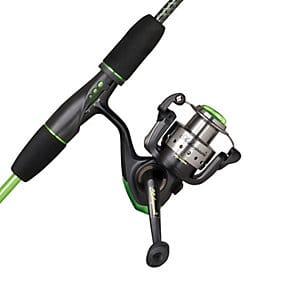 4.3 stars
​Extremely durable rod

​Smooth casts

​Signature Clear Tip® design
​Reel isn't as durable as the rod

​Not suitable for kids below 8 years
Comfort
​It is a two-piece rod which makes it easy to carry around and travel with. Also, it has a split EVA grip which provides a comfortable hold to children. The whole combo is pretty lightweight which ensures that the kids do not feel tired even after long hours of fishing.
durability
​​It is a durable combo consisting of a graphite and fiberglass construction. The durability of the usual Ugly Stik GX2 is well known and its little version surely follows in its footsteps. Children can be a little reckless with their usage and any youth fishing combo should be designed keeping the same in mind.
Needless to say, Shakespeare has done a remarkable job with their Ugly Stik Youth Spinning Combo.
functioning
​The combo features a five-feet six-inch rod which can prove to be difficult to use by very small children. Basically, Shakespeare has designed a combo suitable for usage by kids above 7 years. Children below that might have a hard time with it. It is a medium action spinning rod having the signature Clear Tip® design of Ugly Stik.
Thus, you can be sure that your child will be able to detect even the slightest nibble and strike. ​If they do not lose fishes, then they will surely be addicted to fishing while becoming more confident in their actions. Further, the reel in the combo has an anodized aluminum spool.
Also, it has only one ball bearing which is not a bad thing as the reel has been designed in such a way that one is enough and more bearing would rather hamper the functioning. The casts and retrieval are fairly smooth too. ​The handles are interchangeable to allow both left and right-handed kids to enjoy this fishing combo.
The reel has a max capacity of 145 yards on a 6lbs line.
​Maintenance & Repair Cost
​The combo is extremely famous because of its rod but the same cannot be said about the reel. It requires proper maintenance and thus needs to be protected from salt water. Also, it is not as strong the rod. However, the rod will really amaze you with its capabilities and won't trouble you at all.
price
​​​The price point is really favorable and doesn't burn a hole in your pocket despite having a world-class rod in the combo. Your child's first step towards fishing with this combo will teach them what exactly durability means in a fishing rod.
​PLUSINNO Youth Spincast Combo
4.4 stars
​Very light

​Lots of extra stuff with the combo

Easy to store
​Not suitable for children above 7 years

​Not recommended for serious learning
Comfort
​First things first. The Plusinno Youth Spincast Combo, just as its name suggests is the spincast version of the Plusinno combo for kids. The combo mentioned above comes from the same manufacturers but that was a spinning one. Let us start with the basics.
​​The rod is available in two weights i.e. 4.23oz and 4.86oz. Also, the reel weight is just 4.73oz. So this is lighter than the spinning combo. You get rubber grips on the rod handle and the reel handle has a plastic one. ​The rod is telescopic in nature which makes it compact and easy to store.
And of course, the whole combo is lightweight especially because of the spincast reel.
durability
​The rod and the reel just like the spinning version have been constructed using Fibre Reinforced Plastic (FRP) and Acrylonitrile Butadiene Styrene (ABS). The combo has plastic hooded reel seats, feels very durable and seems it can easily take a drop or two.
functioning
​The first point of difference between the spinning and the spincast variant is that this combo targets age groups of 3-7years. If your child is above 7 years then the Ugly Stik GX2 Youth spinning combo might be a better option. The rod in this combo is available in sizes of 120cm (47.24in) and 150cm (59.05in) at an extended length.
It also has good quality guides at appropriate places. ​The reel is a standard spincast one which comes pre-spooled with a standard eight-ten pound monofilament line. The drag system is a fairly simple and basic one. One thing that caught our attention was the fact that there was no plus or minus sign next to the drag adjustment scroll lever.
So for a beginner, there is no way to know in which direction the drag increases or decreases. We figured out that turning the lever to the left increases the tension. ​The rod action is very light with a lot of play but has a strong backbone. The gear ratio of the reel, however, is very low. This can easily wear out a young one's arm and wrists.
Further, there is not a lot of line in the setup. We would say around 10-15 yards at max. Our casts resulted in empty spools and line stoppages but it is surely enough for a child between 3-7years of age. The reel is not equipped for any types of artificial baits and using a live bait would be the best option. It is well suited for freshwater and lake fishing.
​Maintenance & Repair Cost
​Just like the spinning combo, this too is nicely packed. The rod again is protected by a belt strap and protective headcover which eliminates damage while storage. Not much care or maintenance is required since good quality material has been used in its construction.
price
​It comes at a price similar to some other combos out there. You get a lot of stuff for your money just like the spinning combo above, i.e. soft lures, hooks, bobbers, bobber stoppers, jig heads, sinkers, swivels, etc.
It is a nice combo to get a child started on some camping trip but is surely not recommended for serious fishing and for the learning curve of a child.
​LANAAK Kids Fishing Combo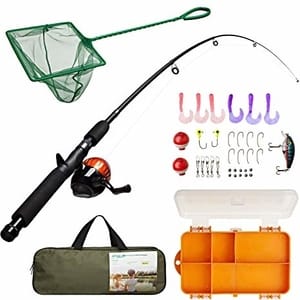 ​3.9 stars
​A lot of free accessories

​Starter's guide included

​Compact design
​Significant durability issues
Comfort
​The rod handle is a soft-EVA grip which provides a comfortable grip to little hands of children. Thus they will not tire even after fishing with this combo for a long duration. This can also be attributed to the fact that this combo is lightweight in nature and is a pleasure to fish with. The reel handle, however, is made of plastic.
The telescoping fishing rod is easy to carry because it collapses to 17 inches. And it's great for a variety of ages, as it expands to 65 inches. A carry bag has been included for storage and travel. This whole kit fits under a car seat or in a backpack. Thus this kit is great for fishing trips that involve hiking and camping, too!
durability
​The construction material is again high-quality ​Fibre Reinforced Plastic (FRP) and Acrylonitrile Butadiene Styrene (ABS). The combo works well in the majority of the cases but there are definitely known durability issues with the setup. For instance, the pole is not as strong as it should be and has high-chances of snapping after a few outings.
Further, we did not find the reel body to be sturdy enough so that it could absorb the shock of more than a couple of drops. ​Thus rough usage endurance, which we feel is one of the most primary quality in a kids fishing combo was missing altogether. Otherwise, till the time this combo works, it works well enough.
functioning
​This fully-loaded, complete kit has everything your child needs to start fishing. It is a beginner-friendly fishing combo with a closed-face, spincast reel pre-spooled with 200 feet of an 8-lb test line, and the push-button casting system making casting easy for everyone.
It has a fully loaded tackle box includes hooks, bobbers, sinkers, swivels, plastic worms, and a crankbait lure. Therefore, you are not required to go shopping for those extra accessories! There is also a hand net for catching baits because you can't catch fish without bait.
A hand net ensures an endless supply of minnows and nonstop entertainment (even if the fish aren't biting). ​​To make your fishing trip fun, and a stress-free success, a Lanaak Fishing Starter Guide has been included by the manufacturers. It delivers clear explanations, easy-to-read diagrams, and a few tips and tricks for fishing with a family.
Plus, watch out for links to their instructional videos! The reel is a spincast one which is quite easy to use and carries all the necessary features. Despite all the fun stuff, there are known issues with the reel jamming up frequently which hampers the mood completely.
​The last thing you want to see is your kid crying due to a breakdown when their friends and siblings are fishing merrily.
​Maintenance & Repair Cost
Since the durability of the rod is pretty questionable, therefore it carries a high maintenance and repair cost. Further, jamming up of the reel again wastes our time. The time which could have been utilized by catching more fishes is wasted on solving reel issues.
However, a silver lining is a 30-day money-back guarantee. In the unlikely event that you are not satisfied, contact the manufacturers for a replacement or return it for a full refund.
price
Thankfully the price is in the same range as the other fishing combos that we have suggested here despite the fact that a lot of extra stuff has been offered. It carries a price which you would be pretty comfortable shelling out.
If you are looking for the perfect gift for a young fishing enthusiast or a surprise for a first fishing expedition with the family then get everything they need for their first big catch in one high-quality, easy-to-use kit.
​Buying Guide For Kids Fishing Combos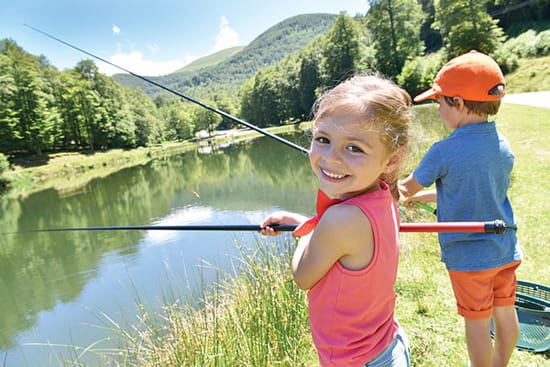 ​The process of finding the best fishing rod for kids or rather the best fishing combo for kids can become so much easier if we know beforehand what exact qualities to look for. This will not only allow us to get something that best suits our needs but would also save us a lot of headache in the long run.
We strongly recommend you to have a look at the following aspects of whatever combo you decide to buy for your kids. If you feel overwhelmed, please feel free to go with any of the four options we have given you above as they tick the right boxes according to the below parameters.
​Weight of the combo

Length of the rod

​Comfort
​Rod handle

​Durability

​Ease in carrying around
​Kids ​Fishing Combo Features Explained
​​Weight Of The Combo
​Be aware of the age group your child is in and their ability to lift weights. Certain age groups would always be able to lift more weights than the preceding ones and thus it is important to consider the weight your child is comfortable to hold.
The weight here doesn't just correspond to the weight of the setup but the complete weight when your child reels in a fish. Will they be able to handle the weight then? Do they have enough strength to withstand such weights or they will surely be uncomfortable?​
You see, it isn't just about being able to lift the set up but also the ability to cast it with one hand comfortable and have complete control over the movement. Never try to exceed the weight capacity of your child as it can be extremely dangerous.
​
​​Length Of The Rod
​​​This point can be seen as a direct continuation of the weight as longer lengths do attach a bit of weight to the combo too. However, this might be untrue in many situations but has been found to be generally true. Further, the longer a rod is, the more difficult it will be for the child to handle.
It will also hamper casting accuracy even though it increases the casting distance. Very short rods, on the other hand, are problematic too as they greatly reduce the casting distance and if your child is capable of handling bigger rods, then he/she will quickly lose interest in fishing with a short rod.
​
​Needless to say, lengths which your child will not be able to handle are not only dangerous to him/her but also dangerous to other people around.
​
​​Comfort
​Some functions or aspects of a combo can be hard to master even for adults and therefore for kids who are just beginning to learn how to fish, we need the moving parts stripped down to a minimum and only the bare necessities included in terms of functions. A child doesn't care how sophisticated the fishing rod or the reel is.
All they want is a fish at the end of their line. Many a time we see parents forget this important point and realize that their child has lost all interest in fishing despite having a sophisticated fishing gear (that the child has no idea how to use).
​​Rod Handle
​Shorter rods might do without a great quality handle but as the rod length increases, so does the importance of a good quality handle. You want to gift your child rods with extremely comfortable handles so as to minimize any discomfort.
EVA handles and rubber handles are not only soft to touch but also strong so that they do not wear off leaving the pole bare naked. The best fishing rod for kids is always designed keeping such parameters in mind which fits snugly in a child's hand and never hurts them even after long hours of fishing.
Worst kind of rods have been known to give blisters in the hands of children.
​
​​Durability
​A child will seldom be careful about proper usage of a fishing combo and therefore one should expect a lot of rough usages. Though graphite, fiberglass and carbon fiber are the best-known materials for construction of fishing gears, they are not feasible to use in combos for children due to weight and cost issues.
Thus to keep the weight minimum and still maintain respectable amounts of durability, we need a combo with high-quality plastic. This would still ensure the longevity of the combo despite rough usage.
​
​​Ease In Carrying Around
​You would want to have the most portable, easy to store and easy to carry around combo because you don't want your child to feel stranded or left out if you decide to go fishing while on a vacation, hiking or a camping trip.
Look for combos which have proper storage bags along with the rod and reel as they will save you a lot of hassle while packing the stuff and never feel like unnecessary baggage.
​Conclusion
​Finally we understand why the ​​​Plusinno Youth Spincast Combo checks all our parameters.
​As someone looking for a great fishing combo for kids, you should always look out for no-tangle casting mechanisms, collapsible poles and as many freebies for kids as possible. The kid's combos are usually budget-friendly and include a whole lot of stuff apart from the usual rod and reel.​
Fishing requires a lot of patience and therefore is a hard skill to learn especially for children given their tendency to lose interest quickly and short attention spans.​ But if they do learn to fish, it will be one of the most rewarding experiences for both i.e. you and your child.
There will be so many special memories to cherish from these experiences and will strengthen the bond between you all.​ But for all these to happen, we require the best fishing rod for kids to be in their hands along with a great quality reel. Fishing is a fun activity and a good setup will keep the fun intact while imparting useful skills in your child.
And it greatly increases the chances of catching fishes which can result in the most vivid smile on a child's face. Our recommendations are simple inexpensive gears that will make your child's fishing journey start in the right direction. With these words and pleasant thoughts, we promise to meet you again with another splendid article.
Till then, swarrtotmaal!
​Recommended Reads
​© {tcb_current_year} Fishing Is Bliss