Fishing in a sea is about as diverse of a fishing experience as an angler can have. The variety of fish species, the size of fish, and variations in depths create a fantastic experience for anglers of all skill levels.
To catch fish in the sea, anglers should be comfortable fishing on the bottom, trolling, and fishing topwater. Fish living in the sea will eat in a variety of ways, and it's important to have a wide repertoire of skills. Plus, the different species have different feeding habits.
Saltwater fishing isn't always easy, so make sure to read the following information to get yourself prepared for a saltwater trip.
Various Methods To Catch Fish In The Sea
1. Trolling
One of the most effective methods for sea fishing is to troll. Not only will it help you catch a variety of fish, but it'll also provide a ton of action while you're on the water.
Trolling is the process of pulling baits and lures behind your boat while it is moving. This method gives anglers a chance to cover a massive amount of water and quickly learn what the fish want to eat.
1.1 Rods, Reels and Line
While some anglers choose to use special tackle for trolling, you can easily do it with your saltwater spinning tackle. Most saltwater spinning rods have fast actions, and this is perfect for trolling.
The bottom of a fast-action rod is strong, but the tip is more sensitive to help you detect when you're getting a strike. Fast-action rods can be a good option if you want less flexibility and more power.
Use a 7 or 8-foot medium or heavy power rod. Medium and heavy power rods are able to handle larger baits and are good choices for reaction strikes.
The power of a rod is defined by how powerful the blank is. Medium and heavy power rods are able to handle upwards of 120-pound test and can fight a Marlin or Tuna that takes your bait.
Since trolling is a fast-paced style of fishing, fish often hit baits and lures with aggression, and medium/heavy rods are able to handle them.
A size 30 or 40 reel will pair well with these rods. Size 30 and 40 reels are a bit larger reels, but that's necessary for trolling.
You're fishing with a decent amount of line out behind the boat, and you never know the type of fish that may take your bait. You want plenty of line to fight them.
For your line, make sure you have enough pound test to handle whatever fish you're targeting. If you aren't quite sure what to use, stick with a 40 to 50-pound test to stay on the safer side.
Also, make sure you use a five or so foot shock leader. Shock leaders are helpful because they're a heavier-pound test and are able to absorb the initial strike and rod load once you set the hook.
1.2 Bait
If you don't want to use live bait, then plugs may be your best option. The Rapala X-Rap can be an ideal choice. Plugs are well-known in the world of saltwater trolling.
They dive deep and move quite a bit of water. Plus, the bright colors attract the attention of fish that are located nearby.
If you're in the market to purchase plugs, make sure you know the depth you want them to get to before you make the purchase.
You can also troll with jigs and soft plastics. For example, you can choose a minnow-style jig and begin to troll slowly. The slow trolling allows the jigs to get to those necessary depths.
You can also troll with soft plastics in a similar fashion. The great thing about trolling with these baits is that it allows them to look quite natural and realistic.
If you don't like either of the above options, you can have success if you choose to troll with spoons. Spoons are fairly light, so you may need to attach a weight to get them lower in the water column.
Like jigs, your best bet is to troll with them slowly. One of the final options for trolling is to use live bait. Live bait trolling almost always leads to big fish!
You're going to want to use wire leader if you do choose to use live bait.
1.3 Where To Troll
If you're wondering where to troll, look for a barren area with minimal amounts of structure, which is anything the fish can use for protection and shelter, such as vegetation, rocks, dock pilings, or even sand mounds, and more.
As soon as you bring your bait over the structure, you have a great chance of getting a fish to give chase.
Most fish hang around the few areas of structure, so a chance to get away and chase something different is what they want.
Another place to look is in areas that have schools of baitfish. You can usually tell these if you see fish breaking the surface or birds diving.
If you choose to fish in heavily structured areas, be sure to fish somewhat slowly. Areas with heavy structure usually have all sorts of baitfish for the larger predators.
As a result, they may need some time to locate your bait and make up their mind to go after it.
1.4 Trolling Speeds
The ideal trolling speed for saltwater fishing is somewhere between 9 knots and 15 knots. This is quite a bit faster than you would troll in freshwater, but saltwater fish are an entirely different breed.
They're aggressive and willing to work for their meal. Again, these speeds can vary depending on the style of rig and depth of water that you're fishing, but these speeds are a good rule of thumb to follow.
2. Bottom Fishing
Bottom fishing is a personal favorite for many saltwater anglers because it almost always leads to a surprise catch!
The seafloor is filled with dozens and dozens of fish species, so it's always fun to see what you find. Plus, bottom fishing is about as easy a fishing technique as you can find.
2.1 Tackle
The most important part of your bottom fishing rig is your sinker collection. Sinkers are what's going to get your bait to the bottom of the ocean.
Depending on the depth and current, you're going to need different types of sinkers. Egg sinkers are round sinkers that allow you to place your fishing line straight through the middle.
Egg sinkers provide the least amount of resistance for both you and the fish. You can safely assume that fish won't even notice your sinker when they take your bait.
Bank sinkers are another option that many saltwater anglers prefer. These are a good choice if you know you're fishing in rocky areas. These don't easily get stuck in those crevasses between large rocks.
The final type of sinker you want is a pyramid sinker. These are good if you're fishing in and around the surf. They stick in the bottom and let your bait float freely in the current.
For your line, you're going to want to use braid or fluorocarbon. It doesn't matter if you're fishing deep, shallow, clear, or dirty water; these two options are the best.
While they're on the expensive side, they can withstand the pressure that comes from bottom fishing. You'll want a 20 to 50-pound test, depending on the type of fish you're targeting.
Finally, bottom fishing is going to be best done with circle hooks. These hooks lodge well in the mouths of fish, and most fish won't bend them and get away.
2.2 Rod and Reel
You'll want somewhere around a 6' to 7' medium to heavy spinning rod combination. Pair these with a size 30 or 40 reel to get the most smooth and accurate results.
2.3 Bottom Fishing Setup
There are a variety of bottom fishing setups that work well. One of the more common options is the Carolina Rig.
You attach your egg sinker and a bead above a two-way swivel, and your hook is attached to a few inches of leader below the swivel.
The sinker is going to drop to the bottom and let your bait float freely above it. It's a classic setup that continues to work.
Another good option is the 3-way rig. The 3-way rig is also known as the drop rig. To accomplish it, you need a 3-way swivel. Your line will be attached to one part of it.
To the other two parts, you will attach 6 to 10 inches of leader. At the end of one of the sections, attach a bank sinker. To the other, attach your circle hook. This is a good setup of rocky water.
2.4 Bait
Bottom fishing allows anglers to use a myriad of baits. Most choose a dead bait of some sort. Shrimp, sardines, mullet, and minnows are the most popular choices.
Let the dead bait drift to the bottom, and the smell of it will attract the fish in the area.
If you want, you can also use live bait. Using live bait while you're bottom fishing is going to guarantee that you will catch fish. Mullet, shrimp, and other smaller fish will work well.
Any struggling bait is like candy to some of the larger saltwater predators!
Finally, you can use lures. If you want more of a "fair fight," these are a good choice. Using spoons, jerk baits, or any noisy bait is a good option. You can jig them up and down to create some action.
2.5 Strategies
Whether you're fishing from shore, a pier, or on a boat, bottom fishing is all about patience. From a boat, you can either drift or anchor, but drifting is your best bet.
Let your bait bounce along the bottom as your boat is moving. The natural appearance is hard for fish to avoid. Fishing from a pier is the easiest way to bottom fish.
Simply drop your bait to the bottom, reel up the slack and wait!
2.6 Where to Fish
When you're bottom fishing, your best bet is to find structure. Rocks, reefs, and just about everything else is going to hide fish.
If you're fishing in wide-open water with nowhere for the fish to hide, you won't have as much success. It doesn't matter where you're fishing or how deep you're fishing; structure is what you need to locate.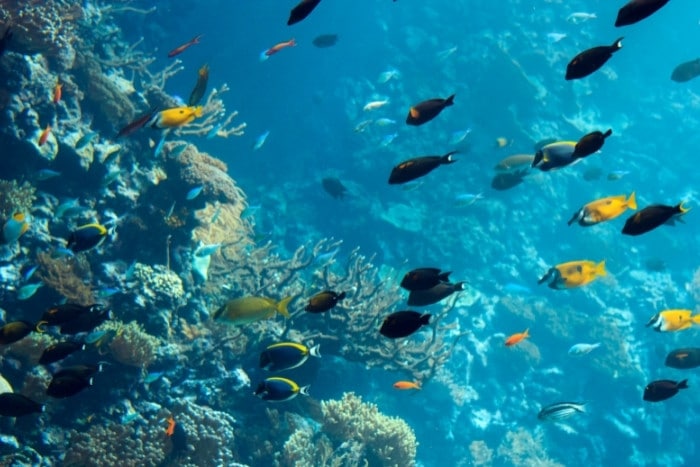 3. Fishing Topwater
Perhaps the most exciting way to catch fish in the sea is by using topwater baits. Topwater baits often receive aggressive strikes!
Plus, you're constantly moving and reeling, so you will always have something to do.
3.1 Tackle
Topwater fishing requires some of the widest variety of tackle due to the different fish that can be targeted on topwater.
For example, you'll likely use somewhere between 20 to 100-pound braid and somewhere between 30 and 50 pounds of fluorocarbon leader.
These can obviously vary due to the size of the fish you're targeting.
3.2 Rods and Reels
For your rod, you'll want to use a 7 to 8-foot medium or heavy spinning rod. These will allow you to make a bit longer casts and still fight whatever fish you find.
For your reel, a size 30 or 40 will work. You may want to go larger (60 or 70) if you're fishing way out in the sea for extra-large fish.
3.3 Lures
It doesn't matter where you're fishing; a spook-style bait is a favorite for any saltwater angler. Spooks create a ton of action and can represent just about any type of bait that you would ever want.
These are able to catch speckled trout, redfish, and anything else you would want. The secret for topwater saltwater fishing is moving water and creating as much action as you can.
The Spook and Spook Jr. are both great options.
The PT-7 topwater lure is another good choice. It moves water like few other lures on the market. Plus, you can launch it a mile.
Snook, redfish, and trout absolutely love eating this lure when they get the chance.
3.4 Techniques
The most common thing you'll hear when you're fishing topwater lures in the sea is that you need to "walk the dog."
Walking the dog is an extremely popular and useful technique for all types of saltwater topwater fishing.
The "walking the dog" technique is created when anglers twitch the rod tip as they're slowly reeling in their lure.
This technique requires anglers to be as rhythmic as possible when they're retrieving their lure. A twitch every time you crank your reel will create this side-to-side motion.
The beauty of this technique is that you don't need to rush it. Take your time and let the lure move the water.
If one speed of retrieval doesn't work, feel free to change how fast you retrieve and how much action you give the lure.
One size doesn't fit all when you're fishing topwater, so make sure you're switching up your retrieval rate until you find something that works.
3.5 When to Use Topwater
Topwater baits are going to be the most effective early in the morning or later in the evenings if it is a fully sunny day.
If it's cloudy and calm, you'll find that fish feed at all times of the day because they don't have to avoid the sun due to their lack of eyelids.
Saltwater fish aren't entirely different from freshwater fish in the sense that they're going to feed mostly during the mornings and the evenings.
Therefore, you'll find that saltwater fish are going to look to feed on the surface during these times.
However, if you see a school of baitfish near the surface, then feel free to throw on a topwater lure and see what happens.
Odds are, you'll get a fish to follow you and strike as long as you can make the presentation believable.
3.6 Where To Use Topwater
Topwater baits are good to use in shallower water. Water that's less than 20 feet deep is going to give you the most success.
The fish are looking in all levels of the water column and are interested in feeding wherever they can find food.
Conclusion
Learning how to consistently catch fish in the sea can take many years.
There are so many different factors that go into a successful saltwater fishing trip that even if you think you're doing everything right, you may not catch a thing.
Whether you choose to troll, bottom fish, or topwater fish, make sure you're willing to stay patient and make your fair share of mistakes.
Having a solid understanding of all of these methods allows you to try all of them throughout the day. The more versatile you are when fishing saltwater, the more potential for success you have.