Wisconsin is a hotbed for fishing. The thousands of lakes and miles of rivers filled with fish provide anglers of all skill levels a chance at landing a trophy. Fishing continues to be productive in the winter as long as you understand where and how to fish through the ice.
Ice fishing in Wisconsin is productive for the entire winter. The fish in lakes, rivers, streams, and ponds that freeze will eat throughout the winter. The lakes freeze over some time in December and will stay frozen throughout February. You will need ice fishing gear like shelters and augers.
With some preparation and research, you'll find yourself ample opportunities to land as many fish as you would like. Take advantage of Wisconsin ice fishing! There are few places like it.
Fish To Catch When Ice Fishing in Wisconsin
Wisconsin has a variety of fish populations spread across the state. You can catch almost any freshwater species found across the northern United States through the ice in Wisconsin.
While fish aren't as active in the winter, they still need to eat, and any easy and delicious meal will do the job.
1. Walleye
Walleye are some of the favorite species for anglers in Wisconsin to catch through the ice. Wherever you can land them in the summer, you'll be able to find them in the winter.
Look for those gravel bars, drop-offs, mudflats, and weed edges. Walleye don't change many of their tendencies of where they live and how they feed when the lakes or rivers where they live freeze.
Plus, they'll be in around 20 to 30 feet of water since it's a bit warmer than the water that's at the surface.
2. Perch
Perch are a favorite for many ice anglers across Wisconsin. Almost every body of water across the state has a large population. As a result, they continue to stay active throughout the cold months.
These fish are known to school, so you may mark them for short 20 or 30-minute stretches of time before they choose to move on to a different area of the lake or river.
These fish are willing to eat worms, minnows, and a variety of spoons. Tie any of these below a bobber, and you'll likely have your limit within a short time.
3. Crappie
Crappie are another staple of ice fishing in Wisconsin. Crappies are generally active in the mornings and evenings through the ice.
These panfish are similar to perch in that they swim and move in schools, so it's crucial to take advantage of them when they're near you.
Look to use minnows and worms when you're fishing for crappie through the ice. All over the state, waters from the north to the south have incredibly healthy crappie populations.
Look for these fish in 10-15 feet of water near areas of heavy structure. They're eager to stay as safe as possible while they're schooling and eating.
4. Bluegill
Bluegill live in almost every single lake, river, and pond in Wisconsin. These fish spawn several times a year, so populations are never lacking.
You'll find these fish in areas similar to crappie. 10-15 feet of water near weed lines, drop-offs, structure, and rocks are some places where you want to start looking for them.
They'll eat just about anything you throw in the water. Minnows, worms, corn, bread, and spoons will provide you with every opportunity to land as many sunfish as you would like.
5. Northern Pike
Northern pike are some of Wisconsin's favorite fish for anglers to target through the ice.
Here you can read our article on: Best Bait For Ice Fishing Pike
Thousands of lakes and rivers across the state have robust populations of these fish, so you shouldn't have to work too hard to find them. Many anglers choose to fish for them with tip-ups.
Attach a minnow to the tip-up, and wait for the flag to pop up. Once it does, you'll hand-line the fish up through the hole. You can land pike all throughout the day.
During the early part of the ice fishing season, look to find them in 5-10 feet of water. As the season progresses, they'll move deeper into the weeds.
Where to Ice Fishing in Wisconsin?
Wisconsin has dozens of lakes and rivers that are perfect for ice fishing.
There is all sorts of excellent public access, and no matter where you are in Wisconsin, you'll never be too far from a great looking ice fishing body of water.
1. Lake Michigan
As a whole, Lake Michigan is over 20,000 square miles.
Not all of the lake freezes due to the wave action, but sections that butt up against the border of Wisconsin fully freeze and lead to some wonderful ice fishing.
Green Bay is one of Wisconsin's most popular spots for ice anglers. Some of the favorite fish to target are walleye, perch, and the occasional whitefish.
Stick near Sturgeon Bay if you'd like a chance at some of those trophy walleye! You'll find them in around 30 feet of water. If possible, look for a rocky bottom next to a drop-off with some mud.
A muddy bottom is precisely the type of place where they like to spend time.
2. Black Oak Lake
Black Oak Lake is a bit smaller of a lake, but the 560 acres hold a ton of fish. Located in the northern part of the state within Ottawa National Forest, anglers of all skill levels can pull fish out of it.
Pike, bass, and panfish are the primary fish you'll land within Black Oak Lake.
The lake freezes enough for you to bring your permanent ice fishing shanty out on these waters for a few weeks if the fishing is hot. Look for the weeds, drop-offs, and structure across the lake.
If you can set up near these, you'll give yourself the best chance at catching fish.
3. Dairyland Reservoir
Dairyland Reservoir is located near the town of Ladysmith, about an hour north of Eau Claire. Dairyland Reservoir interrupts the Flambeau River.
The reservoir has large populations of panfish, bass, pike, and walleye. Some of the larger walleye in the state of Wisconsin are found in the Dairyland Reservoir.
You have access to nearly 1,800 acres of water, so make sure you explore as much of it as possible.
The beauty of ice fishing is that you know where the fish will be, depending on where all the shelters are sitting.
Drop-offs, river banks, tree pile-ups, and various other structures are where you'll find the fish. Be courteous about not getting close to other anglers, but take some notes.
Use tip-ups and spoons to land most of your fish in the Dairyland Reservoir.
4. Boom Lake
Boom Lake sits near the town of Rhinelander in the northern part of the state. The Wisconsin River widens out and turns into Boom Lake, so you do have some moving water that you may be fishing.
Be careful about the ice if you're fishing close to the mouth of the river. Make sure it's thick enough. Boom Lake has some big fish that you can catch through the ice.
Musky and Northern Pike are some of the primary targets for anglers visiting Boom Lake. Bass and panfish are also present in these waters, but give the pike a shot if you go.
Big minnows and large spoons are the ticket to landing those toothy predators.
5. Lake Winnebago
Lake Winnebago is located between the city of Green Bay and Milwaukee. As a result, it gets a decent amount of pressure.
However, it's a big enough lake that you have a chance to spread out and find a section of the lake to yourself.
The Lake Winnebago waters are filled with walleye, perch, and white bass, and you even have a chance to land one of those rare sturgeon.
Stick to your worms, minnows, and larger spoons when fishing the waters of Lake Winnebago. Fish see a decent amount of bait throughout the year, so yours needs to look the best.
The fish aren't overly picky, but you want to make the meal worth their while.
6. Chequamegon Bay
Chequamegon Bay is a Lake Superior section located in the state's Northeast section. Just north of the Bad River Indian Reservation is where this bay lies.
In the winter, Chequamegon bay freezes and provides anglers with some access to fish that they wouldn't otherwise get throughout the year.
The bay is filled with brown trout, rainbow trout, brook trout, salmon, perch, pike, walleye, whitefish, sturgeon, smallmouth bass, crappie, and even some muskie.
Lake Superior is a highly diverse fishery, and taking on the waters throughout the winter is an entirely new challenge. It would be best if you tipped your large fluttertails, spoons, and jigs with minnows.
Minnows are going to attract the larger fish that live within the bay. You'll have to travel to get to these waters, but the trip will likely be well worth the effort.
7. Madison Chain
The Madison Chain of Lakes in Southern Wisconsin is another place you should prioritize when you're ice fishing in Wisconsin.
The lakes are as follows: Lake Wingra, Kegonsa, Mendota, Monona, and Waubesa. The lakes all fish differently, so it's a great challenge every single time you choose to fish a different option.
The primary fish of choice for anglers on the Madison Chain of Lakes are panfish, walleye, and pike. Regardless of what you target, you'll experience consistent action.
The occasional large walleye isn't overly rare, either. When fishing the Madison Chain, use a portable ice fishing shelter.
You're going to likely want to jump around to different spots and the different lakes throughout the day. Since there is so much water to cover, it can be challenging without a portable ice house.
When to Ice Fish in Wisconsin?
Wisconsin is a northern state, so it can start to get cold in the month of November. The water doesn't freeze to a safe level right away. The surface water temperatures have to drop, so ice can begin to form.
1. December
Late November and early December are usually when ice fishing begins in Wisconsin. The lakes farther north freeze over faster, so if you're truly desperate, make a trip up north and see what you can find.
Early ice is a great time to go ice fishing. The fish aren't entirely in their winter feeding habits, and they're still trying their best to fatten up before the bitter cold arrives.
2. January
January is the heart of the ice fishing season. You'll find fish, but they aren't as eager as they were in December.
The temperatures are consistently in the teens, and the fish's metabolism has slowed down. As a result, you're going to have to fish slowly and with some patience.
Find the structure and stay patient.
3. February
February is similar to January in Wisconsin. The fish are hungry, but their metabolisms are still slow. During February, full-size vehicles and permanent ice shelters are safe to use.
Set up for a weekend on your favorite lake and see what you can find. Warmer temperatures are around the corner.
Regulations & Gear Needed To Ice Fish in Wisconsin
Depending on the species of fish you're choosing to target, you're going to need different ice fishing gear. Wisconsin gives anglers a great excuse to purchase an extensive list of ice fishing gear.
1. Ice Rods and Reels
You don't need a cumbersome setup if you're fishing for panfish. A 20-32 inch medium light rod and a moderate fast action are all you're going to need.
Panfish aren't overly strong, and it's relatively easy to detect their strikes, so a shorter and medium-action rod is plenty. An in-line reel (similar to a fly reel) that pairs with your rod is a good choice.
For those heavier fish, you will want to use a 30-36 inch medium or medium heavy rod.
The added length will give you better leverage and extra power when fighting these fish. Stick with an in-line reel for your heavier setups as well.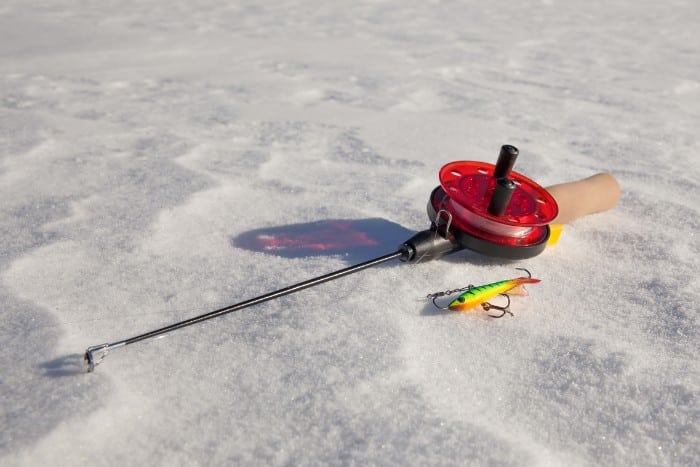 2. Ice Shelter
Ice shelters are almost mandatory for ice fishing in Wisconsin. The temperatures are often below 0 degrees, so that you will want as much protection as possible.
A portable tent or permanent shelter can work. Make sure you have a heater as well.
3. Fish Finders
Fish finders will also make your life quite a bit easier. Depending on your budget, experience, and preference, a simple flasher or more advanced fish winder will work.
These fish finders are especially helpful when fishing new water.
4. Ice Auger
Ice augers are another necessity when ice fishing in Wisconsin. These are going to get you through the ice and provide you access to the fish.
The ice can get too thick for hand augers. A gas or electric auger is your best bet.
5. Wisconsin Ice Fishing Regulations
When ice fishing in Wisconsin, as long as you have a fishing license, you're good to go on all waters unless otherwise marked.
Any angler over the age of 16 needs a fishing license in Wisconsin. Each body of water and region of Wisconsin has different regulations on what type and how many fish you can take.
Here you can find our article on the complete list of ice fishing regulations for the US and Canada.
Conclusion
There are few better places in the United States to go ice fishing than Wisconsin. Wisconsin is filled with thousands of lakes with healthy fish populations you can catch all year.
It can be challenging to narrow down the best options for the water you're fishing, but any of the abovementioned lakes and rivers are great places to start.
Bring all of your necessary equipment and plenty of bait. You're going to stay busy most days on the ice.
It may take some trial and error to find the best spots and the types of bait the fish want, but once you do, you'll be in for some of the best fishing of your life.