Searching for the best collapsible fishing rod? Your exhaustive search finally ends here. Telescopic fishing rods have seen there fair share of days and are an important part of the fishing gear arsenal of many anglers.
These rods enjoy their immense popularity due to their collapsible size. As they can easily fit in a backpack, kayak, luggage, or the back of your car, these rods have made a mark in the wide variety of fishing rods available today.
If you are in a hurry and just want to find out which is the best telescopic fishing rod, then we'd recommend the Kastking Blackhawk II Telescopic Fishing Rod as the best one.
Best Telescopic Fishing Rods
Compare Top Telescopic Fishing Rods
| Product | Our Rating | Bottom line | Latest Price |
| --- | --- | --- | --- |
| Plusinno Telescopic Rod | 83 | Offers a lot of value at a reasonable price | Check Out On Amazon |
| Troutboy Black Warrior | 82 | Quality, affordability and good reputation with a practical price tag | Check Out On Amazon |
| Sougayilang Telescopic Rod | 79 | One of the best looking rods that enjoys a huge popularity | Check Out On Amazon |
| KastKing Blackhawk II | 90 | Scores remarkably well in all our test parameters | Check Out On Amazon |
| Goture 1-piece Carp | 85 | Massive size, free tip set, casting distances better than any other rod | Check Out On Amazon |
| Eagle Claw PK555SP | 82 | Best buy for novices or anglers who don't want to invest a lot of money | Check Out On Amazon |
Before We Begin
Telescopic rods are so easy to store and carry around. Portable fishing rods are a gift to the angling community from Everett Horton, a mechanic from Bristol, who was the first to patent a fishing rod made from telescopic steel tubes. He did so on the 8th of March, 1987.
Since then, these rods have come a long way from being junky metal clunks to the efficient fishing tackles that offer maximum portability. Now we have hundreds, if not thousands of options to choose from the collapsible fishing rod category.
This article on telescopic rod reviews will help you choose the best telescopic fishing pole for you and your family. Want to see your child's joy when he sees an 8-feet pole collapse to 1-foot? Gift him or her one of these wonder rods!
Detailed Analysis Of The Best Telescopic Fishing Rods
We have done an in-depth detailed analysis of the various rods listed in the table above. You can clearly see that the KastKing Blackhawk II clearly wins the 'Editor's Choice' award since we have rated it a 4.3 out of 5 stars.
Still, it is important to understand how were we able to arrive at these star ratings and how these rods scored in different departments. So let's study the scoring parameters in detail without wasting any time!
1. PLUSINNO Telescopic Fishing Rod

Overall Score: 83
Advantages
Nice choice for beginners
Good performance
Saltwater friendly
Disadvantages
Needs a good reel for maximizing performance
Cannot take very heavy loads
Comfort
The Plusinno Telescopic Fishing Rod comes with an EVA handle that provides you a comfortable fore-grip. This saves your wrist and your arm from getting strained. And since it is easily retractable, it is also a very compact fishing pole. Also, it folds easily which makes it convenient for us to transport or store the rod.
The ergonomic design and its light weight (due to adopted carbon) make it our perfect companion for those hiking and camping trips. Not only does the rod have an attractive design, but the skillful manufacturing through the use of sophisticated technology gives a pleasant experience when the rod is in use.
Durability
Though the blank is primarily made from graphite, the cheaper material out of the available options we have today, but this doesn't compromise with the quality of the rod in any way.
Now we said primarily out of graphite, which means we have some generous addition of high-density elastic carbon fiber and fiberglass too which makes the rod strong, reliable and durable. You can tackle those big fishes without any problem. Further, the body has high tensile strength plastic which is known to increase the rod power.
This is a sturdy rod and it shows from its composition. Now apart from a few incidents of broken tips and snapping of rods, we didn't face much problem from the rod.
Functioning
Plusinno gives you a wide variety of sizes to choose from with the biggest size reaching up to 11 feet.
Therefore, there exists a size for whatever need you might have. Due to their immense power, these rods can fight against large pulling forces from those big fishes. But don't subject it to too much load, it will destroy the rod.
Even when you are in the middle of a tough fight where the setup is under a lot of load, the reel sits tightly in its place. A stainless steel hooded reel seat ensures that there are no spoils due to the harsh saltwater. We also have aluminum oxide guide inserts, through which the line slides very smoothly.
Reinforced eyelets on these rods have graphite blank construction, with aluminum oxide guide inserts as mentioned earlier. We were able to catch many bass and trouts with this one while testing. However, one small point of displeasure can be the fact that we cannot cast using just one hand even though the rod itself is pretty lightweight.
Maintenance & Repair Cost
Like we said earlier, the stainless steel reel seats are anti-corrosive in nature and therefore perfect for saltwater fishing. The rod blank is dependable, sturdy and we have a product in our hands that has been designed for longevity.
Moreover, Plusinno offers a 12-month warranty on its telescopic fishing rod and has a good reputation when it comes to customer service.
Price
This rod is a huge favorite among anglers and one of the major reasons for that seems to be the low price point. Plusinno is a famous name in the fishing industry and there is a sense of trust in its product quality. Now, you club that trust with a low price and you will clearly see why this rod is so popular.
It demands a reasonable price and offers high value. Whether it is fishing in the saltwater or freshwater streams, from the surf or on a boat, you will find a rod which suits your need. If you are looking for a good fishing rod for children then too this is worth a shot.
2. TROUTBOY Black Warrior Fishing Rod
Overall Score: 82
Advantages
Low price point
Lightweight
Easily retractable
Disadvantages
Rod and the tip prone to snap under a moderately heavy load
Comfort
The rod has a well-distributed weight and is balanced. It is highly improbable that you would feel fatigued even after using it for a long duration. Thanks to its mighty comfortable fore-grip which has a soft EVA padded handle. The rod is collapsible and compact and can easily fit in your backpack, car trunk or boat hatch.
With the TroutBoy Black Warrior Telescopic Fishing Rod, we can take our fishing trip to our favorite spots whenever we want.
Durability
Featuring a 24-ton carbon fiber and E-glass composite construction, you are looking a powerful, durable and reliable product. The materials used are of premium quality and thus we get a strong build. During extreme testing, we subjected it to a load of a 10lbs bass and somehow the rod managed to stay intact.
The reel seat has a long lasting CNC machined aluminum construction which ensures a solid, durable performance. But again just like the Plusinno we encountered a few broken rods during testing and our reader testimonials back up the same experience. However, the customer service was good and offered practical solutions including a replacement.
Functioning
With 6 different models in the Black Warrior series, we get the option to choose a rod that will best suit our needs. Whether it is freshwater or saltwater, this rod will be a companion in both. Do not worry about the unforgiving seawater as there is ample protection against it.
Bass, trouts, or catfish, you can catch them all. Did we just sound like Pokemon trainers? The rod's Unique Carbon Fiber Matrix gives the Troutboy Black Warrior an advantage in terms of its sensitivity especially against freshwater fishes with artificial lures.
This rod will not only increase your catches, but it will also bring in a lot of fun too. Successful freshwater bass trout fishing, saltwater surf fishing or even inshore fishing are no longer a distant dream for even a complete newbie.
Maintenance & Repair Cost
The Black Warrior offers us a stainless steel hooded reel seat with corrosion resistant properties. We also have stainless steel guides clubbed with ceramic inserts. These are apt for use with braided or monolines. Apart from protection against saltwater, the rod gives you a good amount of control over the fight.
Backing the Troutboy Black Warrior Fishing Rod with a worry-free 1-year warranty, the manufacturers ensure that a customer doesn't feel dissatisfied and they believe in speedily readdressing issues!
Price
Quality and affordability are the highlights of this rod. Its features compete with the top telescopic rods in the market, and it stands out with good performance and a practical price tag. The black warrior series has a good reputation within the angler community.
3. SOUGAYILANG Telescopic Fishing Rod
Overall Score: 79
Advantages
Becomes really short in collapsed state
Well-balanced
Aesthetically pleasing and sleek design
Disadvantages
Rinsing and drying recommended after use in saltwater
A few sizes might feel heavy
Comfort
With the Sougayilang Telescopic Rods, expect to carry around a little more weight in comparison to other fishing rods. Since the primary materials that went into the manufacturing of this rod were carbon and metal, instead of fiberglass, hence we feel the added weight. Still, the rod is easily retractable and compact as we can fit it almost anywhere.
Be it the back of our car, boat hatch, backpack, or even a makeshift DIY bag, this rod won't trouble you while being carried around.
Aesthetically too, the rod is beautiful and one of our female friends (who is also a part of our testing team) has a story where she ended up buying seven of these i.e. one each for her family members and the closest friends. While the weight ranges only between 5.2oz. to 11.6oz, each model is fairly powerful.
The added weight that we talked about earlier didn't mess with the rod balance. And it might seem bulky but at least it is lighter than what it looks like. Though we would like to mention here that you may find the handle a bit long for your comfort. Well, some of our testers did but others were quite cool with it.
The Sougayilang Telescopic Fishing Rod is immensely popular among young anglers too as they can swing it with ease. The EVA padded grip not only feels comfy but also eliminates wrist strain and fatigue due to long hours of fishing. The carbon wrapping texture ends up giving the whole rod a sophisticated look which is only found in some premium rods.
Durability
The rod consists of 24-ton carbon blanks along with 3-point welded stainless steel guides which have ceramic inserts. Oh, we forgot! It is actually a 24-ton high-density carbon fiber and E-glass composite. This composition is supposed to make these babies one of the most durable rods in the telescopic rod category in the market.
But does it? Let us try to find out! The ceramic inserts mentioned above allow us to freely use mono or braided fishing line. But fret not, the rod can easily endure the tough treatment of braided lines. Now, we aren't saying that everything is hunky dory with this rod.
We saw a lot of incidents which included eyelets falling off and the rod snapping either at the tip or somewhere just above the middle.
Functioning
The Sougayilang rod is very small when it is collapsed or retracted, but ithe biggest size elongates to an unbelievable 11.81 feet when extended! Now don't get any dirty ideas but we do know that people who believe size does matter will find this rod particularly attractive due to its sheer size.
Though we mentioned about the weight to be a bit more than your usual telescopic rods, it is not something which hampers the way this rod functions or your ability to fish with it. It still feels light and portable. And its corrosion resistant properties enable you to take this rod out for fishing in both saltwater and freshwater.
The manufacturers have paid a lot of attention to make this a quality rod which serves you well. Whether you are a novice or a maestro in angling, this well-built ultralight telescopic rod will never fail to amaze you. In fact, it is still the favorite telescopic rod of many anglers. Its huge popularity on Amazon is a big proof.
It has a good strong reel seat which prevents the reel from moving under high line-tension situations. During our tests, it was easily able to handle a 10lbs fish and this heavy weighing capacity can be accredited to its elastic features and the use of carbon fiber.
All in all, this will be a good buy for freshwater fishing, shore fishing, fisheries in the reef, freshwater bass trout fishing, saltwater surf fishing and/or inshore fishing.
Maintenance & Repair Cost
The CNC machined aluminum reel seat is very much corrosion resistant, which extends the rod's life span and to top that we have a 1-year worry-free warranty from the company. The CNC machined aluminum build helps the reel seat to withstand the harsh sea water.
And we are not just given a 1-year warranty but an extremely good customer service to back that up. We also mentioned facing some issues with the durability of the rod above so we are going to deduct some marks in this section.
Though the rod is made to function well even in saltwater, we think it would be a good idea to rinse and dry it after use. We advise so because we have seen some of the screws rust when we didn't wash it after use.
Price
This rod is another bang for the buck product from Sougayilang and having this will definitely do you some good. One of the best looking telescopic rods in the market, it is available at a low price too. Our readers were full of positive reviews about this one and more often than not we get to hear that their whole family is fond of this rod.
Get one of these and you will not regret your decision.
4. KASTKING Blackhawk II Telescopic Fishing Rod

Overall Score: 90
Advantages
Premium quality material
Powerful yet well-balanced
Capable of being your primary or secondary rod for a long time
Disadvantages
Not a whole lot of models to choose from
The price might seem a bit extra if compared to other rods but is worth every penny
Comfort
Right off the bat, we would like to clearly mention that any information that follows is only about the spinning rod version of the Blackhawk II. We won't be talking about the casting rod because for some reason most of the models always remain out of stock and we found the spinning rod to be a much better buy in comparison.
For the same reason, we've only linked you to the Blackhawk II spinning rod. You would get an extremely comfortable EVA Handle on this portable fishing rod. This retractable fishing pole fits easily into a backpack pocket and allows us to take it anywhere on the go.
Thus the problem we face while carrying those big rods around isn't something that would hold us back from fishing this time. A major advantage over the 1-pc or 2-pc rods is the fact that we can leave the reel on the rod with the line through the guides and save a lot of time.
Now, of course, this is a general advantage related to any telescopic rod, but then why did we specifically list it here? Because we were least worried to do so in the Blackhawk II. No line tangles, no damaged reel due to staying in the seat for a long time are just some of the advantages.
Open the bail, extend the rod and you are ready to fish without re-rigging.
Durability
The rod features 24-ton KastFlex Toray Carbon Matrix blanks which are both durable and lightweight. Further, the quality of the stainless steel guides is far above than some other popular rods out there. Though the rod is telescopic in nature, it has been designed so as to give a 1-pc performance.
Inclusion of premium grade material in the guides, reel seat and the handle do a ton of favor to the durability and longevity of the rod. Though the spinning models that we have suggested are only available in 3-variants, they are still capable of being your primary rod and/or the backup rod for a long time.
Functioning
The rod is perfectly capable of catching big fishes from large distances given the length and strength it is available in. Soloscopic performance technology covering the rod blank and a solid glass tip section delivers unmatched performance. Have you ever seen a 6-piece telescopic rod give a performance that is almost equal to a 1-piece design?
If you haven't then you should definitely try the KastKing Blackhawk II. The rod consists of many floating line guides which have a positive impact on its casting. We get a consistent and smooth taper throughout the rod which in turn is helpful in eliminating dead-flat spots on the rod blank.
Ah, we didn't mention above that snug-fit ferrules are the reason behind why this rod is able to perform like a 1-piece. They facilitate full-length power transition throughout the rod.
Though the rod is only available in three models, still it will cater to your needs of fresh or saltwater fishing, trout fishing, bass fishing, kayak fishing, surf fishing, boat fishing or even inshore fishing. These rods have an appealing design and are well balanced too.
Maintenance & Repair Cost
Now let us talk about how this rod puts up with wear and tear over time. To begin with, we would like to draw your attention towards four specific key additions which the rod has that takes it yards if not miles ahead of its competitors.
The Blackhawk 2 features a 90° vertical compression layer

A 135° diagonal distortion resistant layer enhances longevity

Further, it consists of a 45° diagonal distortion resistant layer

And lastly, the rod also has a 180° horizontal strength and crack resistant layer
Due to the added layers of protection in the rod, it does not trouble you by asking for maintenance or repairs frequently. Do not worry while taking it out for use when you are surrounded by the harsh seawater as it will withstand the same.
Price
Though this does carry a bit extra amount in its price tag, once you use it, you would know why it is worth every penny. At one point in time, we even felt that KastKing could sell it for a lot more and they are leaving a lot of money on the table by selling it at such a low price.
It is then one of our testers reminded us that KastKing is famous for the very same reason. Providing awesome products at unbelievably low prices that put its competitors to shame.
5. GOTURE 1 Piece Carp Telescopic Fishing Rod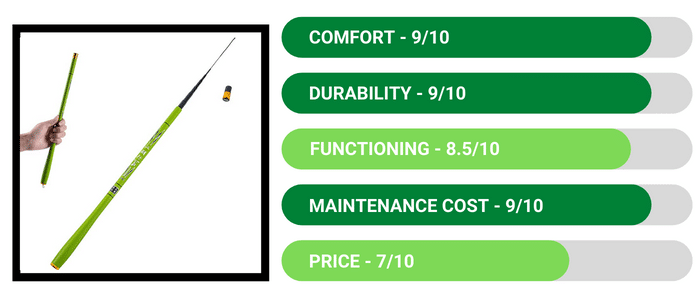 Overall Score: 85
Advantages
Available in massive lengths
Premium materials in construction
Lightweight despite huge size
Increased sensitivity due to lack of grip
Disadvantages
Requires rinsing, cleaning and drying after every use
The price can bother you but really shouldn't
Comfort
These rods have an ultralight body which makes them super comfortable when you are actually using them. Courtesy of the telescopic design, it just measures around 97 cm when in a collapsed state, which makes them perfect for carrying around on all your fishing trips.
Now, the grip on this one is really different or rather non-existent. Unlike what we see often i..e. the cork or EVA grip, the lack of grip on this one increases your chances of identifying even the minutest strike from small fishes. This means it lowers the chances of you missing a strike.
Durability
Use of extremely high-quality carbon fiber gives us a durable fishing rod. Moreover, the inclusion of multi-layer 24-Ton Carbon Matrix makes the rod a sturdy product. The rod cap is made up of EVA and aluminum alloy, which protects the tip, reduces damage due to impact and increases its longevity.
The high-quality carbon fiber that we talked about above comes with a special internal reinforcing that improves the overall strength and rigidity of the rod. An increase in not only the wall strength but the joint thickness too on all sections helps eliminate those potential stress points which become problematic if not taken care of.
Functioning
The presence of an anti-lock design makes contraction easy. With a rod tip that is capable of rotating a full 360°, we are saved from line twists and are able to make connections conveniently.
The Goture 1-piece Carp Telescopic Fishing Rods are available in a variety of models namely the Breeze series, Red-Fox series and Jin-Zhu series which are medium action fishing rods and the Goldlite series which has fast action and somewhat stiffer than the types we have mentioned before.
Interestingly, the Goldlite series rods come with an aluminum alloy plug at the top and a screw cap at the bottom. Now as we had mentioned earlier, there is no grip at the bottom but rather a screw cap like we just told you. This enabled us to hook a lot of extra strikes during the testing phase.
Earlier we had a strong belief that maybe we cannot expect telescopic rods to catch those extra small fishes because they are usually not sensitive enough to detect their bites. We were largely right in our assumption but after using this rod our fundamental beliefs have been shattered and yeah it feels good.
Those Tenkara rods are usually very expensive and even then most of us can never be sure that our strike rate has improved significantly just like those manufacturers promise and here this rod has actually shown us 10x results! These rods come in huge lengths of up to 36ft and we are mighty impressed with them.
Maintenance & Repair Cost
The biggest surprise was us that we got a free tip set! Can you imagine? Three spare segments for the top and that too completely free. This spares us a lot of headache in the maintenance and repair cost department. One small pointer for you though. Always make it a point to clean them, dry them out and then re-rack them or put them back after use.
We have so many people telling us that the rod has shown an exceptional difference in the time it served them when they took proper care.
Price
Again, this rod is in the high-price segment of fishing rods but that is justified by their use of premium materials and their impressive performance.
Now the company clearly omits its use in saltwater by stating that it is meant for use in streams, lakes, rivers, reservoirs, and ponds but being the experimenters we are and going along with our mission to put fishing products through their worst nightmares, we came to find that it did not trouble us at all.
So, it is going to be a pleasant experience for you all to go with this one.
6. EAGLE CLAW PK555SP Telescopic Spinning Rod
Overall Score: 82
Advantages
Great for beginners
Extremely low price
Disadvantages
Eyelets known to fall off easily
Only available in one length
Comfort
There is an EVA foam handle at the base of the rod which does the job of providing you with a comfortable grip. Even after being constructed from glass, it does have some weight to it when you compare it with some other rods in the market that demand a bit more money than this one.
We think you should treat this as more of a scouting rod. It does provide you with a good angling experience though. The EVA grips we told you about are kind of sweat resistant and thus manage to give you a reliable grip even after long hours.
The rod is pretty stout and compact in its collapsed state which makes them portable and easy for you to carry around. They are also convenient to store due to the same reason. And lastly, it has a good design, and a not so good color scheme but surely it doesn't look like a cheap rod.
Durability
The Eagle Claw PK555SP Telescopic Spinning Rod has a durable glass construction which has been paired with ceramic guides. Seeing its ultra-low price it is easy to assume that this is a cheap buy and won't be lasting long. Well, let us give you a surprise here. Its sturdy design is meant to serve you for a long time.
Such a durable construction makes this rod extremely suitable for a variety of places which definitely include your car trunk, the trail or even a turboprop. Be careful with the guides though, they've been known to become loose and fall off. While we can glue them back, but still, we are talking about durability here, right?
Functioning
A major disadvantage you might have with the rod is that it is only available in one length i.e. 5'6", which is a bit short for most anglers. Now we don't expect it to perform like the premium rods but we definitely think it is good enough to be taken regularly with you. That place you always wanted to fish at. How about starting there with this rod?
These rods are fairly heavy-duty and suitable enough for most freshwater fishing applications. Since they have a medium action tip, we found them to be useful for buzz, crank, and spinner baits and they did the job showing super efficiency throughout the test period. We found the overall rod action of this collapsible rod to be medium.
You can expect to catch fishes that weigh around 2lbs without any trouble whatsoever. Also, we took it out for trout and panfish fishing on the request of a reader and were happy with the end results. Bass fishing is another area we tested this rod and again we were not disappointed.
However, don't get too excited and try to catch heavy fishes that are beyond the rod's capacity as you would only end up damaging it.
Maintenance & Repair Cost
The rod is one of the most durable and robust fishing tackles that we've ever come across at such a price. Along with it comes a 1-year warranty that Eagle Claw respectfully adheres too. It is easy to think that companies and lethargic when it comes to customer service with cheap products. Well, certainly not in this case.
We have a tough one here that is more than capable of handling the most rugged and adverse situations where most rods in this range fail.
Price
Ugh, we cannot even remember the number of times we've heard that "We bought it without second thoughts after looking at its price." Such is the impact of the price point of this cheap telescopic fishing rod. Cheap only in price and not in quality.
Eagle Claw is extremely famous for the impressive hook lines and affordable fishing gear that they produce. Your daily adventures have found an answer that will not burn a hole in your pocket. Now for those who have not heard about Eagle Claw before, it must be difficult for them to trust their brand.
But we say, now is the perfect opportunity. Just look at the price again! Even if you are unhappy after the warranty period, you won't have lost a substantial amount of money. Therefore, we highly suggest this rod to totally new anglers who don't want to risk their money yet.
Buying Guide For Telescopic Fishing Rod
After knowing about the best telescopic fishing rods in the market, it is important to understand your needs too which will help you in choosing the best rod. Thus before we go rod shopping on Amazon, it is necessary to know as to what actually should we look for in a collapsible fishing rod before we actually buy it.
There are scores and scores of telescopic rods out there and by writing this article for you, we've boiled down your selection to the best six. That is more than ninety percent of the work already done for you. What remains is your choice. If you have no experience with telescopic rods or if this will be your first purchase, it is ok to feel overwhelmed.
But fret not! We are here and happy to help. Now, this topic can have a book written on it but we will still try to cover the important aspects in brief.
Rod Handle
Weight Of The Rod
Rod Guides
Length Of The Rod
Rod Power
Material Used
Rod Action
Twist
Telescopic Fishing Rod Features Explained
1. Rod Handle
In telescopic rods what we usually get is an EVA foam handle so there is not much of a choice there. Perhaps the cost factor doesn't allow the inclusion of cork handles. Maybe they will be introduced in the future, who knows?
But where we do have a choice is the handle length. Long handles allow us to cast farther and therefore rods which allow us to place both our hands on them would be suitable here. When we swing while holding the rod with both hands, we swing much harder.
But if you are someone who isn't bothered about how far you can cast, then most rods would fit the bet.
2. Rod Guides
Those ring you see attached to the blank of your rod? Well, they are your rod guides or the eyelets or for some anglers, the eyes of their rod! Guides are constructed using a variety of materials which include but are not limited to plastic, metals and/or ceramics. They help our line to move smoothly.
5 is the optimal number we've seen to be the most successful when it comes to telescopic rod guides. Having a lesser number of guides exposes a few weak points and affects the balance and overall strength of the rod. Similarly having too many of them is not good too as they unnecessarily add to the weight and compromise sensitivity.
An optimal number of guides in telescopic rods give us leverage against tough fishes by evenly distributing its weight throughout the line and thus reducing pressure on the reel. Ultimately, it gives us more pulling power.
3. Weight Of The Rod
We would want our telescopic pole to be lighter than the traditional rods. The whole point of purchasing a telescopic rod is the convenience that it offers while traveling and storing it. A telescopic rod which is heavy and clunky beats the whole purpose.
You as a buyer should look for what materials have been used in construction because they extensively define the weight of the rod. We would want our rod to be as balanced as possible, i.e. neither too heavy nor too lightweight. Heavy rods bring in comfort issues whereas extremely light rods pose the threat of a weak rod structure.
A well-balanced rod evenly distributes the weight across its length.
4. Rod Power
The material used again plays an important role in defining the strength and power of a rod. Also, the size or length of the rod is another important factor. Here the choice of rod power is based on your needs. When it comes to telescopic rods, they have light, medium to medium-heavy power, are sensitive and suitable for small to medium fishes.
Heavy fishes are not something you should try to catch with collapsible rods. Try pulling the tip towards you and the point from where the rod starts to bend will give you a decent enough idea of its power and how it will behave when you actually reel in those fishes.
5. Rod Action
Rod action refers to the point where the rod will bend when it is put under a load. A fast-action rod bends just from the tip, a medium-action one somewhere from the middle and a slow action rod almost bends through the entire length of the rod.
Since most telescopic rods use a low modulus graphite and fiberglass combination in construction, the rods are medium, medium-heavy or slow in terms of rod action. Also, they are not able to cast as far as the traditional rods.
Since telescopic rods are made up of a combination of small blanks, therefore, the rod action doesn't remain consistent with time and often changes.
6. Material Used
We want our telescopic fishing rods to be made out of fiberglass, graphite, carbon fiber or a combo of carbon glass and carbon fiber. Anything else won't be as good and in fact a risk to take. Graphite imparts power and fiberglass imparts durability. But graphite can break easily and fiberglass has added weight.
Thus a hybrid of the two materials is usually used in telescopic rods. Also, the material used should be able to provide resistance against impact and corrosion while maintaining enough flexibility to save it from damage under pressure.
7. Length Of The Rod
When considering the length of a telescopic rod, there are two main numbers that you should be concerned with. First one is its total length after extension and the second one is its total length in a collapsed state.
The longer a rod is in the extended state, more your casting distance will be which would allow you to catch big fishes in deep waters from a distance. Whereas a short rod is helpful in situations where there isn't much space around for rod movement like a place with lots of vegetation around.
The shorter a rod is in the collapsed state, easier it would be to store and carry around for our fishing trips. If you are a beginner, we suggest you go for short rods, gain experience, improve your technique and then move on to longer rods. A 6'6″ or a 7′ pole will be a good starting point for you.
8. Twist
Imagine you just hooked a big fish with your newly bought telescopic rod and are pulling it in. Suddenly you notice that one of the sections of the rod has twisted and the guide on that one is no longer aligned with other guides. "Ok, that was just one." you think, "Let me continue pulling this one."
And before you can figure out what is going on, you see another twisted section and another unaligned guide. And then another, and another…… and in a short while, you have a line all tangled around your rod and are totally incapable of pulling the fish in due to no space for line movement.
The above story might seem a bit too far fetched but we cannot even count the number of times we have heard similar stories from so many people. A fish which will test your rod to its limit will put it under a lot of pressure and load causing it to twist. And this is where a telescopic rod shows what makes it good.
It should never twist. Not even one section. Period.
Conclusion
We hope it is easy for you to see why we chose Kastking Blackhawk II Telescopic Fishing Rod as the best telescopic fishing rod. We also hope you enjoyed reading our in-depth analysis through this article on telescopic fishing rod reviews.
There are a plethora of options to choose from and at the end of the day it all boils down to your choice on the basis of your experience, skills and fishing application. Still, we have done the tough work for you and brought six options which cover a wide range of applications and expertise level.
And before we part, here is the underlying truth you should always know. Do not let anybody fool you by saying something along the lines of "This telescopic rod is even better than your traditional rods." Nothing could be farther away from the truth.
Choosing a telescopic rod should be on the basis of your needs or reasons best known to you. But do not expect it to replace your mainstream rods. At least, we don't see it happening anytime soon. So, it's finally time to part ways. We think we covered all the aspects and questions that one might have when they are out purchasing a telescopic rod.
In case you feel that we have missed something or did not list a collapsible rod which you feel is incredible, kindly contact us and tell about the same. We would be happy to take a look at it. And if you have any suggestions or queries related to the articles or the website, feel free to ask.
Till then, wadaeaan!