If you are in a hurry and just want to find out which is the best ice fishing reel, then we'd recommend the ​​​Penn Pursuit II & III Spinning Reel​ as the best one.
​Ice fishing has always been a popular sport in cold areas because it allows fishermen to catch fishes throughout the year, even when the water freezes.
Ice fishing is an amazingly fun sport, especially if you have great ice fishing reels to partner with your rod. We need a reel in our fishing setup ​that is specifically designed for ice fishing.
​Best Ice Fishing Reels
​​Penn Pursuit II & III Spinning Reel
​​Shimano Sienna FE Spinning Reel
​​13 Fishing Black Betty 2015 Inline Reel
​​Daiwa Crossfire Spinning Reel
​Compare Top Reels For Ice Fishing
| ​Product | Overall Score | Bottom Line | Price |
| --- | --- | --- | --- |
| EAGLE CLAW Inline | 84 | ​Low price and standard features | Check Out On Amazon |
| | | | Check Out On Amazon |
| | | | Check Out On Amazon |
| | | | Check Out On Amazon |
| | | | Check Out On Amazon |
​Product

​Our Rating

​Bottom line

​Latest Price

Spinning Reels

​Penn Pursuit II & III

4.5 stars

​The best choice to cater to all your ice fishing needs.

​Shimano Sienna FE

​4.2 stars

​Inexpensive and good for deep jigging.

​Daiwa Crossfire

​4.1 stars

​High gear ratio and great for deep jigging.

​Inline Reels

​13Fishing Black Betty

​4.2 stars

​One of the best inline reels available today.

​Eagle Claw Inline

4.2 stars

​Low price and standard features.
​Before We Begin
Winters allow us to access those areas of the water bodies where we couldn't set foot in warmer months. ​​Ice fishing reels provide superior performance, despite working in low-temperature conditions.​ Due to the freezing temperatures, there is always some difficulty with line sensitivity.
​When the water temperature drops, the fish activity drops as well. Here the need for an ultra-sensitive and light setup arises. It helps to detect the less aggressive bites. An exception here is that when we fish deeper for larger fishes, the lighter (smaller) setup aren't an ideal choice, but in normal circumstances, it's the typical approach.
​Winters shouldn't mean the end of the season when the mercury dips and layers of ice form over lakes and rivers. ​There is a world of difference between regular reels and the ones specially designed for extreme conditions like ice fishing. If we know what to look for in our reel, it will help us in making a wise choice.​
​Detailed Analysis Of The Best Reels For Ice Fishing
​Now let us try to delve deeper into the results shown by the table and try to find out why the Penn Pursuit II & III have won the 'Editor's Choice' award and has been labeled as one of the best ice fishing reels.
The parameter wise comparison clearly shows this reel to be the most suitable among the spinning reels. 13Fishing Black Betty emerged as the best inline ice fishing reel along with the Eagle Claw Inline Reel.
​1. EAGLE CLAW Inline Ice Reel
Overall Score: 84
Advantages
Budget-friendly
No line twists
​Free spool release button
Disadvantages
​Awful drag for a 2lbs line test
Comfort
The Eagle Claw Inline Ice Fishing Reel consists of a non-slip grip, which makes the reel easier to hold. The design has made to emulate carbon-fiber. And most importantly, it resists the effects of freezing temperatures.
Durability
​The reel body, as well as the spool, are made of nylon. ​It is difficult to determine whether the material would be able to handle lower temperatures. The handle, however, is made of tough aluminum.
Functioning
​Inline reels are best known for the absence of line twist. ​We can fish uninterrupted without having to continuously fix our line. ​The reel also has a Teflon drag system which makes the overall operation of the reel really smooth since it is pretty easy to adjust. Once we set it, it would remain constant until we are ready to change it once again.
The reel is extremely versatile because the left-hand retrieve can quickly and easily be changed to the right hand retrieve without any hassle. ​The Eagle Claw, just like every inline reel, helps prevent line memory. Whereas baitcasting and spinning reels have tiny spools, which practically force the line to twist tightly. ​There is a free spool release button. ​
Moreover, the spool has more line capacity than we'll ever need. With a gear ratio of 2.6:1, we would find deep fishing to be really easy. ​But everything cannot be expected to be hunky dory. ​The drag system suffers a bit with lightweight lines​. Something around 2 lbs and it won't be smooth enough to be useful.
And when we set the drag towards the lighter end of the spectrum, it would result in an awfully loose spool. But if you want to fish with something around a 4 lbs line or more, the Eagle Claw's drag works well.
Maintenance & Repair Cost
​There haven't been any known durability issues as of yet that would have incurred a significant maintenance and repair cost.
Price
These reels are priced at a low point and are really budget friendly.
2. ​13 FISHING Black Betty 2015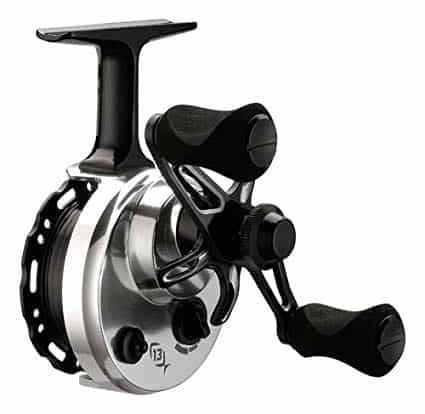 4.2 stars
Great jigging
​Free spool release button
​Speedy line retrieval
Expensive price point
Comfort
​It consists of an aluminum handle with EVA knobs. The frame design lets us use either a pencil or a pistol grip without touching the spool rim. The lightweight EVA handles also provide us with a comfy grip, allowing ice anglers to have greater control over the reels. 13 Fishing has made this ice fishing reel a lightweight 7 oz model.
Durability
​Machined from aluminum, the 13 Fishing Black Betty 2015 is a sturdy one. It features aluminum construction that is also bar stock CNC-machined. Such a rugged gear is needed in the tough winter environments.
​With solid construction and economic mechanisms​, it also has a super free-spool that helps us drop even the most lightweight baits really deep. This particular model has provided anglers with enough strength without any potency compromise.
functioning
​By accommodating everything from 2-pound monofilament and upwards, ​it can hold a lot of line for jigging. Just like the Eagle Claw discussed above, it offers a free spool button to help our jigs' descent. The bearings and smoothness of the spool are really impressive. It dropped a test 1/32 oz jig with no trouble at all.
​The large spool and in-line design eliminate line memory and twist. The drag works well, even with lighter lines, though you cannot expect it to be as smooth as spinning reels. Featuring an anti-reverse and a smooth carbon drag system with a bait alarm, its large baitcasting vogue knob allows complete adjustment and management after hauling a fish up through the ice.
The carbon drag system guarantees super reliable performance. Offering eight stainless-steel ball bearings and a roller bearing with an instant anti-reverse setting, its mechanism never ceases to impress us. The carbon fiber drag washers give a smooth layout. The washers help us in keeping the drag pressure in check, thus permitting us to have more control over the catch.
The S-curve slider system helps create an even layout thereby allowing pressure to distribute evenly without any impact on line casting. The 2.7:1 gear ratio allows us to retrieve at a rate of 19" per crank.
Maintenance & repair Cost
​There have been no known cases of damages to the reel even while our team of anglers tried the reel out with an average rod. These reels are here to stay for a long time and thus gain a high-score in this section. ​Since it adapts itself really well to ice fishing, it is certainly worth your time and money.
Price
​13 Fishing's Black Betty has been the talk of the ice fishing community for a long time now. The general feeling is that this is one of the best straight-line reels available. If you are a dedicated jigger, this reel is absolutely for you. But, it's on the expensive end of the price spectrum.
3. ​SHIMANO Sienna FE Spinning Reel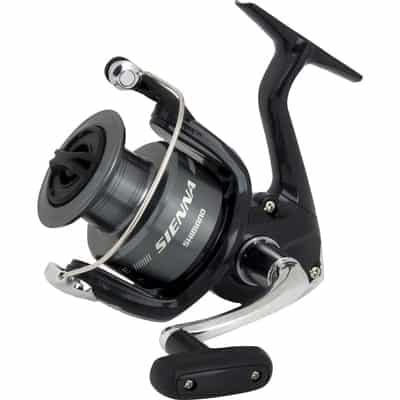 4.2 stars
Good for deep jigging
​Smooth drag
Inexpensive
Line twist can be problematic
Comfort
​The Shimano Sienna FE has been encased in a new 'm-compact body' which moves the oscillation gear closer to the rod. This helps in improving the balance of the reel and also reduces angler fatigue. The weight of the reel ranges from 6.0 to 12.3 oz. Moreover, it has a lightweight, rust-proof frame.
durability
The reel has a very ​lightweight and durable construction which consists of graphite and aluminum. Sienna's durability is one of its highlights which has been a trust factor over the years. ​Problems do occur after using it for a year or so.
Functioning
​Sienna FE has a spool that can accommodate far more line than we'll ever need when we go for ice fishing. Expect to have your lures or bait back to the ice in no time as it has a 5.0:1 gear ratio. It has an incredibly smooth and adjustable drag, through a wide variety of weights.
This reel outperforms the in-lines in the drag department. Armed with a propulsion line management system, it enables longer casting distances. At the same time, it prevents backlashes and wind knots. Making use of the super stopper II technology it provides us with an instant anti-reverse mechanism without any back play.
​Dyna-Balance eliminates wobble during the retrieve. It does so by counterbalancing the rotor which also enhances the sensitivity and smoothness​. The drag power is in the range of 4-13 lbs and the retrieve per crank ranges from 25 to 32 inches​. ​​But this ultra-light reel will twist the line tightly around its small spool.
Thus corkscrews are created which send our jig dancing. When that happens, we either need to strip the line by hand or we need to unwind it manually. Another option can be to switch to live bait.
Maintenance & repair Cost
​The construction material dramatically reduces rust on the reel, even if the usage is rated as heavy. We can easily disassemble the reel for cleaning and maintenance. ​One noticeable fact was that the factory oil and grease weren't too satisfactory. After some time it would require total disassembling and oiling to be able to perform well continuously.
Price
​If you like an all-rounder, are not a dedicated jig angler, fish regularly with 2 lbs line, are someone who likes to use the same reel over the years or like to dead-stick through the ice, then, by all means, go ahead and buy this reel. It's also pretty inexpensive which makes it an irresistible buy.
4. ​DAIWA Crossfire Spinning Reel
​4.1 stars
Great for deep jigging
Good price point
​​Drag isn't impressively smooth
Comfort
​Due to its ultralight design, it is a pretty good reel to fish with since it feels pretty comfortable to work with. If are someone who likes to use the same reel during both summer and winter, prefer live bait to dummy jigs, this might be the reel you have been looking for.
Durability
​At lower weights, Daiwa Crossfire is a solid, dependable buy. It can fit in more line than you'll ever need. The spool is constructed from ABS and aluminum. This makes the spool very lightweight but doesn't compromise with its durability.
Functioning
​The presence of a twist buster system prevents lines from twisting. Here you can expect the line to remember the twists the spool will force it through. A gear ratio of 5.3:1, feels lightning fast as you try to retrieve your baits. ​​The front-mounted drag seems smooth and is easily adjustable.
The gyro spin balanced rotor helps to ensure that there is alignment within the internals no matter what conditions you are fishing under. And to top it all, there are ball bearings which keep things running smoothly. ​​Unlike other reels which are overstuffed with bearings, here you will find only three or four as marked.
This allows for a balance, smoothness and easy maintenance. More bearings don't mean a better reel if the design is bad. The micro-click front drag adjustment allows the drag to be easily adjustable with the click of a button.
​The downside here is that the drag system isn't as smooth as one might like it to be, but still definitely better than the best of the straight-line reels.
Maintenance & repair Cost
No known issues when used for ice fishing. But it starts developing problems if you take it near saltwater, fish around but forget to clean it as soon as possible after you're done. A delay of even a couple of hours can create problems within the reel due to the elements of saltwater and sand from the beach.
Price
​Really pocket-friendly prices from a well-known manufacturer creates an urge to buy this one. If you haven't tried this one, there is no harm in doing so now.
​5. PENN Pursuit II & III Spinning Reel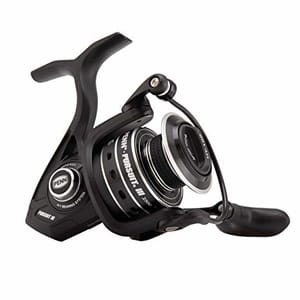 ​4.5 stars
​Solid price for features
​Very durable
​Great choice for ice fishing
​Oil in the Pursuit II series might dry up eventually
Comfort
​Penn Pursuit II & III have a stable design that is up to date with technology. The inclusion of a tough graphite frame not only reduces the weight but also repels corrosion better than reels made of aluminum.The knobs of the handle have been an upgrade from the lower end Penn reels.
It features an ergonomic handle for comfortable reeling. Being lightweight, they are also pretty easy to work with for long durations.
Durability
​Since it contains an anodized aluminum spool with line capacity rings, durability isn't much of a concern here as it will last you a long time.
Functioning
​The line capacity rings are located at specific intervals. This helps the spool give you the right amount of line. The Penn Pursuit II features an oiled drag to keep the drag lubricated. Whereas the Pursuit III has HT-100 carbon-fiber drag washers.
​Dry drags are loaded with performance issues and often result in snapped or sticky lines just after first engagement. With oil felt drags, these problems do not exist. The feature of an instant anti-reverse mechanism stops back play (unlike the old racket-style systems) which lets us hold on strong once the drag is engaged.
Precision machined and anodized aluminum spool enables a smooth line release from the spool.
Maintenance & repair Cost
​Shielded stainless steel ball bearings cover the balls with a thin metal plating. Also, they are trapped inside the bearing. This is integral to lessen the wear and tear. Moreover, it stops those gritty and harmful particles from entering the reel body.
The overall structure is very lightweight and corrosion resistant made with a graphite body, metal side plate, and a graphite rotor.
Price
​The price range varies significantly here in both the Pursuit II and Pursuit III series with models available in the 2500 to 8000 range. As expected they are priced differently as per their features. Here we have marked the price parameter after seeing the price of the Pursuit II 4000c variant which is good enough for ice fishing.
If you want to go for the higher end models for better performances in both fresh and saltwater, of course, you would have to pay a little extra.
​Buying Guide For Ice Fishing Reel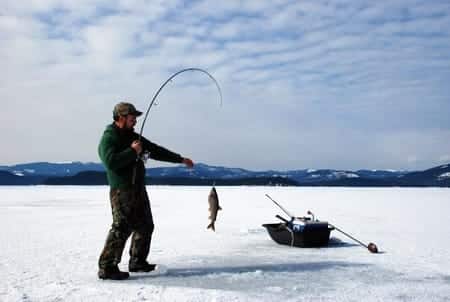 Before we decide to buy the best ice fishing reel for ourselves, there are some factors we would want to consider. Knowing the specifications and features of our reel is of prime importance as goes on to determine the quality of our fishing experience.
​Knowing the gear ratio and the number of bearings is important and are fancy topics to discuss with your angling buddies but they aren't enough. It is equally imperative to know about the freeze resistance capabilities of our ice fishing reel.
Due to the extreme temperatures in which the reel would be used, it is important to ensure that our gear will withstand those rough conditions for which it was designed in the first place. Having a deep understanding of the technologies that go into making your reel what it is would make you a wise angler.
Before giving you money to somebody, be sure to understand the following key areas:
Handle
​Bearings
​Drag Rating
​Reel Weight
​Material Used
Anti-ice System
​Ice Fishing Reel Features Explained
​​Handle
​​Ice fishing takes place in extremely cold temperatures which means that more often than not we would be fishing with thick gloves. In such cases, we would be needing a large handle for a better grip. Companies whose handles have a non-slip material ensure that we don't lose our grip over time.
Large handles also change the cranking power of the reel in a positive way. We are able to extract more torque from larger diameters.
​
​​​Bearings
​We would want to ensure that our reel has the standard minimum number of bearings. More bearings facilitate smoother performance but more number of bearings isn't always good. If the design is bad, those extra number of bearings are in fact detrimental to the reel performance.
We want our bearings to be made of high-quality materials. If the number of bearings is less than what the reel design requires then the line catches when reeling in. This no doubt causes undue pressure on our line. What does it mean? It means that our fish will get away or maybe our line can snap.
​
​​Drag Rating
​Drag weight refers to how much tension is on the line when we are retrieving our catch. This tells us the size of the fish we can catch with our reel. ​While heavier rated reels maybe good for heavy fishes but they would be of no use if you plan on catching small fishes. The extra weight would just be unwanted baggage and a cause of discomfort.
​
​Material Used
​Due to the really cold temperatures that we are in while ice fishing, we need the reel material to handle low temperatures. ​​​​​​​​​​​​​​​Materials like aluminum and graphite, are wonderful for ice fishing. They are also corrosion resistant which increases the longevity of our reels. ​We would want to ensure the material carries a lightweight design.
Now you might understand why graphite is so appealing.
​​Reel Weight
​Heavy gears cause a whole lot of discomfort and that is why we should prefer the lighter reels.​ A lightweight reel sits comfortably in our hands, without being the cause of pain over longer fishing durations. Add to heavier reels the weight of fishing gloves in your hands and you might understand the havoc they will wreak on you.
​Also, a lighter reel is much easier to store and carry around.
​
​Anti-Ice System
​​The anti-ice system refers to those materials used in our reel which prevent it from seizing if it freezes. Our reel should still work properly irrespective of the low temperatures. Inline reels have this inbuilt capacity due to their design and material.
​In case our reel doesn't have this feature, having an antifreeze paste handy is a good workaround.
​Inline vs Spinning Reels
​​Spinning Reels
It is the most common reel that anglers prefer when they go for ice fishing. They are ultralight in size and are necessary to maintain a balance with ice fishing rods which tend to be smaller. Often open-faced, they are fitted onto the bottom of the rod. They also have a fixed spool and a protracted line because of the load created by baits or tackles.
Offering a great deal of versatility, they are not only easy to use but also have a fairly large selection to choose from.
​Great for live baits
​Fairly inexpensive
​Easy to use
​Great drag adjustments
​Versatile for other fishing applications
​Can cause line twists while jigging or reeling the bait
​Poor control over bait/lure speed
​Extreme temperatures result in lower performance
​Inline Reels
Inline reels are quickly rising in the popularity charts among ice anglers. You can call them an improved version of fly fishing reels. The reel position is below the rod but the difference lies in the fact that it is also in-line with it. Straight-Line or In-Line Reels are the ultimate jigging machines.
By virtue of their design, the line is able to leave the spool straight. This helps in preventing twists and corkscrewing, which are huge troublesome issues when you try to fish with 2 lbs test. Spinning reels can cause the lure to spin faster while jigging, and scares the fish instead of attracting them.
Straight-line reels are mechanically simple. They lead to lesser problems in cold weather. It also allows you the 'pistol grip' and thus reduces fatigue when you're jigging all day. ​With unimpressive drags, they also don't offer the multi-season versatility offered by the spinning reels. If you haven't used one before, they can be fairly tricky to figure out.
​No line twists
​Great for jigging
​Great control over lure/bait speed
​Spool can spin freely
​Good performance even in cold temperatures
​Higher price
​Tricky for new anglers
​Poor drag performance
​Which Ice Fishing Reel To Choose
​There can be no definite answer to this question and it all depends on your usage, requirements and what you are trying to achieve.
​
​Spinning reels are the best if you want:
​Expert performance

Ease of use

Versatility

Medium to large sized catches

To use live baits
​Inline reels are the best if you want:
​Deep jigging ease
​Small sized fish
​Smooth and continuous performance irrespective of temperature
​Conclusion
The clear winner for the best ice fishing reel is the ​Penn Pursuit II & III S​​​​​pinning Reel. You can easily judge from the reviews the reputation of this reel and how much love it gets from anglers​. ​​Fishing on the ice is one of the most skill-testing variants of fishing. If you are not careful, your trip can be uncomfortable and hazardous.
​You should also invest in a good reel to improve your chances of catching a good fish. Our tools can make or break our performances. Furthermore, we are continuously testing and researching new products to keep our articles up to date. In case you have any recommendations, we'd love to hear from you. Please let us know. Till then, ​sayōnara!