Ice fishing is a fun but sometimes grueling sport where anglers venture out onto the ice of frozen lakes across the world, drill a hole, and hope for the best. But where are the most popular places where ice fishing is practiced?
Ice fishing is available worldwide but is most popular across North America compared to many other continents. Ice fishing is most popular across the Midwest and Northern contiguous states in the U.S., across most Canadian Provinces, and in Alaska. Each of these areas has cold winters and big fish.
Below is more detailed information regarding North America's most popular fishing spots, including some specific locations and available species.
10 Best States And Provinces For Ice Fishing In North America
Ice fishing is popular worldwide, at least in those areas that experience a cold enough winter to produce safe ice to walk on.
The U.S. and Canada are the two most prominent countries for ice anglers, although many other countries have a thriving ice fishing scene too.
Here are 10 of the best states and provinces across North America for ice fishing, in no particular order. Use any of these places as an ice fishing destination, and you will be satisfied.
1. Minnesota
Minnesota is sometimes called the ice fishing capital of the world, and while this might be an opinion, there is a solid argument to be made in Minnesota's favor.
With a season that often starts in December and continues through the end of March, you can find good ice fishing for four months a year.
Popular fish species in Minnesota include massive bluegill, perch, crappie, pike, and walleye, to name a few.
I have an article on the popular ice fishing species to decide what you would like to go for on your next trip!
Muskies over four feet and pike well over three are caught by many lucky anglers every season if you're chasing those trophy fish.
In addition, many advancements in ice fishing technology have been made in Minnesota, and modern ice fishing is often attributed to this state.
For these reasons, Minnesota is one of the most popular ice-fishing destinations.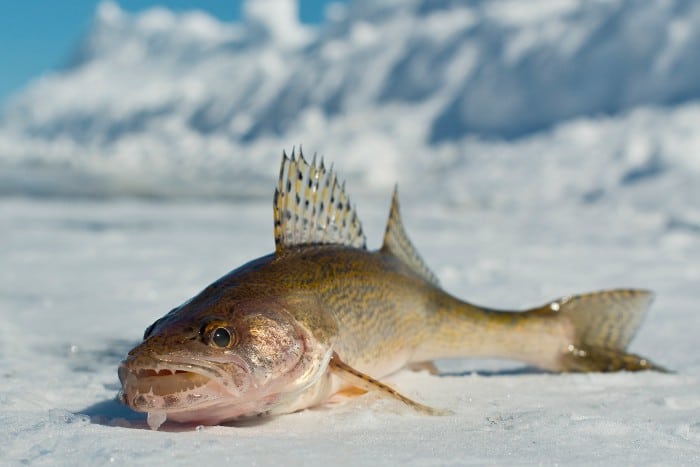 2. Alaska
Alaska, the final frontier, is one of the most rugged and undeveloped areas in North America, and as a result, the fish there have grown to monster sizes.
Ice fishing in Alaska may be a tricky destination for many, but well worth the journey.
Sheefish, arctic char, land-locked salmon, many species of trout, and many more fish can be caught in Alaska during the ice fishing season.
In addition to the variety, some of the largest fish available for ice fishing can only be found in Alaska.
While Alaska might not be the most popular ice fishing destination by numbers, it is one of the most alluring and "bucket list" worthy destinations and a goal for passionate ice anglers.
3. Colorado
Colorado is a famous winter destination thanks to its expansive wilderness and abundance of mountains for skiing and snowboarding. Still, ice fishing is another popular winter pastime for the state.
Kokanee salmon, cutthroat trout, pike, yellow perch, and sunfish are commonly targeted species across the state.
Thanks to the state's scenic nature, many anglers will take the opportunity to turn ice fishing into a snowmobiling trip as well, fully embracing the harsh outdoors as a place to be during the winter.
Ice fishing is a sport growing more rapidly across Colorado than possibly anywhere else.
Thanks to the growing popularity of ice fishing and a growing population, Colorado is soon to be one of the most popular places across the U.S. for ice fishing.
4. Ontario
Ontario, Canada, is directly above Minnesota and shares nearly identical ice-fishing opportunities, including Lake of the Woods, the most popular ice-fishing destination in the world.
Ontario is full of many large and small lakes that are perfect opportunities for ice fishing across the province while still being close to developed areas for easy access to essential resources.
Bluegill, perch, crappie, pike, and walleye are all commonly targeted species, just like in Minnesota, along with whitefish and several species of trout.
Ice fishing opportunities are similar between these popular destinations, so people from either nationality can experience the best ice fishing without leaving their country's borders.
5. North Dakota
North Dakota is known for being cold and perfect for ice fishing. Right next to Minnesota, it shares many of the same properties that make its neighbor one of the most popular destinations for ice fishing.
Devil's Lake, Lake Sakakawea, and Lake Audubon are among many popular ice-fishing areas where white bass, pike, and muskies can be caught in droves.
North Dakota offers rod and reel ice fishing, spearfishing, and up to four lines in the water, allowing several tip-ups to be used.
You'll find that North Dakota is a popular ice fishing location but less so than Minnesota, so if you want to experience smaller crowds and world-class ice fishing, here's one option.
6. Maine
Maine is coming in on this list as a representative of the East Coast, and thanks to its northern placement, it is perfect for a long ice fishing season.
January through March offer plenty of opportunities for ice fishing across the state.
Pickerel, pike, and bass are the most commonly targeted species across the state and are easy to catch and can have you filling your bag in no time.
Land-locked salmon, trout, and smelt are also popular species for anglers in Maine. Maine has many lakes that are perfect for ice fishing for you to choose from.
The most famous lake, Sebago Lake, covers over 28,000 acres and is deeper than 300 feet in some areas.
7. Wisconsin
Another neighbor of Minnesota, Wisconsin is a prime ice fishing destination in the Midwest of the U.S.
With many lakes to choose from and fantastic species to target, Wisconsin is an excellent place for winter fishing.
One advantage of ice fishing in Wisconsin over Minnesota is access to two vast lakes, Lake Michigan and Lake Superior, which freeze enough for ice fishing for most years.
Both these lakes provide a lot of fishable areas in Wisconsin for some unique ice fishing opportunities that aren't as available in Minnesota.
8. Saskatchewan
Saskatchewan is a central province in Canada with abundant ice-fishing opportunities. Walleye, pike, muskies, perch, whitefish, trout, and burbot are among the fish available in Saskatchewan.
Tobin lake, in particular, is home to some of the largest fishing tournaments in Canada as well as home to the world record 18.3-pound walleye, the heaviest ever caught ice fishing.
Sturgeon is another popular fish in this lake that can be caught ice fishing.
9. Wyoming
Wyoming is a state known for Yellowstone and not much else. Ice fishing, however, should change your mind about the need for things to do there.
Wyoming experiences frigid winters and is mostly wilderness, so there are plenty of places to catch fish in the winter.
Walleye, pike, crappie, and trout are all easily found at various destinations, including Keyhole Reservoir, Glendo Reservoir, and Trout Lake.
Wyoming is another popular place for ice fishing, where thanks to its low population, you can still find places to escape the crowds.
The open and undeveloped nature of the state offers a journey into the wilderness that is hard to match.
10. Idaho
One state to the west of Wyoming, you'll find a hidden gem for ice fishing in Idaho. Along with Montana, these two states are some of the best fly fishing available in the contiguous U.S.
However, Idaho offers excellent ice fishing opportunities in the northern part of the state in addition to summer fishing.
Fernan Lake, Winchester Lake, Horsethief Reservoir, and Magic Reservoir are a few areas where ice fishing can be found across the state.
Idaho might be more popularly known as a fishing destination during the summer, but ice fishing in the state is still popular and has plenty of opportunities to do so.
Wrapping Up
So there you have it, 10 of the most popular states and provinces across North America where ice fishing is most popular and are great winter vacation ideas for the adventurous angler.
This list doesn't even include some worldwide destinations for ice fishing, including Sweden and Greenland, where ice fishing is popular and has species unlike anything found in North America.
If you are looking for an excellent place to go, any of the places on this list are popular for a reason and offer some of the best ice fishing around the world.