If you are in a hurry and just want to find out which is the best rod for trout fishing, then we'd recommend the ​​​St. Croix Triumph Spinning Rod​ as the best one.
It is important to cast light lures with extreme accuracy and this is why choosing the best trout rod is crucial. ​Trout come in all shapes and sizes.
They come in as easy and small targets for novices, while the larger ones thoroughly test the skilled anglers. ​When we talk about a decent trout fishing rod, a light rod with fine action is what we actually need.
Best Rods For Trout Fishing
​Compare Top Fishing Rods For Trout
| Product | Overall Score | Bottom Line | Price |
| --- | --- | --- | --- |
| Ugly Stik Elite | 82 | 35% more graphite and plenty of sensitivity | Check Out On Amazon |
| KastKing Calamus | 84 | ​Incredibly lightweight and fairly priced option offering great sensitivity | Check Out On Amazon |
| St. Croix Triumph | 86 | ​Scoring high across various parameters, this deserved to win more than any other rod | Check Out On Amazon |
| Fenwick Eagle | 80 | ​Classic look with a high-build pedigree at an affordable price | Check Out On Amazon |
| KastKing Perigee II | 84 | Twin-tip technology with premium features | Check Out On Amazon |
| Cadence CR5 | 84 | Offers much more value than the price it demands | Check Out On Amazon |
​Before We Begin
​A good trout rod will allow us to drop our lure exactly where we want it to be. The lure for trout is usually light and a heavy rod doesn't give us the required action. ​Trout are known to get scared easily, thus making an ultralight setup of paramount importance for getting more strikes.
Also, there is a fine line between accurately casting your lure and hammering it into the water. ​The latter will result in trout going berserk like the people of King's Landing as it makes your lure seem like a dragon to the fishes. And no this doesn't make you the mother of dragons for them.
So this leaves us with two choices. Either you can buy whatever crap Walmart sells us, or we can be smart enough and invest in a quality setup. ​Now let's go ahead and review some of the best options available in the market.
​Detailed Analysis Of The Best Trout Fishing Rods
​St. Croix Triumph Spinning Rod takes all the accolades and the 'Editor's Choice' award to be crowned as the best rod for trout fishing among its competitors.
Let us dive into an in-depth and detailed analysis as to how and why it happened while also considering the performance of some other rods that have been listed here.
​1. UGLY STIK Elite Spinning Rod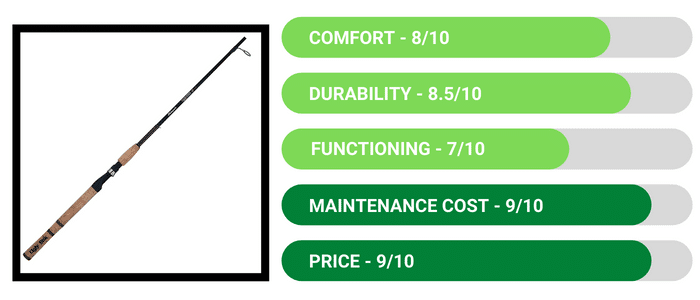 Overall Score: 82
Advantages
Light in weight
​Both strong and durable
​Easy to carry around
Disadvantages
Reel seat is small
​Cork handle can cause some discomfort
Comfort
This rod has a good quality soft-cork handle that gives you a comfortable grip throughout the day while you are out fishing. Some anglers do report the gap between the cork handle to be a cause of discomfort.
Since it weighs lighter than the GX2 model, they have definitely improved in this area and have ended up created a better trout fishing rod. Its size makes it both easy to handle and easy to carry around.
Durability
​​Because of the 35% extra graphite, the Ugly Stik Elite is super tough, refined, as well as sturdy. ​High-quality guides have allowed it to take a lot of bruises without having to worry about insert pop-outs. ​​Promoted as "virtually indestructible" by the manufacturer,​ this rod doesn't fail to impress us with sensitivity and flexibility.
​They are a fiberglass-graphite hybrid which gives it an advantage over low quality stuff. It helps in keeping the cost lower and support their claim of "indestructible construction". As expected, it result is a small performance hit. ​​For catching fishes like jack's, snapper and sharks without breaking, it does a good enough job.
Further, it can pull in both small and large fishes easily and has often landed weights including one-pound trout and twenty-eight pound salmons.
Functioning
​The Ugly Stik is known to cast extremely well, provides plenty of tip-sensitivity​ and therefore detects even the slightest nibble. Ugly Stik's signature 'Clear Tip' brings in even more sensitivity in spite of a sturdy build. Whether you hook a big rainbow trout or a small brook trout, this rod will not let you down.
(Psst… do check out my in-depth guide on the habitat of the rainbow trout fish)
​The reel seat on an exposed blank causes some concern but we have cushioned stainless steel hoods which make up by keeping the reel in place, especially in times where most reels would be ready to pop-out. ​The rod action goes from ultralight to medium-heavy. No doubt its one of the best choices for trout fishing.
​Even with so much to offer, the biggest problem lies with guides and braided line. If you prefer using braided line, then you are in for a shock, consider a different rod. This by no means is for you. ​Apart from that, the reel seat is pretty small which causes frustration among anglers as soon as they realize the reel for which they so excitedly bought the rod, doesn't even fit.
​Ugly Stik can give you a remarkable experience.
Maintenance & Repair Cost
​With the company backing it along the lines of being "bomb-proof", you can expect the Ugly Stik Elite to be extremely durable. The graphite-fiberglass composite gives it a good amount of strength and a fairly good sensitivity. Presence of one-piece stainless steel guides (Ugly tuff) make it a corrosion-resistant product.
Thus, anglers have found this rod to be durable with only a few occurrences of the rod snapping into two. Main reasons for these were observed to be mishandling. Hence, you won't have to worry much about the cost of repair and maintenance.
Price
​An affordable rod which has to offer impressive performances for beginners and experienced anglers alike. One of the best ultralight spinning rod for trout fishing if you are on budget. ​Deemed as an all-rounder, the price point is attractive and it becomes a hell of a tough decision to not choose this given its features and market reputation.
​2. KASTKING Calamus Spinning Rod
Overall Score: 84
Advantages
​Feels extremely light
​Very sensitive
Has a unique look and feel
Disadvantages
Can cause discomfort after a long day due to the lower handle.
Comfort
The ​Kastking Calamus is extremely light-weight​​and this is the biggest USP of this rod​​​. Anglers fall in love with this feature the most. Because when we say its ultralight, it really feels like the lightest trout rod on earth. Only the 4'6″ rod is a 1-piece model. All others are two-piece designs and this makes the rod easy to carry.
Premium-quality EVA has been used in the handle. ​Coming on to the concerning part, the ​lower handle has proved to be uncomfortable to some users when they used the rod for extended periods.
Durability
​Since it weighs just around three ounces, it is easy to question its durability. But have no doubts regarding its robust construction. The ultra-light IM7 micro polish blanks having a high-density graphite core have been further protected by a covering layer of carbon tape. KastKing Calamus also has a 2-piece SKSS reel seat featuring a split-type handle.
​Due to the high-quality materials like premium titanium used in construction, we haven't heard too many complaints about its ability to survive for a long time. One or two cases of the tip snapping while use has come into our notice though.
Functioning
​With a variety of lengths available, the smallest being 4'6″ and the largest being 7′, the KastKing Calamus Ultra-Light Weight Spinning Fishing Rod has a rod action in the range of ultralight to medium-heavy. This rod has been rated for 2-6 lbs line weight and 1/16 to 1/4 oz of lure weight. Frankly speaking, th​is rod has commendable sensitivity.​​​
Modified spigot ferrules have been known to deliver exceptional performances time and again. The guides (including the tip) consist of premium V-Mark titanium frames and rings which further enhance the rod's sensitivity to even the tiniest of nibbles. ​This rod will do wonders to your trout fishing game and take it leaps ahead.
Just a bit of a side note though as nothing in the world is perfect. A tiny lot of users have found it to be a bit stiff for the rated action.
Maintenance & Repair Cost
​There have been no known cases of damages to the rod even while our team of anglers tried out the rod. Supported by KastKing's 'Total Peace of Mind Warranty', these rods are here to stay and thus gain a high-score in this section.
​Since it suits itself well to trout fishing, it is certainly worth your time and money.
Price
​Existing in roughly the same price range as the Ugly Stik Elite, these two pose a great competition to each other. This fact is quite clear from the ratings above as they aren't far from each other. Overall, KastKing's Calamus is a ​superb and rightly-priced option​. A good buy for nearly all your trout fishing applications.
​3. ST. CROIX Triumph Spinning Rod

Overall Score: 86
Advantages
Balanced and sensitive
Great warranty
​Premium quality material
Extremely durable
Disadvantages
A bit expensive for your pocket
​Some anglers report that the tip is a bit stiff than what they would have liked
Comfort
​Every part of this rod shows the 70+ years that St Croix has been in business.​ With parts made from the highest quality material, it also encompasses an ergonomic design. Every rod in this St. Croix series comes with a high-comfort cork grip handle and the equally good hard aluminum oxide line guides.​
St. Croix is a favorite label among anglers not without any reason. They have earned that respect in the market.
Durability
​Aptly suited for trout fishing, the St Croix Triumph spinning rods are made up of high-modulus SCII graphite, ​which in layman terms is awesome and cool stuff.​​​
Functioning
​Designed to satisfy any angler, the range has a variety of rod actions and powers. The material of rod guides decreases the weight by up to 20%-30% without any loss in sensitivity. ​​You also have the choice of a 2-piece rod. ​However, this is going to result in reduced performance in terms of responsiveness and castability.
If maximum execution is what you are aiming for then the 1-piece rod will be the perfect choice for you. ​Armed with ultra-penetration and an optimized weight & balance it gives a premium and a comfortable experience.
Maintenance & Repair Cost
What happens when you put all the top-quality materials in one place and design one hell of a good product out of it? Well, it stays with you for a long long time. ​With the all famous Fuji reel seat and boasting a five year warranty from St Croix, this rod clinches the deal.
Top it with 'St. Croix's Superstar Service' and our choice becomes easier, as it shows off the longevity of the rod and all its components.
Price
​You know what, this rod might seem a bit pricey for a spinning rod but it worth its price. Save those extra bucks wherever you can. Drink a one less coffee at Starbucks, heck even go hungry for one or two meals but if you are really passionate about angling like us and are ready to do anything for it then this is a small price to pay.
​Don't try to save by buying cheap rods from Walmart as this is probably the best rod for trout fishing available in the market today. St. Croix doesn't find its match easily. It even edges out premium competition like the G. Loomis because it has loads features at half the price of those expensive high-end buys.
​St. Croix Triumph provides us a luxury fishing experience. The cheap and popular alternatives might save you some money now but in the long run they don't stand a chance against this beauty. The beautiful structure of this spinning rod makes this the most preferred rod among anglers.
​4. FENWICK Eagle Spinning Rod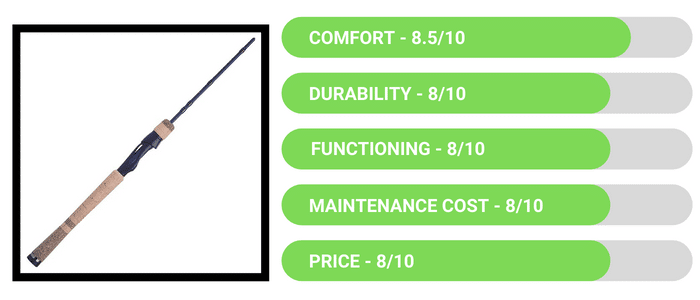 Overall Score: 80
Advantages
Chip-resistant burled cork handle
Non-corrosive parts
​Sensitive blank
Disadvantages
Guides are a known problem area
A few tip snapping instances reported
You might want to check out my Fenwick Eagle Spinning Rod Review to know more!
Comfort
​Fenwicks is the foremost company in the fishing rods niche that brought forward the concept of graphite rods. With handles made out of burled cork, they provide the look and feel of traditional cork but are actually more chip-resistant and durable than most conventional spinning rods out there.
This rod comes with a graphite blank like most rods and is suited for catching those prized trout.
Durability
​Fenwicks Eagle spinning rod lineage combines classic-heritage looks but in no way, it means that other important factors have been compromised. With modern performance and engineering, it not only does its work well but also does it for a long time while serving you.
​Stainless steel guides with chromium plated SS304 inserts are roughly half the weight of their aluminum-oxide counterparts. But does it compromise its strength? No. Does it increase its efficiency? Yes.
​The introduction of these stainless steel components, make this rod suited for longevity and durability but still, there have been quite a few cases of the rod tip breaking under light weights. Moreover, anglers have found the guides to be undesirable and of low quality.
Functioning
​The Eagle range of spinning rods is tremendously well balanced and offers some great casting characteristics. All the way down to a 5'6″ model, you have the ability to fish some pretty decent trout.
​An ultralight model of 8-feet in length is a fairly rare occurrence and applicable if and when you would need to cast very light lures and that too at a long distance. The Fenwick Eagle Spinning Rod is exceptionally suitable for trout, basses, walleyes, and of course, the salmons as even the ​medium action ones, perform like a fast-action rod.
​Chromium-plated (SS304) guides can handle tough and braided lines which is something even popular choices struggle with. For an overall pleasant trout fishing experience, its tip is very soft and sensitive. Hence, it doesn't fail to identify even the slightest movement.
Maintenance & Repair Cost
The presence of stainless-steel inserts and guide frames in this rod make it corrosion resistant, super-durable and lightweight at the same time. This means it is possible to use it in saltwater too. Also, these guides are pretty light and long-lasting than your average aluminum guides which we so frequently encounter.
If there is a rod one can be comfortable with while fishing small trout in high mountain creeks, this is it. ​All in all, due to undesirable guides, problems related to it, and snapping of tips etc. it would cost you some amount to keep this in an excellent working condition. Apart from that, it has been known to cause no harm.
Also the company has been known to provide free of cost replacements within the warranty period if the process is diligently followed.
Price
​Showcasing its company's high quality, it comes with a classic olive-bronzed and timeless look. ​Although Fenwick is not as famous as some of its more luxurious competitors like the G.Loomis or St. Croix, even then it provides some of the best mid-budget fishing rods.
​Offering a very high-quality build pedigree at an affordable price, it shows us why these mid-value companies still exist in the market against bigger brands. ​
​Arguably, deemed by many as the best value for the money in trout fishing rods​, it is a great choice for trout anglers who are relatively new or the experienced fishers that have been trout fishing for quite some time now.​
​5. KASTKING Perigee II Spinning Rod
Overall Score: 84
Advantages
​Interchangeable rod tips
Premium features at stunning price
Lightweight and really sturdy
Disadvantages
​Few cases of tip snapping off
​

​Gap between the tip and the handle part
Do check out my in-depth review of the KastKing Preigee II rod!
Comfort
​Perigee II fishing rods have risen up the ranks due to KastKing using its best quality components in it. Comprising of the world famous Fuji O-Ring line guides, graphite high-strength reel seats which are ergonomically designed and fine-tuned, it instantly separates itself from the normal lot.
With high-density EVA handles for an extremely comfortable grip, a Saf-T Keeper hook holder, the finest sensitive carbon-fiber lightweight rod blanks, it puts many other rods to shame. ​And the outstanding cosmetics just contribute to the "bare and beautiful" finish.
You are guaranteed to fish all day long and still not feel an iota of fatigue because the high carbon blanks offer a powerful, yet a very lightweight rod.
Durability
​With a 24-ton premium Japanese carbon-fiber blank fitted with Fuji guides, the KastKing Perigee II is a beast of a rod. It also features premium reel seat which doesn't make your fishing adventure turn into a nightmare due to the problems many reel seats tend to develop over time.
All Perigee II 2-piece fishing rods are manufactured from Toray 24-ton carbon matrix KastFlex blank technology for power, strength, and accuracy. This does wonders for your rod and will keep it like new for years to come. ​There have been some extremely rare occurrences of tip snapping, eyelets falling though.
A few users also reported on the tip not fully inserting into the handle due to some gap.
Functioning
​Like with every other rod, here too you have the option to choose a 1-piece or a 2-piece rod. The latter features a twin tip technology. This simply means that when you buy a 2-piece rod, you are actually buying 3-pieces. It's basically 2-in-1 rod. ​The twin-tip two-piece rod brings with a special spigot guide.
This is KastKing's most coveted and patented power transition system. With the help of this system, the power to weight ratio is evened out to a large extent. When you set the hook and get a lot of pull, the end of the rod is going to feel like a single piece. ​The power transition happens all the way through rather than a hard rigid point at the center​.
Available in astonishing twenty-nine size options, ranging from ultralights to heavy in both the spinning and bait-caster classifications, they are applicable in a wide variety of angling situations and every angler can find at-least one rod of their choice.​
Specialized high-technology computer control wrapping at four angles (0⁰, 45⁰, 90⁰, 135⁰) keeps the power flowing.
Maintenance & Repair Cost
​You can expect some premium-quality stuff over here. KastKing is an ICAST award-winning manufacturer and the KastKing Perigee II graphite fishing rods are one of the best rods for the money in the fishing tackle market!
Price
​Use them for fishing basses, trout, walleyes, salmons, catfish, or steelheads. Go insane in the saltwater. It's all up to you. These rods will handle every situation remarkably well. ​The series was designed as a replacement to the original Perigee but with the thought of a little more affordability.
The new KastKing Perigee II is a really an amazing rod for the money.
​6. CADENCE CR5 Spinning Rod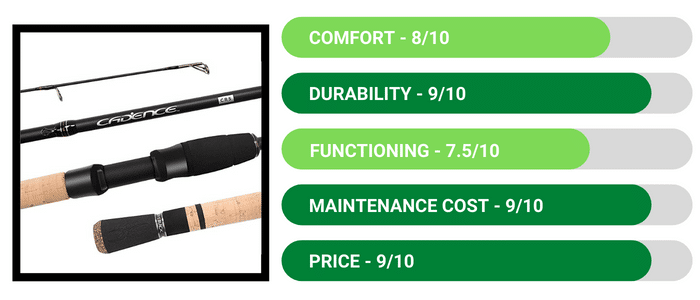 Overall Score: 84
Advantages
​Great value for your money
​Good sensitivity
Impressive eyes
Disadvantages
​Fore-grip loosens with extended use
​Unattractive finishing
​Reel seat doesn't stay tight
Comfort
​Targeting a bass, a walleye, or a trout? Or are you after high-demand inshore lures like redfish, flounder and spotted trout? This fishing rod advances your freshwater game.​ ​​You have the option to either choose the split grip or the full grip system.
Made with a combination of cork and EVA, the Cadence CR5 Spinning Rod is functional and super comfortable. Not only it is lightweight but it also comes in a variety of shapes and sizes. ​​But anglers find this rod to be a bit difficult to handle when they have gone for long hours of fishing. Otherwise, it is a comfortable rod and a pleasure to fish with.
Durability
​The construction material is 30-ton graphite for durability. Stainless steel guides make it corrosion-resistant. You will be amazed by the longevity this rod brings with it.
Functioning
​Due to high-grade materials used in construction, the rod quality gives you a supreme fishing experience. The Cadence CR 5 has been designed to provide multipurpose fishing functionality. With easy to adjust Fuji reel seat and SiC guides​ the performance and durability are increased exponentially.
Sometimes you might see a bend when you try to haul a lure, but still, the rod has more than enough power to pull in nice big fish. ​Overall it is a nice functional blank but the constant loosening of the real seat and the fore-grip handle does interfere with proper functions of the rod.
Maintenance & Repair Cost
​The durable construction and a ​sturdy design minimize the cost associated with repair and maintenance. Also there have been no prominently known issues with either the rod or the manufacturer's warranty associated with it.
Price
Despite being from a brand that is still trying to make its name among other giants, the performances of this rod has made a mark in the minds of all the anglers.
​Packing in loads of good features and value twice higher than the price, you are will definitely have a great fishing experience with the Cadence CR5.
​Buying Guide For Trout Fishing Rod
Before we buy the best trout fishing rod, there are some things we need to know. ​Some anglers may tell you that trout fishing is comparatively easy – since trout accept most bait types, i.e. from maggots to artificial lures. But did they tell you that trout are also easily scared?
​You would want to make sure that your whole setup is as light as possible. Spinning rods are generally lightweight. These rods are made from lightweight materials like graphite, which also prevents our arm from feeling pain and discomfort.
In trout fishing, the lightness helps us to cast accurately, hit the water smoothly and in a very gentle way, thus reducing the shock significantly. ​The main features to look for are at least a 7-feet rod, with fast-action and light power. Now, most rods of this nature are either graphite or graphite-composite spinning rods.
Also, don't forget to use a spinning reel to pair with your spinning rod, else there are going to be a lot of issues! ​Let's quickly list down some of the important factors:
​Action
​Rod Length
Power
​Construction
​Material
​Sensitivity and line guides
Trout ​Fishing Rod Features Explained
​​1. Action
​Rod action simply means from where the rod will begin to bend when it is under a load of a fish.
Fast action – Stiff along most of their length and only bend near the tip.
Slow action​ – Curve over a much greater percentage in terms of their length.
While fishing for trout, we need a fast-action spinning rod. Slow-action rods flex from the lower one-third section of the rod length, and medium-action rods flex from the top half. However, the bend in fast-action rods is only towards the tip.​
Since they only bend from the top section, fast-action rods provide a much-higher sensitivity than their slow and medium counterparts of the same length. ​Fast-action rods 'shut-off' quickly, since the rod blank shows resistance to bend.
This gives us the speed, accuracy, distance, and smoothness which is extremely useful when we want to fish for trout.
2.
​​

Rod Length

We need to consider the size of the water body in which we aim to fish. Since we don't need to cast too far in small water bodies, therefore small rods are quite sufficient here. But, as we mentioned earlier, you need at least a 7-feet rod when fishing for trout.

We understand that 7-feet is not necessary for small streams or rivers, but when we get a bit more skilled and find more open waters, a 7-feet rod is the minimum length required. Also, if you are learning to fish for trout with a spinning rod, a rod of this size is by far the easiest to learn with.

As longer rods have more 'potential energy' due to their flex and leverage, they allow us to cast much farther, and very easily too. Logically, they require more energy input when we are loading the rod blank. ​Once you load the rod blank, the stored-up 'potential energy' generates higher tip-speed while releasing.​

​But, if you're fishing for trout in smaller streams where there are a lot of overhanging trees and underbrush, then consider something smaller – for the sake of practicality and convenience. A large rod is bound to get caught up in the foliage. And before you know it, you would've spent half your day untangling the lines and freeing the rod!

​For situations like these, a rod below 6'6" does the trick, but we should still try to keep it as long as possible.
​​3. Power
​'Power' represents the strength of a rod. Often used interchangeably with the term 'lifting power', heavier rods tend to have more 'backbone' and cope with heavier loads. Rod power listings are from heavy to ultralight. They are teamed with lines that cater to the corresponding weights.
​If we want to fish for trout, then we need to have a light or ultralight spinning rod. The lightness prevents your arm from feeling pain, stress and discomfort throughout multiple castings. It also enables us to cast farther and also achieve smoother landings.
Try to pair your lightweight spinning rod with a light line. Rods often indicate the best line to use with them.
​4. Construction
​​We have two options here. Either to purchase a 2-piece rod or a 1-piece. 1-piece builds are a lot more sensitive. Moreover they prove to feel more comfortable while fishing. ​However, some anglers need to fold their rods, store them compactly in a bag or fit them into a car.
If your needs resemble something like the above, then by all means, a 2-piece rod is the one you should choose.
​​5. Sensitivity and Line Guides
To test how sensitive a rod is, deploy this sneaky little trick. ​Hold on to the handle of the rod and put it on the throat of a person. Have them talk like they normally do. ​Pay attention to the vibrations of their voice at the bottom of the handle.​ If you feel those vibrations easily through the handle, then you are going to feel the fish bites too.
​Try to go for ceramic guides as these are extremely smooth can detect fish bites easily due to the vibrations associated with a clear line guide.
​6. Material
​Constructed from graphite, spinning rods tend to be lightweight and fast at the same time. This makes them an ideal choice for trout fishing. It is very important to care about our graphite rods, as graphite is more sensitive than fishing poles made from fiberglass.
​Fiberglass and graphite composite rods have more durability. But fiberglass compromises the sensitivity of graphite. A graphite rod turns out to be a better choice, but we really need to maintain and store it correctly to ensure its longevity.
Graphite ​- apart from being strong, stiff and ultralight it is also quite sensitive, thus making it a great, durable choice.
Fiberglass​ ​​-​​​​​​ being heavier than graphite and less expensive, it is not as sensitive or stiff​ but is incredibly strong.
Carbon-fiber​ -​​​ ​is the most expensive material used for rod blanks, no wonder it is also ​the stiffest, strongest, and lightest. Its performance has no match, but the price soars up significantly!
Tips To Find Trout Easily
​Many anglers try fishing for trout in areas where the possibility of finding them is very less or almost negligible. Here even the best rod for trout cannot help you. Thus it is important to know where to look for them in the first place.
As a general rule of thumb, you will find trout in water bodies that meet the following criteria:
The water should be cool and clean
​​It should have enough food for trout i.e. crustaceans, leeches, worms, and insects
Provide cover from predators through thick vegetation, wooden logs and rocks
​Conclusion
​Hope, you now have a clear idea why we chose the St. Croix Triumph Spinning Rod​ ​​as our top trout fishing rod choice.​​​​​​
​Whether you are a novice or an extremely skilled angler, we hope our guide has given you loads to think about. The whole purpose of this article was to give you a better idea of what you should be looking for when you buy your next rod for trout fishing.
​The important points are summarized below:
​Keep in mind the body of water you're working on, ​to determine rod length.

You need a longer rod – at least 7-feet long– with a fast-action and light power.

​

Pair it up with a light line.
The rods suggested above meets our criteria and would be really good buys for you. In case you get confused, just close your eyes and go with the 'Editor's Choice' as it has been introduced to make things easy for you.
If you feel you can add more value to this article through your suggestions and feedback, please do not hesitate to contact us.​
Till then, namaste!