Best Bass Fishing Rods [Updated 2021]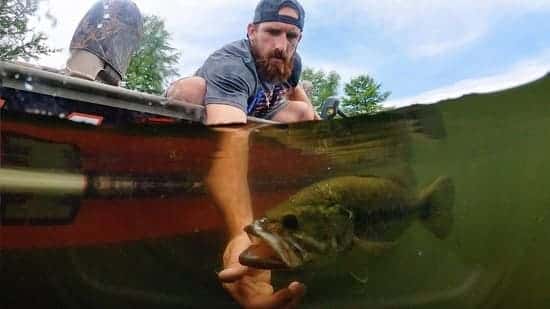 If you are in a hurry and just want to find out which is the best bass fishing rod, then we'd recommend the ​​KastKing Royale Legend Rod​ as the best one.
​Basses, both small and largemouth, are one of the most popular freshwater fish species that anglers are after. Bass fishing is extremely exciting for them.
The bass fish is really aggressive and it is almost next to impossible to catch it without a good fight. Moreover, the going gets tough when you begin to reel them in.​
​Best Bass Fishing Rods
​​KastKing Royale Legend Rod
​​KastKing Perigee II Fishing Rod
​​Cadence CR5 Spinning Rod
​​KastKing Blackhawk II Telescopic Rod

Ugly Stik Elite Spinning Rod
​Compare Top Products
Swipe Left On The Table To Scroll
| ​Product | ​Our Rating | ​Bottom line | ​Latest Price |
| --- | --- | --- | --- |
| ​kastking royale legend | 4.3 stars | ​It's a bang for your buck. Period. | |
| ​kastking perigee II | ​4.3 stars | ​As good as some $200 rods. | |
| ​cadence cr5 spinning rod | ​4.3 stars | ​A high-performing medium budget rod. | |
| kastking blackhawk II | 4.3 stars | A telescopic rod at par with some great one-piece rods. | |
| ​ugly stik elite | 4.2 stars | ​Toughness at a difficult to beat cost. | |
​Before We Begin
There are so many gears that try to make it easy to catch these evasive basses but the rod still remains the most important one. ​A good bass rod will feel like a part of your hand, enhance your casting abilities, match well with your lures, be sensitive enough to detect even the slightest of bites and in the end, be strong enough to pull in the prize.
If the rod fails in even one of these areas then the experience is not a pleasant one for you and catching a bass might become an elusive dream. Thus, having a good bass rod becomes even more important. ​This article will tell you about the best bass rods that we found in the market after a lot of research and comparison.
Further, we will also provide you with a comparison between them so that you can choose the best one as per your needs or go with our recommended choice. Let us begin our search for the best bass fishing rods!
​Detailed Analysis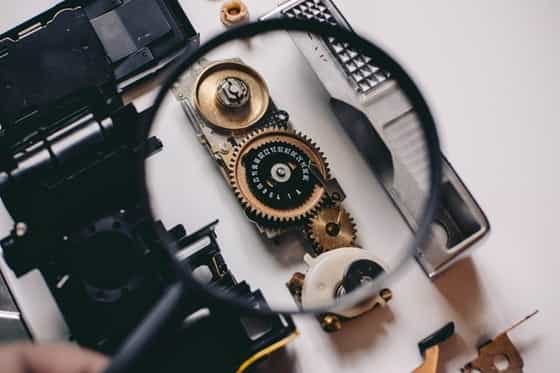 ​​​​KastKing Royale Legend comes out as the first choice in this article for the best fishing rods. It was a very stiff competition though, between all the options as you can see from the similar ratings, they have achieved as per our parameters.
Royale Legend stood out as it is in the premium rod range of KastKing. It deserved the '​Editor's Choice​' award.​​​ Basses can be both challenging and easy to handle, and it all depends on the type of gear you are using. The wrong equipment can give you a hard time while the right one will make the whole experience seem like a cakewalk.
​KASTKING Blackhawk II Telescopic Rod
4.3 stars
​Really lightweight

​Feels very responsive

​Impressive performance

​Mid-budget price
​Guides feel a bit weak

​Not as durable for a travel rod as expected
Comfort
​The Blackhawk II is a great choice for bass fishing if you are a frequent traveler since it is a telescopic rod. Therefore, you just push the rod inside, pack it conveniently in ready to use again condition.​ You would just need to pull it out again for fishing basses.
The KastKing Blackhawk II delivers a one-piece performance even though it is a six-piece telescopic rod. As we all know, telescopic rods tend to be more portable, convenient, and easy-to-travel with. Via the Blackhawk II, you can save valuable fishing time by leaving the reel on the rod, and the line fully rigged through the guides.
Durability
​​The Blackhawk II is an extremely durable rod which is always great news for both beginners and advanced anglers as both tend to test any rod to its limits. KastKing's KastFlex Toray 24-Ton Carbon Matrix blank is responsible for the impressive performance.
The solid glass tip section also delivers promising sensitivity but doesn't compromise on durability.
Functioning
​The presence of multiple floating line guides significantly impact the casting performance in a positive way. Also, there is a consistent and smooth taper in the rod shape which eliminates flat or dead spots. Further, the snug-fit ferrules allow a full-length power transition throughout the rod blank.​
Available in 14 lengths and actions which include both spinning and casting models,​ you are bound to find a model that would improve your bass fishing game. ​With a telescopic rod like this one, you won't need to re-rig every time you go fishing. You would just need to open the bail with line through the guides & the hook attached.
Then by extending the rod to its working length, you'll be ready to fish. You can extend the rod from the tip section! Stretch it to maximum and align all the guides. ​Similarly, you can collapse the rod starting from the bottom (not from the top) and pack it away conveniently.
maintenance & repair Cost
​Only high-quality components have been used in the construction of the Blackhawk II fishing rods. Stainless steel line guides, graphite reel seats and comfortable EVA handles have been used in the construction of these telescopic rods​. This significantly reduces any costs involved with maintenance and repair.
price
​​KastKing has become really famous for manufacturing top-quality rods and reels at a medium-range price. The Blackhawk II telescopic rod is great for budget-minded anglers who don't want low-quality stuff by being overly concerned about the price.
​KASTKING Perigee II Fishing Rod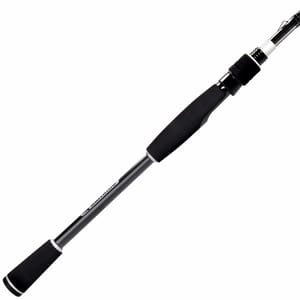 4.3 stars
​Each rod comes with 2 tips

​Plenty of options

​Backed by a lifetime warranty
​The tip is known to be a bit weak

​Eyelets might fall apart
Comfort
​KastKing is a prominent brand name when it involves angling equipment and has established a track record for superior high quality. Their top-rated Perigee II one-piece and two-piece spinning and casting rods are high quality and high performance that are made using the brand name's premium modern technology.
The construction method makes these poles very light in weight, durable EVA handles that use an excellent grasp, comfy to take care of, and delicate.
KastKing's exceptional signing up with modern technology makes their two-piece poles as sensitive and much more comfortable to manage as an one-piece while ​also making them simple to transportation. You can choose your desired size, power, and action, and also these do an excellent job.
durability
​The blanks are made from 24-ton carbon fiber for excellent strength and durability, while other remarkable features consist of Fuji O-ring line guides, an EVA hold, and also a safety-conscious hook keeper. The ergonomic reel seat is crafted from high-strength graphite.
functioning
​It can be found in several versions, permitting you to select the most effective one for your selected angling technique. There are casting and spinning rods in 6'7″, 7'1″ and also 7'4″ lengths, in addition to seven-foot two-piece spinning or casting poles that feature 2 tips ranked to various powers.
​All designs pair a versatile medium, medium-light, or medium-heavy power rating with quick action. The various other elements are likewise high quality. The rods include Fuji O-Ring line guides, which are considered as very effective, ergonomic and durable graphite reel seats, and Saf-T-Keeper hook holders.
They are multi-purpose, and apart from being exceptional at catching bass, you can utilize them to go after trout, catfish along with deep sea, freshwater or kayak angling as well as for various other fish varieties. This makes them a great value for money buy.
The pole is made from carbon fiber, which makes sure that the pole can deal with heavy angling tasks while at the very same time staying light-weight to give you an easy time while using it. The product additionally makes the pole to be extremely sensitive as well.​
KastKing PTS (Power Transition System) spigot joints within the KastKing Perigee II Twin-Tip rods improve the power promptly throughout the angling rod space. There is a specialized computer control covering all the four angles, which keeps the power distributed.
maintenance & repair Cost
​​Being built from robust materials, this rod has been known to last many years without giving much trouble to its owner. If you desire a fishing pole that makes angling delightful and at the very same time, supplying a remarkable performance, this rod is for you.
price
​The KastKing Perigee II Fishing Pole is the option for those looking for a deal. It's one of the best-priced bass fishing rods online, yet flaunts such high quality that lots of reviewers assert there is little difference between this rod and their $200+ counterparts.
​UGLY STIK Elite Spinning Rod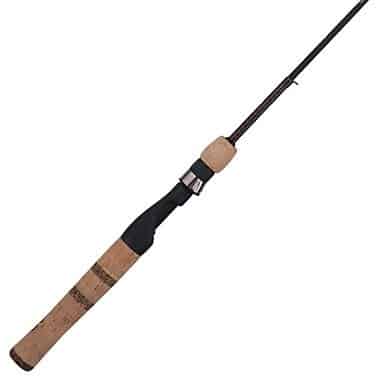 4.2 stars
​Price is a big plus point

​Resistant to rust and corrosion

​Can be called a bass predator
​Groovy eyelets destroy the line

​Not recommended for moving waters
Comfort
​The Ugly Stik has been a popular rod for both beginners and also advanced anglers for over 40 years. The business is a subsidiary of Shakespeare, a trusted manufacturer of fishing tools since the mid-1900s.
Their Elite ​spinning pole is among the best-reviewed rods on the marketplace. Users continually rate this as a superb equilibrium of longevity, top quality, as well as cost.
This pole is impressive in numerous ways. For beginners, the handle has a perfect equilibrium. This is enabled by the product's cork handle, paired with the brand-new guides.
durability
​Stability is particularly crucial given that it will establish for how long you can use it for fishing pleasantly.
functioning
​We like it due to the fact that it ca​neasily snag small to medium-sized bass with little difficulty. We've run it with a selection of undersea surface for everything from small-mouthed to striped bass and also did not have a problem. You can additionally utilize this pole to capture big fishes since it is really bend-resistant.
The rod is outfitted with specific tip modern technology, which indicates that it is very delicate, bearing in mind that it is still strong. Simply the lightest touch, and it will tingle all right via your hands. The pole is also quite flexible, meaning that it recuperates fairly rapidly, as well as the bending does not last.
You will find using this pole to be fairly convenient and comfortable while obtaining service of the highest order. It would certainly be best if you were additionally careful when it comes to river fishing since the pole is not matched to survive such turbulence.
maintenance & repair Cost
​You will certainly appreciate fishing without worrying about the rod breaking right into two.
price
​UglyStik is one of the best-known poles on the marketplace as well as has a reputation for toughness at a tough to defeat the cost.
​KASTKING Royale Legend Rod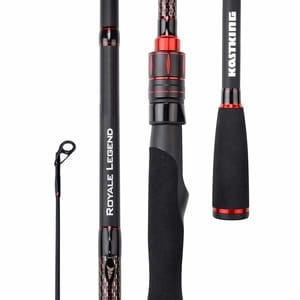 ​4.3 stars
Durable and light poles

​Suitable for various fish types

Both fresh and saltwater friendly
​Few cases of damaged rods
Comfort
​​Who would've assumed that this company had begun its business from a garage! Yes, folks, like various other successful names, KastKing started their concepts right out of a garage. Unfortunately, we too have been doing things in our garage, however fruitless. We are introducing a bass angling maestro rod from KastKing.
Out of the box, you'll discover the streamlined completion of the rod. As well as those EVA soft padded ​grips really feel so comfortable.​ One more thing we found, in wet conditions, it keeps its excellent grip.
durability
​That 24-ton carbon Matrix modern technology made this rod sturdy, delicate, and lightweight.
functioning
​The Royale Legend collection supplies an overall of 21 casting as well as a spinning rods to choose from with different activity, power, and dimensions. We don't know of any other supplier out there that uses such vast varieties to select from. Nathan from our team still bears in mind the first time he hooked his bass with this one.
He was making use of the fast-action action medium powered 7 feet rod. The quantity of flex he saw ​had him worried for a moment. He assumed the tip would snap. It was an 8.7-pound bass afterall. ​One other thing that thrilled us is its metal reel seat tighter knob.
Currently, all of us recognize precisely how those plastic and cheap ones break off under any kind of excessive use. The rod includes an exposed reel seat with Fuji-O ring eyelets. Your line can glide off the reel smoothly. The Royale Legend collection from KastKing resembles a real blessing for us fishermen.​
Sleek finishing, balanced weight, comfy grip, resilient and tightened knob on the reel seat, durable eyelets, and so forth. Simply close your eyes and pay KastKing.
maintenance & repair Cost
Throughout the years, these Royal Legend rods have made some pretty good impressions among avid as well as amateur anglers alike. With a high score in ratings, you know this pole will undoubtedly serve you right for years. But there are a couple of incidents of damaged rods.
As opposed to a lot of favorable responses, those cases seem nothing more than some faulty pieces.
price
​​After fishing with these rods for so many seasons, we must claim; it's a bang for your buck, dear angler.
​CADENCE CR5 Spinning Rod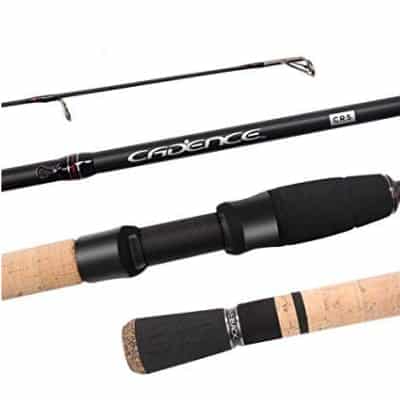 ​4.3 stars
Durable and light poles

​Adjustable reel seats

​Remarkable flexibility and construction
​Slim handles

​Difficult to use for beginners

​Composite EVA handle can degrade quickly
Comfort
​​The ergonomic design makes it possible to have the most effective hold. Likewise, you can feel its firm grip, which is essential for handling a delicate and battling fish. Overall, you will certainly like choosing such a fishing rod. There are two cork grips to select from, consisting of the full hold as well as the split grip.
There isn't a whole lot to hate concerning this fishing rod, but it isn't at all perfect. ​The diameter of the handle is a bit small, which makes it a little bit difficult to use for an extended period.
durability
​This design is on the listing because it is great in every facet. Of all the rods we have reviewed here, we discovered that it comes with outstandingly high quality in terms of building. This can be credited to using a 30-ton carbon fiber construction. The use of carbon fiber ensures the customers that they get the best resilience at all times.
The blanks are constructed from graphite material. You must aim for a design that is lightweight while at the same time, supply the best toughness and sensitivity. ​These are important elements of any great fishing pole. The frame on this rod is made from stainless-steel and also has an adjustable reel seat for utmost convenience.
functioning
​These rods come with stainless-steel guides integrated with SiC inserts and with an adjustable Fuji reel seat. As a result, you will certainly end up with smooth power distribution from the fishing rod. Still, the overall style prevents the line from getting stuck quickly. ​​​​
You will certainly find them in a few different lengths as well as power ratings that will certainly fit whatever type of angling you like. The features on this rod make it perfect for catching freshwater bass. ​This graphite spinning pole is a wonderful gamefish choice for both newbies and also skilled bass fishers having a mid-range budget.
Available in numerous sizes from 4'8″ as much as 7′, the Cadence CR5 has a wide medium to quick action range. It's likewise offered as a single- or double-piece as well. This spinning fishing pole is quite versatile. We also like the overall flexibility of this fishing pole. The actions readily available are grouped by fast, moderate, and also medium-fast.
The powers are medium-heavy, medium, medium-light, as well as ultralight. Each one of these rods amounts to helping you enhance your efficiency as well as convenience. This, certainly, is a great option for bass angling and also might be taken into consideration as the very best bass fishing pole.
Additionally, it's wonderful for catching trout and even some inshore varieties. Also, the pole itself is just a bit more complicated than others, which indicates it isn't the optimal selection for most novices.​
maintenance & repair Cost
​The Cadence CR5 is a collection from the brand that is well known for the materials utilized in their poles and the distinct attributes it brings along. For this very reason, this rod will serve you for many seasons to come.
price
​We like the construction of this pole. The Cadence Spinning Rod CR5-30 is a great representation of what you typically obtain with Cadence items. You can expect high-performing products that include excellent value.​​​​​ If you have a small-medium budget, then certainly Cadence CR5 is the rod for you.
​Buying Guide For Bass Fishing Rods
​​The above are some of the best bass fishing rods in the market. However, there are no 'one ideal pole matches all' when it comes to bass fishing poles. That's why you'll find each brand offering so many choices. Should you opt for the medium or the heavy ones? Light or rapid action?
Is a one-piece far better than multiple pieces like the two-piece or the telescopic ones? Casting or spinning? 6, 7, or 8 feet? It can get overwhelming to shop for bass rods and challenging to choose the best rod for bass if you don't understand what technical terms explain rod characteristics.
If you're beginning in the world of bass fishing, luckily, we have you covered. To make it easy for you to choose the most active bass rod for the size of the bass you want to go for, your casting style, casting range, experience level, and many other factors, we've discussed the aspects that affect precisely how a pole works and the terms used to describe them.
​Rod Action

​Power

​Line Weight

​Guides
​Rod construction

​Brand of the rod

​Rod Length

​Rod ​Handle
​Bass Fishing Rod Features Explained
​​Rod Action
​​The pole's action describes how much the pole would certainly flex whenever stress is applied to it. It all boils down to the different fishing pole actions. The action will undoubtedly differ from slow-moving to extremely fast. Depending on the fishing activities, you need to find a fishing pole with the very best action.
​​Power Involved
​​​​Some anglers typically get confused between power as well as action. Well, the power of a fishing pole is just how much stress it would undoubtedly take for bending the rod. As for the power, you can obtain an ultra-light design to extra heavy power from the fishing rod. Bear in mind that the pole power also influences the fishing activities.
​​Line Weight
​​An additional point you have to keep in mind needs to be the line weight. It is usual for some people to overcompensate with hefty lines. The line weight is always shown so that you can choose the appropriate fishing pole. Several bass anglers feel the 6 to the 8-pound range are the most effective options.
​​Rod Guides
​​It would certainly be best if you considered obtaining useful quality guides. This is because it is crucial for casting longer and additionally reduces the overall line friction. Some of the very best guides are made from ceramic and titanium.
​​Construction Of The Rod
​​The general construction is also a vital variable. Check out the products used for the creation of the fishing rod. This is very important as it aids you in discovering a sturdy model. Most versions are now being made of carbon fiber incorporated with other high-grade materials.
Likewise, the convenience and grip, on the whole, have been boosted in various models. With a better hold, you can quickly deal with the hard catches.
​​Brand Of The Rod
​​On the overall, the brand name likewise plays a vital role in locating the very best bass fishing pole. There is no doubt you will certainly be comfortable buying a fishing pole from one brand name in comparison to others. The best part of this article is that we have only included the most influential brands in the reviews area.
So, whichever model you pick, you will certainly always wind up with a quality item.
​​Length Of The Rod
​​​The overall size of the fishing rod also matters to exactly how you get to handle it. A regular rod length is 6 to 8 feet. Having a longer rod means that you can cast the line over an extra substantial distance. That being dealt with, the shorter poles regularly tend to have more accuracy and also much better control.
​Rod Handle
​​​​You'll be holding the rod in your hands, and you need to have a firm as well as a comfortable grip so you can take the fish no matter just how huge your catch is and no matter just how chilly the climate is or for how long you intend to go after the bass. This is why the grip type on a bass fishing rod is a crucial variable to take note of.
The three primary handle types are corks, EVA type, as well as wooden ones. ​Cork handles offer a firm grip as well as are more sensitive, so it's simpler to detect any kind of bite. They're lighter than wooden handles. EVA foam handles are comfy to grip as well as really sturdy as long as they're affixed to the blank safely.
Wooden grips look incredible, yet the hold is not very good, especially when it's cold. They feel chilly when the weather is chilly and get damaged quickly. Well made and seasoned wood handles can last much longer than cork handles, though.
​Conclusion
​No doubt picking the ideal rod is the initial step towards landing a bigger catch. And also, from our most elegant bass fishing pole listings above, we'd like to distinguish the KastKing Royale Lege​​​​nd bass fishing rod as our favorite.Since it has an exceptional rod with premium features and likewise boasts of outstanding sturdiness.
Its finely-tuned actions, as well as state-of-the-art handle, making it an extraordinary tool to have around whatsoever the time is. ​Without the appropriate kind of details, locating the best pole for bass angling may look like an overwhelming job. ​Luckily, the evaluations, buying guide above are indicated to help you overcome all those obstacles.
So, all you require to do is identify what rod ideally satisfies your particular demands, and you'll be on your way to making a good purchase.
​Recommended Reads
​© {tcb_current_year} Fishing Is Bliss