​Introduced in 1976, the Shakespeare Ugly Stik is something that most of us anglers are familiar with. During our growing up years when we saw the Ugly Stik being used by our fathers and grandfathers, we developed a kind of attachment to it.
During mid-2013 Shakespeare released a new upgraded version of the Ugly Stik known as the GX2. Just like its predecessor, it was packed with value. But mind you, that attachment is not purely emotional. A major reason lies in the fact that this rod has always been dependable and durable.
​Our Verdict On The Ugly Stik GX2
​​We love the GX2. It brings you the same ruff 'n' tuff, budget-friendly fishing rod paired with refined features that compete with some of the more expensive rods out there. This rod can be your primary goto rod instead of just being a backup. It deserves more.
​They come in both casting and spinning variants and we have reviewed both of them. You can see below that we found them equally good. Being serious about angling doesn't really mean spending hundreds of dollars unnecessarily.​ ​The expensive rods are good indeed but this isn't bad either.​​
Its pocket-friendly price allows us to buy multiple Ugly Stiks and they do well in the tournaments too. So pro-anglers, don't overlook this one!​
Competitors Of The Ugly Stik GX2 Rods
| PRODUCT | OVERALL SCORE | BOTTOM LINE | PRICE |
| --- | --- | --- | --- |
| GX2 Spinning | 90 | Great sensitivity, strength and durability at unbelievable price. | Check On Amazon |
| GX2 Casting | 88 | Great casting distance along with other features of the spinning version. | Check On Amazon |
| | | COMPETING OPTIONS | |
| Cadence CR5 | n/a | ​Extreme value at remarkably low price. | Check On Amazon |
| Kastking Perigee II | n/a | Premium functions and a twin-tip technology highlight. | Check On Amazon |
| Ugly Stik Elite | n/a | Graphite composition increased by 35%. | Check On Amazon |
| Fenwick Eagle | n/a | ​Classic, royal looking design with good features. | Check On Amazon |
​Before We Begin
​"Oh, but it's a beginner's rod and a cheap backup", we do get to hear that a lot. Let us tell you, nothing could be further away from the truth. This Shakespeare Ugly Stik GX2 review will change your perception if you too have been a victim of misinformation.
Coming at a very low price point, it puts those to shame who brag about how expensive their rod is. ​And by the way, the picture used above is not just for the sake of it. Type in 'Ugly Stik GX2 durability' on YouTube and see what you get. ​Now, with ​a better mindset, let us get to know this wonder in detail!​
​What's New In The Ugly Stik GX2?
​Graphite + Fiberglass give it a clean matte-black finish.
​Redesigned guides into single piece stamped stainless steel for durability
Balance point shifted to butt-end of the rod
​Lighter and easier to cast.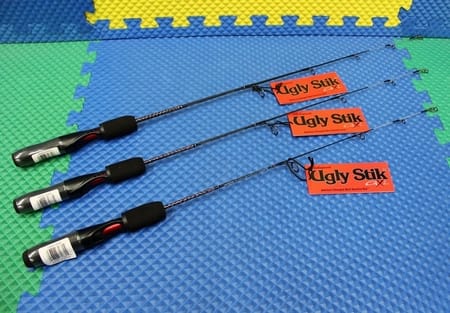 ​Detailed Analysis Of The Ugly Stik GX2 Fishing Rod
The Ugly Stik GX2 series has been a rage among anglers ever since its inception. Rightly so, their faith is not misplaced in this Shakespearean wonder (just like the great playwright) and it continues to garner attention in the fishing community with its lovely performances.
Here we have reviewed both the spinning and the casting model, thus further easing out the process of making a choice for you.
1. Ugly Stik GX2 ​Key Features
Comfort
Handle
Shakespeare has provided us with EVA material grip in the Ugly Stik GX2. Unlike before, it now feels very comfortable even after hours of cast & retrieves. A new development is the Ugly Stik logo at the butt-end of the rod. Though people are mostly fond of the cork grip, this is a good alternative.
The dual EVA grips work excellently in wet conditions and are fairly easy to clean. Ultimately, your forearm won't feel fatigued. The fore-grip on the GX2 is quite big too, with a trademarked basket weave. You can lock the long rear grip under your elbow for more leverage while hauling in a big fish.
Looks
Addition of the graphite has brought in a more appealing matte black finish. It is a development over the classic glossy look. Also, a classic diamond winding pattern, colored in silver and red, highlights the rod right above the grip. With a signature clear tip, it has helped many anglers to identify this rod easily in a huge stack.
From an aesthetic point of view, it features a sporty and professional look. The handle is pretty slim and tapers in a balanced way along the length of the rod. Thus it doesn't have a bulky appearance like the earlier Ugly Stik models.
Weight
The rod is pretty lightweight, owing to the lightweight materials used in the design. This makes it a popular choice among anglers both novice and seasoned.
Durability
Rod Blank
The UglyTech™ technology features a combination of fiberglass with a touch of high-modulus graphite in its new blank over a reel seat type of design. It incorporates more strength into the rod. If you are clumsy like most of us, don't worry. The durability of Ugly Stik has your back and the GX2 certainly doesn't disappoint.
Though such a composition has been a part of the previous rods before, there is increased use of graphite in the GX2.
One-Piece Guide Design
The biggest change is the new guide design. Single-piece guides referred to as UglyTuff™ have a stamped stainless steel design which makes the rod extremely durable and almost impossible to destroy. The older version was tough, but it came along with traditional pop-out ceramic inserts that were easy to break.
Be it braided, carbon or monofilament lines, the guides are perfectly fine for all. Here the big guide remains on the main blank, unlike the earlier version where the blank carried all the guides.
Functioning
Signature Clear-Tip & Casting
The clear-tip provides the sensitivity which makes it possible to feel even the lightest strike of the most stealthy fishes. We are free to use a lot of retrieval techniques
The rod has been designed in such a way that it doesn't interfere with the casting distance. The GX2 feels much more smooth than the previous Ugly Stik models.
Finesse-Fishing
The rod is a hybrid between graphite and fiberglass has an increased performance due to the blend of materials. We get the best of both the worlds i.e. sensitivity of graphite and durability of fiberglass. Also, hooking baits when transporting has been made easy by the presence of eyes on the rod.
Variety
With twenty-three spinning and fifteen casting models of different lengths, weight and power ratings, the Ugly Stik GX2 features a wide variety of choices depending upon your need and liking. It has variable lengths with six models dedicated to our female angler friends. All-in-all, we have a quality build paired with modern looks.
Again, with the models comes the choice of a 1-pc or a 2-pc blank thus suiting whatever needs you have. You could either opt-in for more sensitivity with a 1-pc blank or a decent enough sensitivity but the ease of carrying the rod around with a 2-pc blank.
Power & Reel-seat Design
The rod packs with it some massive lifting power, making it durable enough to handle a large 50 lbs+ redfish or even a 100 lbs+ tarpon.
The reel-seat design gives you two locking options i.e. you can either go for a conventional locking system or you can opt for a twist-lock design. Both systems are adept enough at keeping your reel secure.
Rod Length & Rod Action
The medium-action rod is flimsier as compared to the light-action one on the top. But still, it carries a strong backbone for catching fishes. It can be called a rod with all-around qualities. Use it for bass fishing, cranking, jigging, topwater use and you'll not be disappointed.
We recommend short lengths like 6-feet when fishing near docs, trees or small places since longer rods would be difficult to control in such situations.
Maintenance & Repair Cost
Warranty
Along with remarkable durability, it is backed by a long 7-year warranty from Shakespeare at the time of writing this article.
Corrosion-resistance
The eyelets might begin to corrode after a couple of years of usage in saltwater but it is nothing to worry about as you can always wipe them clean.
Price
Affordable
The best thing about this rod is its low-price point and attractive features. Some other brands offer almost similar functionalities at 2x or 3x the price but aren't anywhere near in durability. This is what makes Ugly Stik way ahead of its competitors as it continues to be budget-friendly.
Purchase a reel of your choice and you would be good to go.
​2. Ugly Stik GX2 Spinning Rod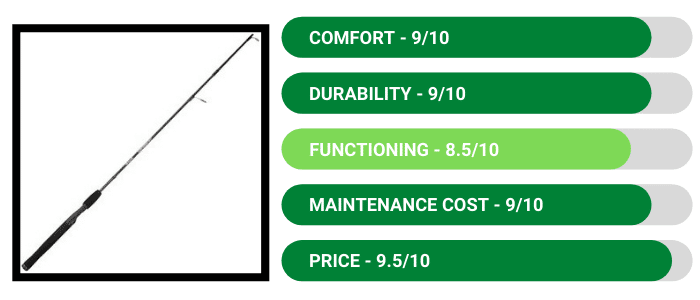 Overall Score: 90
+ Variety of models
+ Sensitivity is good
+ Amazing durability
+ ​Has a light weight
+ Won't pinch your pocket
– Thick foam grip reduces some sensitivity
– Braided lines might cause an issue
– A few models can seem stiff
​Rod Power
​You can choose out of the following available powers:
Ultralight – Available In 5 Models: Imparts extreme sensitivity for setting to the hook and is perfect for catching those small fishes.
Light – Available In 4 Models: A nice choice for catching those trout and panfish where some extra lifting power is required. The load is distributed throughout the length of the rod but it still remains sensitive.
Medium and Medium Heavy – Available In 9+3 Models: Almost all the freshwater fishes you can imagine cannot escape you now if you have this rod in your hand.
Heavy power – Available In 2 Models: Large pikes, salmons, and even some saltwater fishes can be your game now.
Power also describes the lure size and line test-loads. Increasing power ratings enhance the capability to cast larger lures effectively. Small models can be useful for 1/4oz lures whereas heavy models would be able to handle 1oz lures easily.
Rod Length
Power settings also vary according to rod length. Once you are through with the choice of power rating, you can move forward and find the desired length.
Ultralight Models:

Available in lengths ranging from 4'6" to 7'.

Light Power Models:

Available in lengths ranging from 5'6" to 6'6".

Medium Power Models:

Available in lengths ranging from 5'6" to 9'.

Medium-Heavy Power Models:

Available in lengths ranging from 6′ to 7'.

Heavy Power Models:

Available in lengths ranging from 4'9" to 6'.
Longer rods will enhance your casting distance but the longer the rod gets, the less accurate its casting becomes. Shorter rods with heavy power are great for gaming big fishes that require a lot of lifting strength but they lack in sensitivity.
​3. Ugly Stik GX2 Casting Rod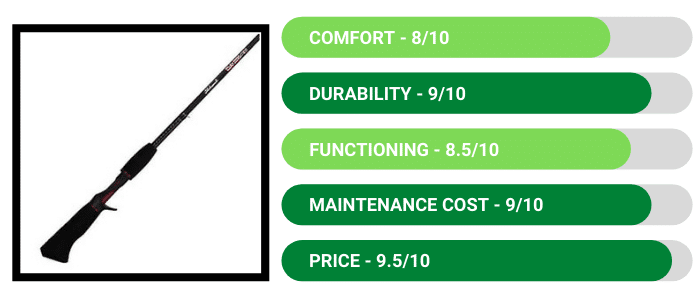 Overall Score: 88
+ Great price point
+ Strength and durability are good
+ Nice casting distance
– Uncomfortable finger rest
– Some might find it a bit stiff
Handle Style
​Along with the simple EVA grip, and a dual-EVA grip for more comfort, control, and maneuver. The elongated handle in the longer models allows us to put in more power behind our casts. The handles make use of a trig reel seat for a lot more casting movement and lure retrievability.
Rod Power
​Baitcasters are predominantly designed to throw heavy lures at considerable distances and therefore we have limited power-settings.
Medium-Light: Available In 2 Models
​Medium: Available In 8 Models​
Medium-Heavy: Available In 4 Models​​
Heavy: Available In 1 Model​
​These rods are made to handle large fishes and can really provide some serious power while battling.
Rod Length
Power settings also vary according to rod length. Once you are through with the choice of power rating, you can move forward and find the desired length.
​Medium-Light Power Models: Available in lengths ranging from 7' to 7'6″. Good for basses requiring a sensitive approach.
​Medium Power Models: Available in lengths ranging from 5'6" to 7'. Adapted to suit a wide variety of general use.
Medium-Heavy Power Models: Available in lengths ranging from 6′ to 7'.
Heavy Power Models: Available in length of 6'6″. Capable of catching big fishes that require distant casting and heavier lures.
​You won't have any problems casting lures ranging between 1/4oz to 1oz at distances more than 50 feet.
​Conclusion
​Irrespective of whether you are a fresher or a seasoned angler, it can never hurt to have an Ugly Stik GX2 by your side. ​Our readers often shared the anecdotes regarding how carefree they are while lending these rods to even the clumsiest of friends as they know they will be safe.​
​If you know someone who loves fishing, this rod can make the perfect birthday gift and they would be delighted to have this rod on-board.​ People have great fishing memories ​attached with Ugly Stiks ​and they would love to make some more.
There isn't much left to say after such an in-depth and comprehensive Ugly Stik GX2 review. ​So, without taking much of your time now we bid farewell. Till then, annyeong.